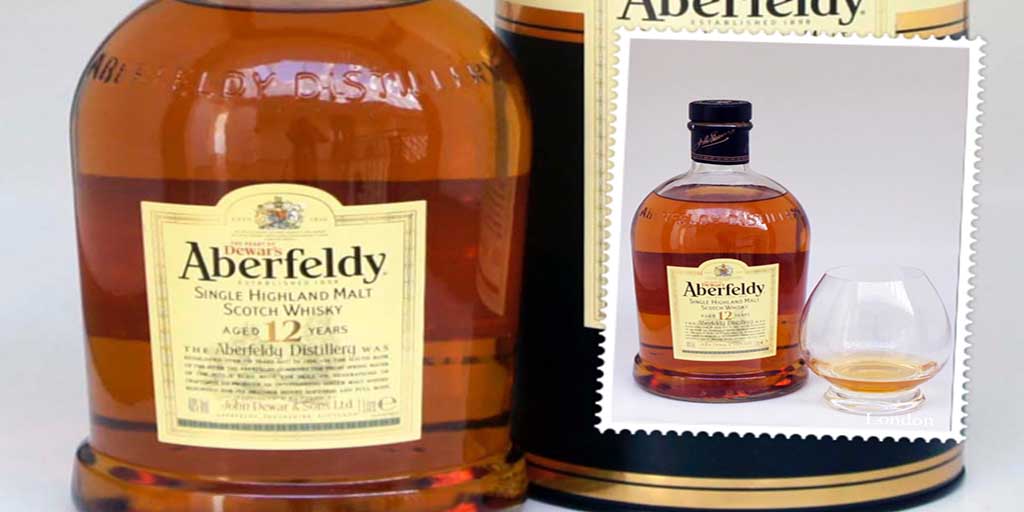 Last week I wrote about the first of 2 bottles that my brother brought back from the UK for us. You can read that blog post here. The other bottle that he brought back was the Aberfeldy 12 yo single malt.  Aberfeldy is situated in the centre of Scotland.  An estimated eight kilometers east of Loch Tay and about thirteen kilometers south of Loch Tummel. Aberfeldy Distillery was founded by John Dewar & Sons, Ltd. in 1896 and opened in 1898. The distillery is located on the eastern outskirts of Aberfeldy, on the southern bank of the upper Tay.
Wartime has always spelled trouble for the Aberfeldy distillery. The demand for barley as a basic foodstuff during World War I led to the distillery being closed from 1917 to 1919.  The Second World War also caused barley supplies to be cut and the distillery was again forced to shut down for some of this period.  In 1999, an Aberfeldy 12 Year Old Single Malt was introduced.

In 2000, the Earl of Elgin opened "Dewar's World of Whisky" at the Aberfeldy Distillery.  This is a centre for marketing the products and educating the public about the process of distillation and history of the Dewar's brand. Bacardi owns Aberfeldy. Aberfeldy plays a big role in the 'Dewar's' White Label blends.
Related Article: Benromach 10 yo
Official Tasting Note for the Aberfeldy 12 yo
Colour: Warm Gold.
Nose: Rich, perfumed aroma, rounded and full with heather, honey, notes of sweet pineapple, butter toffee, toast cereal and vanilla. With water, more honey appears, with a subtle hint of toffee apple.
Palate: Great depth, sweet golden syrup and honey followed by spices and orange peel. With water, the palate becomes creamier with more light fruits, vanilla notes and the faintest wisp of smoke.
Body: Medium to full.
Finish: Glorious; the perfume characteristics become more spicy, with a zesty hint of orange peel in a decidedly dry finish.
Related Article: Aberfeldy 12 yo