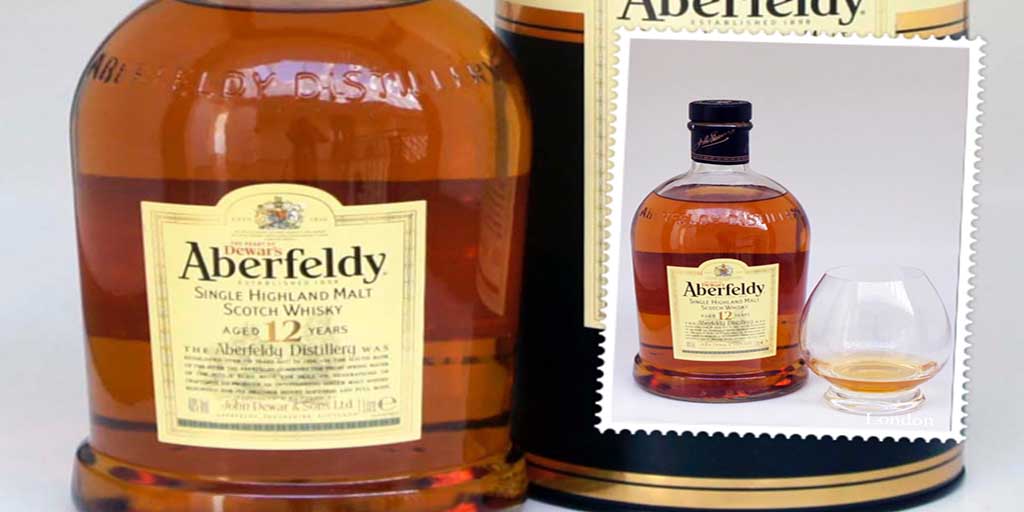 Aberfeldy is a distillery dating back to 1898.  This Highland Distillery was founded by John Dewar & Sons, nearby the town of the same name. It was established to make sure that there is a steady supply of quality single malt for the Dewar's White Label blend.  The distillery sits on the south bank of the river Tay and takes its water from the Pitilie Burn.
The town of Aberfeldy was mentioned in a well-known poem by Robert Burns, Scotland's national poet.   The Birks of Aberfeldy was written in 1787. Burns was inspired to write it by the Falls of Moness and the birch trees of Aberfeldy during a tour of the Scottish Highlands.
The main output of the distillery is still used in the Dewar's blended whiskies.  The company only launched the Aberfeldy 12 yo single malt during 1999. Today, the distillery produces two official single malt bottlings – a 12 yo and a Aberfeldy 21 yo. The label features a squirrel in the background, a reference to a nearby woodland which plays host to a colony of rare red squirrels.

It seems that John Dewar & Sons, a company which has always focused heavily on blended Scotch, is starting to focus more on the single malt market through their "Last Great Malts" Collection releases.   This will allow them to show case all the interesting malt distilleries that sit behind the famous Dewar blend. These distilleries include Aberfeldy, Aultmore, Craigellachie and Royal Brackla. The company plans to launch a 16 yo sherry finish and a 30 yo in 2015.
Related Article: Benromach 10 yo
Tasting notes for the Aberfeldy 12 yo Single Malt
COLOUR: The Aberfeldy 12 yo colour is defined as warm gold and it is a beautiful shade in the glass.
ABV: This whisky has an ABV of 40%.  It is a thick oily whisky with slowly forming fingers on the sides of the glass.
NOSE: The Aberfeldy 12 yo has sherry and oak abundantly when opening the bottle.  The nose brings spiciness and vanilla sweetness.  The nose is very subtle with fresh-cut florals.  There are notes of oak and barley in the background with hints of toffee.
PALATE: You can feel the oiliness of the whisky coat your mouth.  The palate is peppery with wood and cereal coming through immediately.  There are notes of honeyed sweetness and malt with hints of sherried fruit.  It is a reasonably smooth whisky. The Aberfeldy 12 yo is medium bodied whisky.
FINISH: The finish is medium length and ends in notes of leather and spice.  There are remnants of oak and cereals in the finish.
As a result, we give the Aberfeldy 12 yo a RATING: GOOD.  An noteworthy whisky to add to a collection.  Looking at the releases coming out of the Dewar's "Last Great Malts" collection, perhaps we should put the 30 yo on our wish list for 2015.
Also Read:  Dewar's 12 yo Blended whisky