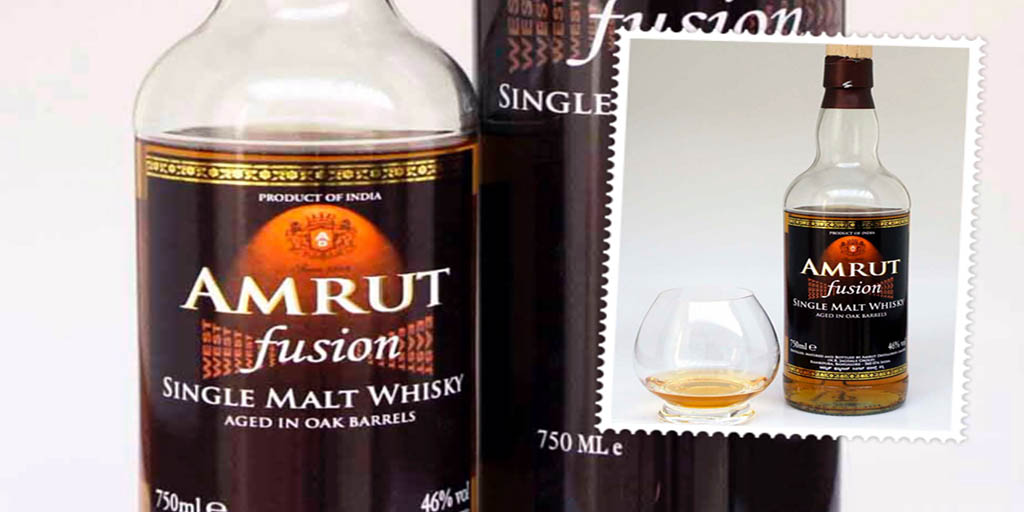 Amrut is a brand of Indian single malt whisky, manufactured by the Amrut Distilleries in Bangalore. It is the first single malt whisky to be made in India. Amrut, according to the company, translates as "Elixir of Life". The brand became famous after whisky connoisseur Jim Murray declared Amrut Fusion single malt whisky as one of the world's best whiskies in the 2010 edition of his annual Whisky Bible.
Amrut Distilleries Ltd was founded in Bangalore, Karnataka in 1948 by JN Radhakrishna Rao Jagdale. The company initially manufactured Indian Made Foreign Liquor.
The current distillery was built in 1987. It is located on Mysore Road, roughly 20 kilometers from Bangalore.  Most distillers in India were manufacturing whisky by converting molasses to alcohol. In 1982, Jagdale made the decision to create a premium whisky from barley blended with malt. Amrut Distilleries began procuring barley from farmers in Haryana, Punjab and Rajasthan.
The company had a surplus stock of their malt whisky by 1995, and Jagdale allowed some barrels to age longer to see how they would turn out.
Also Read: Paul John Classic Select Cask from India
Amrut: The Angel's Share
The whiskies had been ageing for almost four to five years by the year 2000. Amrut discovered that the hot weather in India makes whisky mature faster than it does in Europe or the United States. The fraction lost to the angels' share, is also higher, at 11–12% per year.


In Scotland, the annual evaporation loss is about 2%. Surinder Kumar, the master blender at Amrut Distilleries, has estimated that one year of barrel aging in India is equal to three years of aging in Scotland. Launched in 2009, Amrut Fusion is produced using 25% Scottish peated barley and 75% unpeated Indian barley.
The two barleys are matured separately in oak casks in Bangalore for around four years. The two matured malts are then fused in measured proportions and married for three months in Bourbon casks.
Related Post: Amrut Two Continents Single Malt
Tasting notes for the Amrut Fusion
ABV:  46%
COLOUR:  A golden yellow.  It is quite oily whisky and makes long fingers on the sides of the glass.
NOSE:  Quite subtle.  There are notes of oak, cereals and barley. There is a hint of bourbon in the background and very mild peat. After the addition of a bit of water, fresh-cut flowers appears in the nose.
PALATE: Without the addition of water, the palate brings oak and is very spicy. Adding some water allows the Amrut Fusion to open up and it delivers a nice mouthful which hits you with lots of spice, very mild peat and sweetness. There are notes of oak and bourbon with hints of toffee.  This full-bodied Amrut Fusion has a wonderfully complex palate.It is a warming whisky with amazing character.
FINISH: The Amrut Fusion has a stunning finish.  It builds to a crescendo transitioning from spicy to sweetness at the end.  Most whiskies finish the other way around. The amazing thing about the Amrut Fusion is that it ends on a deliciously sweet note after starting out quite spicy.  There are notes of condensed milk with soft spices at the end.  A thoroughly brilliant whisky for a cold evening.
We think the Amrut Fusion thoroughly deserves a RATING: DIVINE.
An amazing whisky from an amazing country.  We could not find Amrut in Bangalore on our last trip there in 2011.  Amrut launched in India during this past year only.  We will hopefully be going back to India in 2015 to spend some time with our friend Professor Sundar in Bangalore and then hope to visit this amazing distillery.
Also Read:  Johnnie Walker Double Black Blended Whisky
Amrut Fusion:  Our SM of the Year winner?
This was one of only 3 whiskies that we rated Divine during 2014.  The others were the Glengoyne 21 yo and the Ardbeg Corryvreckan.  Who took the title of Single Malt of the Year 2014?