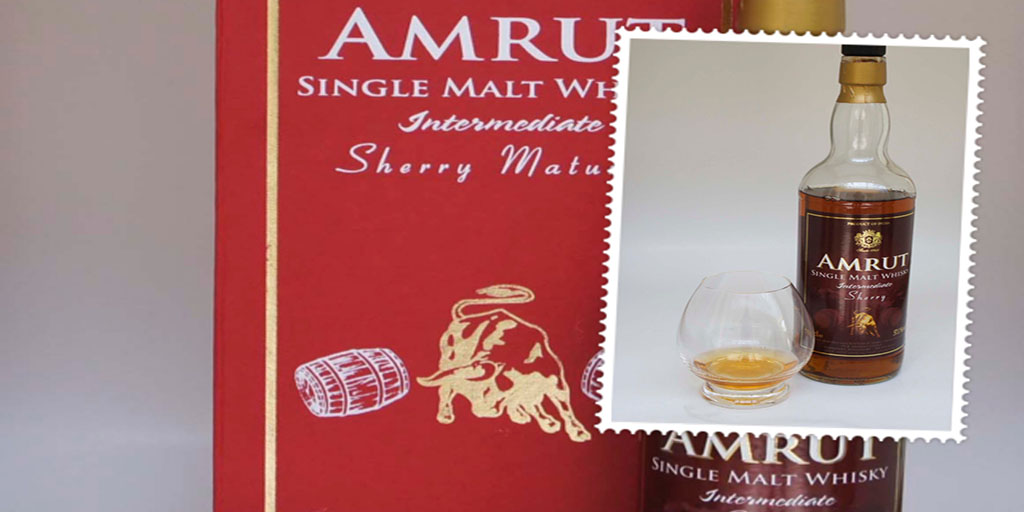 As I write this review, John is in Bangalore as part of his teaching commitment. So it is only fitting that we try a whisky from India this week. I packed him a sample of the Amrut Intermediate Sherry so that he can taste it while there. With the 3,5 hour time difference between South Africa and India, he could relax after a long day, with a dram that was produced not far from where he is teaching. I was fortunate to share the dram with a good friend here at home.  Zee, a whisky lover, has never tried Indian whisky before. I was glad to share my tasting with her.
Her daugther is a good friend of our little M, so while the 2 girls were playing dress-up, we settled down to try the Amrut Intermediate Sherry whisky.  In some of our previous posts, we wrote extensively about the start of Amrut in India. We have quite a few bottles from this distillery and  have rated both the Amrut Fusion and Amrut Two Continents as Divine. You can read more about the history of Amrut in our previous posts. Amrut launched the Amrut Intermediate Sherry at the Paris Whisky Live Show on 25 September 2010.

Named 'Intermediate' because the whisky started its maturation in Bourbon casks. Then it is shipped to Spain and put into Sherry casks. The filled casks are shipped back to India. This is done to avoid infection problems with shipping empty sherry casks. The whisky is left to mature in the Sherry for a period and then put back into Bourbon casks to complete its maturation.
Related Article:  Amrut Single Malt whisky from India
Tasting notes for the Amrut Intermediate Sherry
COLOUR: The Amrut Intermediate Sherry colour is a red copper with hints of orange.
ABV:  57.1%.
NOSE:  An abundance of sherry notes mixed with spice, raw oak and overripe plums and figs. The nose is reminiscent of sawdust and an old book being opened.  Faint hints of vanilla intertwine with traces of condensed milk with faints hints of vanilla and plump raisins. Zee described the nose as a perfect balance between sherry and wood. The addition of water releases some floral notes and removed the overt woody and must notes.
PALATE: The Amrut Intermediate Sherry has sweetness mixed with loads of spice. Cloves, nutmeg and pepper come to mind.  It's very woody on the palette with a whiff of mineral spirits. Without water, it has a bit of an alcohol bite.  The whole combination seems a bit raw – as though it should have been aged more to get some of the sharper edges out. The addition of water certainly adds smoothness.  After water, there are more fruity and flowery notes but also more spice.
FINISH:  Medium length with lots of spicy notes, bitter citrus with an overlay of wet wood.
We give the Amrut Intermediate Sherry a RATING: GOOD.
I love the Amrut releases, but this expression is not their finest work. It seems rushed and the notes and flavor do not combine elegantly. It's had potential and one can only hope future expression live up to the standards of its sister expressions, some of which are truly a delight.
Also Read:  Hammerhead 1989 Single malt whisky