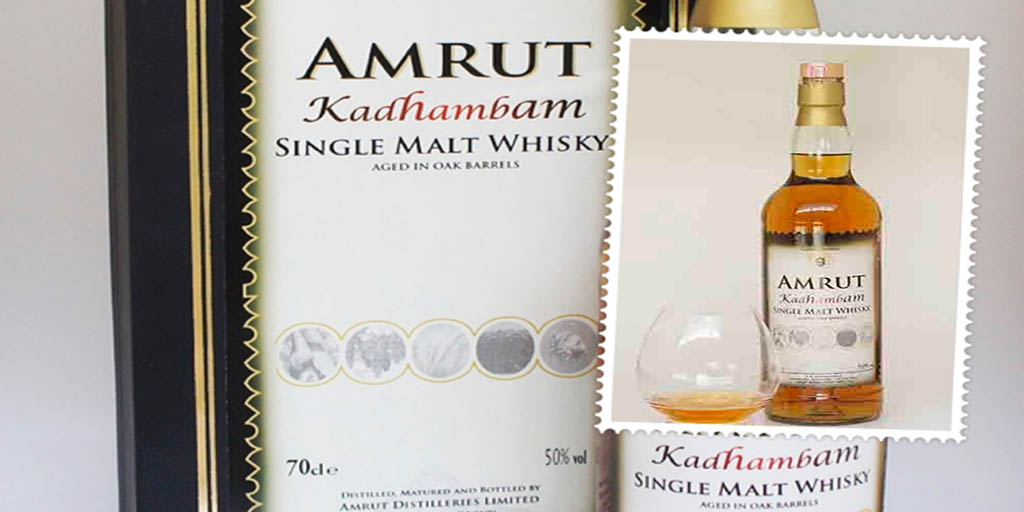 Today I try an whisky from India, the Amrut Kadhambam.  We love traveling and have been fortunate to visit many countries around the world. Few countries can compete with the intense colour, spice and hustle and bustle that is India.
It is one of our favourite countries to visit and we have spent some wonderful times in Mumbai, Bangalore and in the beautiful Kerala. On none our trips we were fortunate enough to get hold of some Amrut. We bought all our Amrut whisky releases outside of India.Amrut whisky is still fairly unknown locally.
This is however slowly starting to change.  Hopefully on our next visit, we will be able to buy some Amrut in Bangalore. Amrut is a brand of Indian single malt whisky, manufactured by the Amrut Distilleries in Bangalore.
It was the first single malt whisky made in India. Amrut, according to the company, translates as "Elixir of Life". We have tried both the Amrut Fusion and the Amrut Two Continents wrote extensively about the Amrut background. We rated both these Indian whiskies as DIVINE.

Kadhambam means 'mixture' or 'combination' in the Tamil language. Amrut Kadhambam is created from Amrut single malt whisky and a small amount of Amrut Peated single malt whisky matured in 3 different cask-types. The Amrut Kadhambam was first matured in ex- Oloroso Sherry butts, then filled into ex- Brandy casks and matured for a further period.
It is then emptied into ex-rum casks, where maturation continues. Both the rum and brandy was produced at Amrut. The three different casks each offer different tasting profiles, which make for an interesting combination.
Also Read: Kavalan Solist Vino Barrique single malt whisky
Tasting notes for Amrut Kadhambam
COLOUR: The Amrut Kadhambam has a dark golden colour.
ABV:  50%. It is an oily whisky with long slow fingers in the glass.
NOSE: brings sherry and dark Christmas pudding combined with spices and fresh fruit.  There are hints of oak in the background.  After the addition of water, the oak comes through more strongly, together with barley and cereals.  There are faint hints of honey sweetness mixed with faint chocolate and vanilla notes.
PALATE: Oak and spices with hints of dried fruits and plums.  The Amrut Kadhambam has an oily mouth feel and is smooth and rich.  There are bits of spice, fruits and more dark chocolate in the background.  The Amrut Kadhambam has a complex nose and palate.
FINISH: The best part of this great Indian whisky.  It goes on and on and end in notes of oak and spice.  There are little hints of leather and tobacco.
RATING: EXCELLENT.
An incredible combination of 3 different casks.  We will hopefully be able to visit this Distillery on our next visit to India and learn more about how they make Whisky in India.  What is your favourite Amrut release?
Also Read: Amrut Intermediate Sherry Single malt whisky