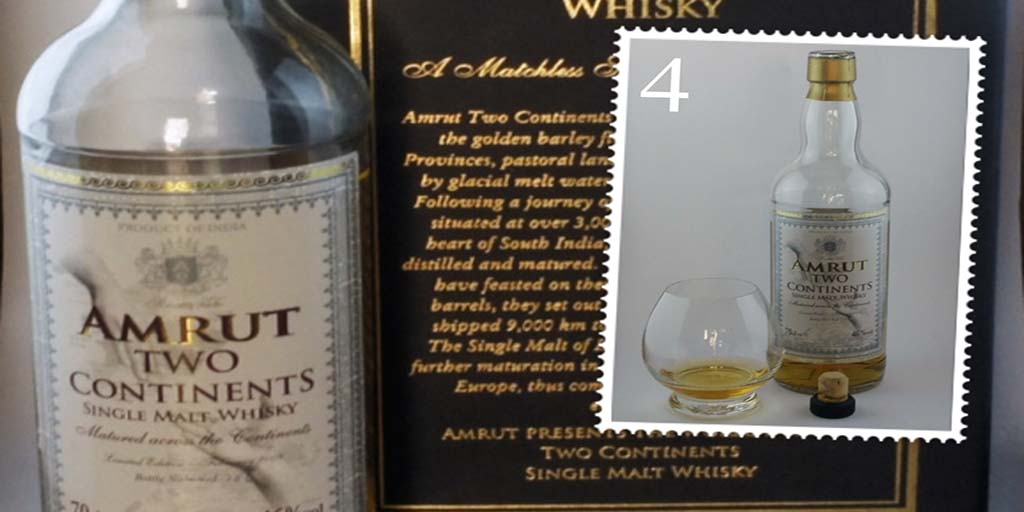 Years ago good whisky was strongly associated with Scotland. Today new world whiskies have no reason to defer to Scotland and the Amrut distillery in Bangalore, India is one of those that can produce world-class whiskies. I guess Amrut Distilleries hit the big time when Malt Advocate Magazine named Amrut Fusion "World Whisky of the Year" and Jim Murray in the 2010 Whisky Bible named it the third best whisky in the world. We are fortunate to travel to Bangalore and India yearly and we love the culture, food and colors.
The Amrut distillery is located in Bangalore and I figured it would be easy to get Amrut in Bangalore– wrong! The majority of shops in Bangalore were not aware of it and requests for Amrut drew blank stares! Recently I was visiting my friend Audrey in Sydney, Australia. Knowing my love of all things whisky she took me to a specialty whisky shop in the heart of the city. It was a great place and I took the opportunity to acquire some Sullivans Cove.


As I was paying for them and chatting to the delightful owner, I noticed the black box of Amrut Two Continents, First edition. I immediately asked him what it would cost and he told me it was not for sale, as it was the only one he still had, and was part of his collection. Well, after 20 minutes of haggling, interspersed with pleading, he eventually agreed to part ways with it. So the whisky had travelled an amazing journey – From India to Europe to Australia and finally to South Africa! At long last we had acquired a Amrut Two Continents.
Also Read: Amrut Intermediate Sherry
The Amrut Two Continents is an interesting whisky. Only 786 bottles were released in the first edition, and this bottle is number 408. In 2012 Whisky Advocate awarded it the "New Whisky of the Year" award, so expectations were high. The bottle is housed in a beautiful black presentation case with gold trim and lettering. On opening it the whisky nestles in a deep purple material with the inside flap describing the mythology behind the Amrut name.
Amrut have been distilling whisky since 1948 and on the front the remarkable journey of this whisky is described. The bottle itself has a beautiful label echoing the rich architecture and design of India. The whisky itself is distilled in India before being shipped to Europe (a secret location!) for the final three years of maturation – hence the name Two Continents. So to the tasting.
Related Article:  Amrut Fusion
Tasting notes for Amrut Two Continents
ABV: The Amrut Two Continents has an ABV of 46%.
COLOUR:  Interesting, with hints of amber, honey and light gold.
PALATE: Tasting the Amrut Two Continents we immediately picked up honey, spice and vanilla. There was a hint of peat but no smoke. The whisky was finished in oak and that comes through, but delicately. The Amrut Two Continents comes across as a slightly sweet whisky, but in no way does it overpower. The whisky gets better if you let it breathe a bit.
FINISH: The finish is something else!  It starts off slowly, and then builds to a big mouthful with a long slow tail.   Jim Murray said – and we agree – it has a voluptuous finish. The first time me and Jeannette rated it Excellent.
But when we tried it again for this post we upgraded the Amrut Two Continents to a RATING: DIVINE.
This is truly a special whisky and we are ecstatic to have it in our collection. We paired this amazing whisky with some Blue Tower Cheese and it made a delectable whisky cheese pairing.
Also Read: Kavalan Solist Vinho Barrique