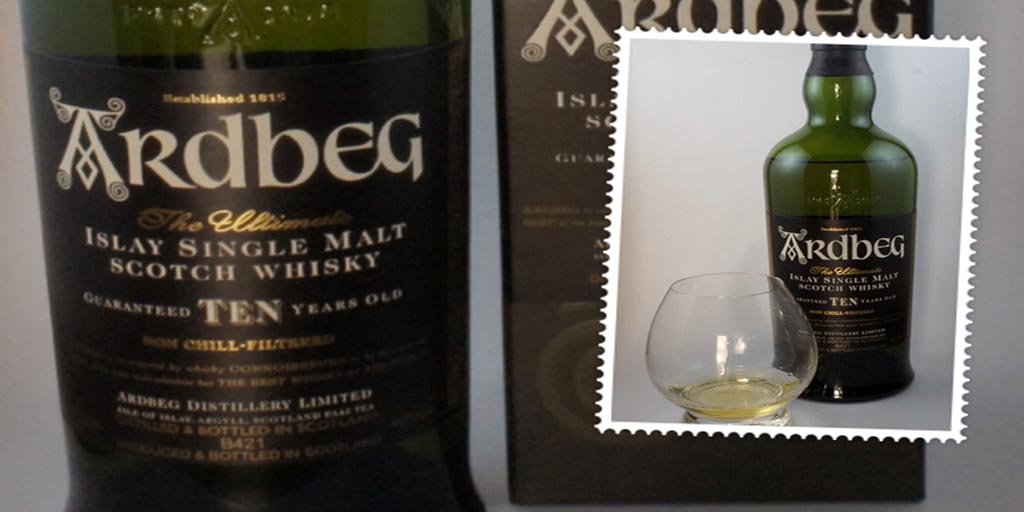 One of our favourite shops in Johannesburg is called Whisky Brother. It's pretty unique in that it's the first and we also believe the only specialty whisky shop in Johannesburg. The guys are great and we always deal with Marc who really knows his stuff. During the week he tweeted about an Ardbeg tasting on the Saturday.
Saturday the 1st of June 2013 was Ardbog Day. so it made sense that we should go and acquire some Ardbeg. Marc duly obliged and we left with a bottle of Ardbeg 10 yo. I love peated whiskies, but they are not Jeannette's favourite.
Nevertheless we decided to taste the Ardbeg 10 yo on Saturday evening as it was Ardbog day. Ardbeg is a Scottish whisky from the Islay region.  There are five whisky producing regions in Scotland (some would argue more) and Islay whiskies are known for their peat and sea influenced taste. It's not always for everyone and probably not a good idea if it's your first ever whisky!
The distillery is located on the small, remote Scottish island of Islay. It looks beautiful and definitely a place we want to visit at some stage in the future.

During September 2016, a group of Adventurers spent 3 days concurring the Islay Coast.  Together with Distillery Manager Mickey Heads and survival expert Monty Halls, the ARDventurers conquered the island's rugged coastline, wild peat bogs, mist-capped hills and brooding lochs as they competed to be named the Ultimate ARDventurer.
So to the tasting…
Related Article:  Ardbeg Supernova
Tasting notes for the Ardbeg 10 yo
ABV: 43%
COLOUR:  Quite light, with hints of green.
NOSE: Islay whiskies can sometimes smack you in the face with peat, but the first impressions on nosing this 10 yo are peat and smoke. Not so much that you are overwhelmed. Jeannette actually loved it which is unusual for an Islay.
PALATE: It's a complex whisky because after the initial peat the wonderful citrus and hints of vanilla come through on the palate. It continues to coffee and a bit of iodine. I loved the complex character. This Ardbeg 10 yo is a big whisky but not overwhelming at all.
FINISH: Something else.  This Ardbeg 10 yo must be one of the longest and full bodied finishes I have ever tasted. It just goes on and on and on, but in a ever-changing and enjoyable way. What an epic finish! You will remember the Ardbeg 10 yo long after you have emptied the glass. This is truly worthy of the rave review Jim Murray gave it.
It's going to become one of my favourite Islay whiskies and fully deserves its rating of EXCELLENT. When winter comes around and you want to curl up in front of a fire – this is the one you will want for that moment.
I have used the Ardbeg 10 yo to make whisky truffles with.  For the review and recipe, just follow this link.
Also Read:  Aged in Stout barrels: Jameson Caskmates Whiskey