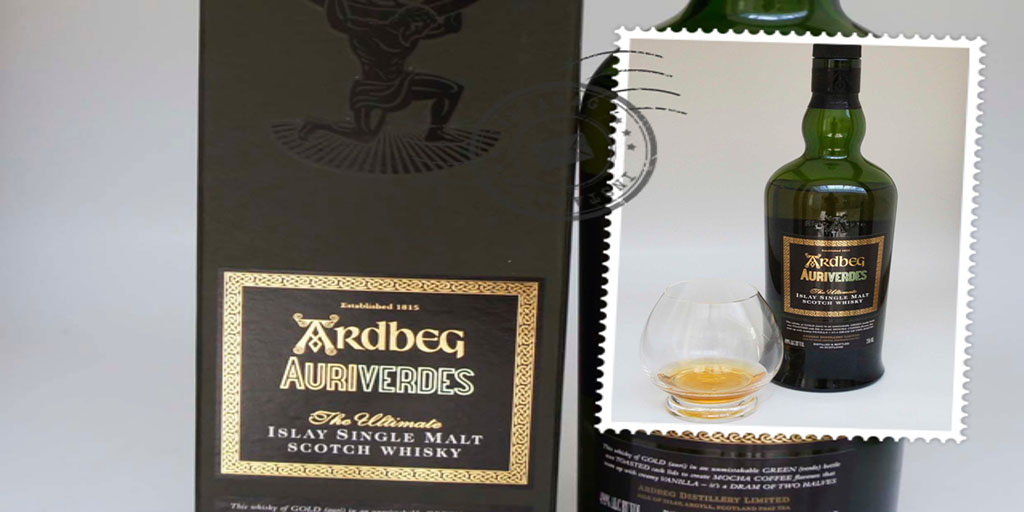 The annual event of Ardbeg Day is great with much fanfare and whisky drinking.  When possible, we visit Dullstroom for this event.  During our 2014 visit, John managed to taste the Auriverdes, but we have not had a formal "Whisky of the Week" tasting for this release. When this dram for came up for tasting, we decided to invite a whisky friend around. Paul joined us this past Friday to share in the exploration of this limited release Ardbeg.  Auriverdes was launched for Ardbeg Day 2014.
 The name Auriverdes has Portuguese connections and loosely translates as Auri (to shine like gold ) verdes (Green).  It refers to the golden whisky and the iconic Ardbeg green bottle.  Gold and green is also the colours of the Brazilian Flag. As it was the World Cup Soccer in Brazil, the Ardbeg Day theme was sport.  Ardbeg Auriverdes is released without an age statement.
It was distilled in 2002 and matured in traditional second fill American oak casks. However, the traditional casks had their cask heads removed and replaced with new American oak cask heads. According to some research the one cask head was toasted lightly (to bring out some vanilla flavours) and the other one darker (to bring out some mocha flavours).

These re-worked barrels were then filled with spirit and left to mature. The final Auriverdes was a combination of these barrels blended together with a proportion of 'classic' Ardbeg.
Related Article: Laphoaig PX Cask
Tasting notes for the Ardbeg Auriverdes
ABV:  49.9%.
COLOUR: A rich gold.
NOSE: Sweet, balanced with peppery notes.  The sweetness is reminiscent of honey dipped fruit and toffee.  There are hints of vanilla and citrus fruits.  In the background, a subtle trace of traditional Ardbeg smoke lingers.  This is not a typical 'full in your face peat' Ardbeg.  Surprisingly, very little peat comes through.
PALATE: Without water, is smooth with muscavado sugar, soft fruit, hints of pepper, gentle smoke and bits of toasted oak. Adding water, releases more of the traditional Ardbeg character with more ash and understated bits of coal tar.   All very restrained.  The vanilla and the citrus fruit comes through  balancing the peppery notes.
FINISH: Medium length and end in notes of ash, zest and pepper.
We give the Ardbeg Auriverdes a RATING: EXCELLENT.  Not your usual Ardbeg!
There is none of the peat, salt and medicinal notes that Ardbeg is renowned for.  Ardbeg purists might not like this release.  It is certainly a different direction for Ardbeg.  But…  I just love it.  It reminds me a bit of the Laphroaig PX we tasted last year.  It is a softer and smoother version of the PX cask.  Just delicious!  It is only the length of the finish that stopped this Ardbeg from being a Divine.
Thank you Paul for bringing us the most beautiful and delicious home-made French Macarons to pair with our Ardbeg.
Also Read: Ardbeg Auriverdes Single Malt whisky