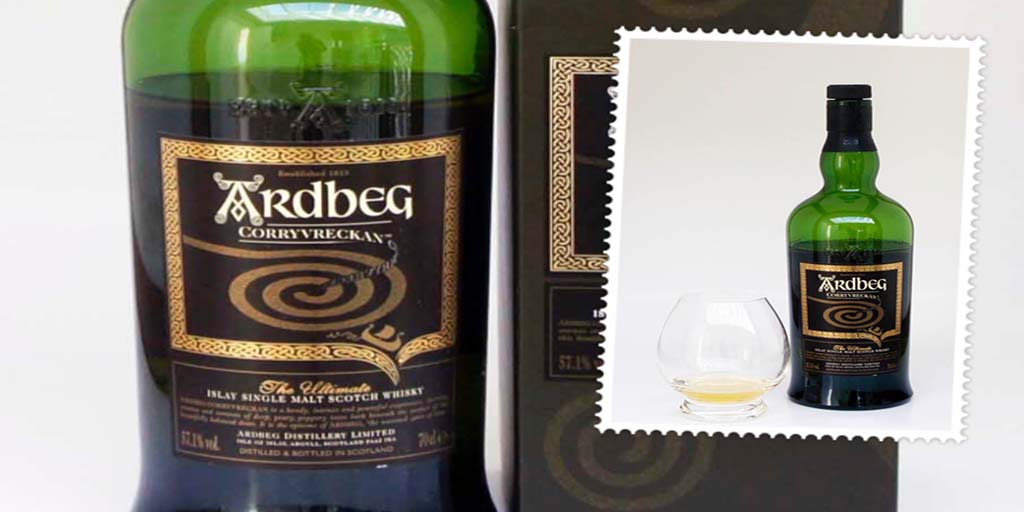 In honour of Ardbeg Day 2014 Whisky of the Week tried Ardbeg Corryvreckan. The Corryvreckan is seen as the personification of 'the untamed spirit of Islay' and was released to replace Airigh Nam Beist. Ardbeg Corryvreckan takes its name from the famous whirlpool that lies to the north of Islay.
Ardbeg Distillery is a Scotch whisky distillery on the south coast of the isle of Islay, in the Inner Hebrides. Louis Vuitton Moët Hennessy owns the distillery. Ardbeg was legally established as early as 1815, but claims of some sort of distilling pre-dates its legal start by a decade or two.
With the official 2014 FIFA World Cup start just weeks away, the theme for this year's Ardbeg Day is predictably Football.  Or as Ardbeg define it "the Ardbeggian take on the football World Cup."
Football has a rich and noble history in mainland Scotland where kings and lords would take to the pitch and teams were made up of gentlemen. Playing on Islay however has it's own unique challenges like playing knee-deep in peaty pitches.

Wild About Whisky in Dullstroom hosted Ardbeg Day in South Africa this past weekend. We wrote about our first visit to this wonderful little whisky bar here. Events for the day included Peaty Football South African style and Shorty Foosball. And the most important activities during the day was Ardbeg tastings.
Related Article:  Ardbeg Day experience in Dullstroom
Tasting notes for the Ardbeg Corryvreckan
ABV: 57.3%
COLOUR: A dark amber.  It is a wonderfully oily whisky that clings to the side of the glass.
NOSE: Peat even at a distance.  Classic peat, smoke and sea salt comes through.  There are medicinal notes with some creamy butter and hints of sweetness.  All dark and brooding and the smell of salt water and fishing boats during a storm at night.
PALATE: On the palate the Ardbeg Corryvreckan its a big mouthful. At first it tastes like having a peat bog in your mouth. The initial notes are followed by liquorice and vanilla.  There is smoke, tar and TCP on the tongue.  This whisky is wonderfully smooth with hints of salt, spice and perhaps a little fresh fruit. Both the nose and palate have wonderful complexity that stays.
FINISH: Long and lingering. It slowly builds and reaches a crescendo long after you put your glass down. It builds and builds warming your soul along the way. There are notes of spice, pepper and toffee. Oak and vanilla float about. This complex whisky leaves you with some liquorice and salt at the finish.
If you have another dram of Ardbeg Corryvreckan, a whole new range of nose, palette and finish pops out.  This is, however, a polarizing whisky.  You will either hate it or love it. Nothing about this whisky is average or in between.
And for that reason, our rating of this Ardbeg Corryvreckan is a RATING: DIVINE.  This is our first Divine rating for a single malt for this year. And well deserved at that.
I paired this dram with some Lindt Cranberry Intense chocolate and the results were amazing.  This Ardbeg Corryvreckan is part of the Ardbeg standard release and readily available.  In the UK you can easily order it from Master of Malt.  Some other magnificent Ardbeg releases include the Ardbeg Uigeadail and Ardbeg An Oa.
Related Article: Ardbeg Corryvrekan and Raclette Cheese
This was one of only 3 Single Malt whiskies that we rated Divine during 2014.  The others were the Glengoyne 21 yo and the Amrut Fusion.  Who took the title of Single Malt of the Year 2014?