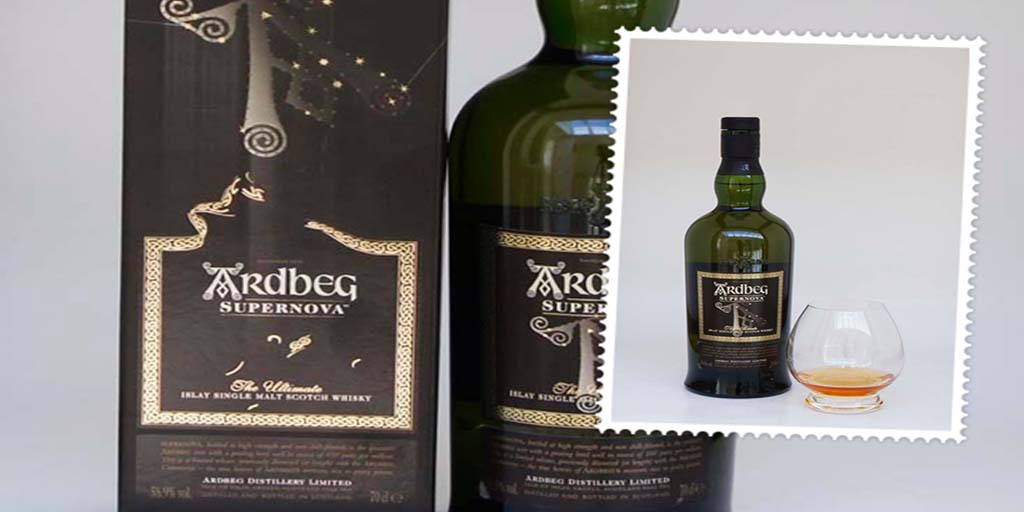 John's birthday fall on a Friday and to celebrate, I scheduled one of the peatiest whiskies in our collection as our Whisky of the Week.  This week we try the Ardbeg Supernova 2009. Ardbeg Supernova 2009 was brought out as one of the peatiest Ardbeg's ever at over 100ppm.
It is from one of John's favourite distilleries. Ardbeg lies lonely, in a small bay off the south coast of Islay. It was once a place of smugglers and illegal distillation. The illicit distillers took advantage of the isolated place and incomparable conditions for whisky production.
It was not until 1815 that a legal distillery was established  by John McDougall. Ardbeg sit near the 'Kildalton' distilleries, Laphroaig and Lagavulin.  Ardbeg Supernova 2009 was brought out as one of the peatiest Ardbeg's ever at over 100ppm. It was rated as the Whisky Bible 2010 Scotch Whisky of the Year.
With all the hype around this release, it sold out very quickly. We managed to buy this bottle on one of the Whisky Auctions and had it shipped to South Africa.  Subsequently Ardbeg brought out the Ardbeg Supernova 2010 release. The LVMH group owns the Ardbeg distillery.  I have tried various of the Ardbeg releases. You can read our review of the Ardbeg Uigeadail here.


Related Article:  Single Malt of the Year 2015
Tasting notes for the Ardbeg Supernova 2009
ABV: The Ardbeg Supernova has an ABV of 58.9%.
COLOUR: A light golden wheat colour.  It is a very oily whisky.
NOSE: Classic Ardbeg with peat, iodine and TCP.  The peat however, is not overwhelming, but rather smooth and well balanced with some floral notes.   There are hints of vanilla sweetness.
PALATE: Thick and creamy with peat, saltines and notes of spices.  There are notes of bitter orange with some honeyed sweetness that is smoothed out after adding some water.  Even though the ABV of the Ardbeg Supernova is 58.9%, there is no alcohol bite.  Just smooth sweet peat and sweetness, perfectly balanced to create an amazing drinking experience.
FINISH: Builds slowly to end in peaty, spicy notes.  There is lingering medicinal notes with hints of smoke and bitter orange again.
As a result, we give the Ardbeg Supernova a RATING: DIVINE.  An utterly brilliant whisky, probably our favourite Ardbeg to date.  What is your favourite Ardbeg?
Also read: Ardbeg Corryvreckan