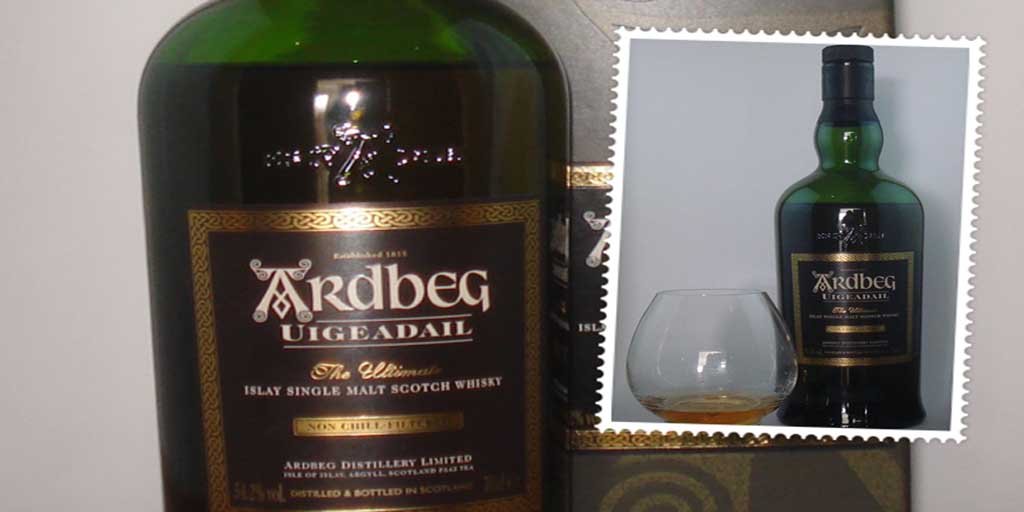 During December 2013 we got a bit of time to catch up on some of our outstanding blog posts. We originally tasted this Ardbeg Uigeadail during July 2013. Our first introduction to Ardbeg was on Ardbog day 2013 when we wandered past Marc's Whiskybrother Shop in Hydepark and tasted the Ardbeg 10 yo.  We both fell in love with it and walked out with our first bottle. Ardbeg has become one of our favourite distilleries and our collection has since grown to 5 bottles including expressions like Uigeadail and Corryvreckan.
We acquired the Uigeadail in an online auction and had it delivered to Jeannette's sister in the UK. She then shipped it to us.  The name Ardbeg Uigeadail derives from the Scotch Gaelic for 'Dark and Mysterious Place' and is named for the Loch from where Ardbeg draws its peat-laden waters. This expression marries the traditional smoky notes of Ardbeg with the sweet raisiny notes of old ex sherry casks.This whisky was launched 10 years ago and has won awards ever since.
Also Read:  Mulled Wine in honor of my Canada trip
In 2009, Jim Murray's Whisky Bible named Ardbeg Uigeadail 'World Whisky of the Year' – in praise of its "utter silky brilliance" and "complexity on a level only a handful of distilleries in the world can even dream of reaching." Ardbeg Uigeadail was also voted by the 80,000 strong Ardbeg Committee as their favorite Ardbeg. We were really happy to get it and excitedly looked forward to tasting.


Related Article: Ardbeg Corryvrecken
Tasting notes for Ardbeg Uigeadail
ABV: The Uigeadail (pronounced Oog-a-dal) is bottled at 54.2%.
COLOUR: The appearance of the Uigeadail seems light amber in colour. It's a beautifully oily whisky, leaving delightful fingers on the inside of the glass. On the addition of water it goes slightly milky – just wonderful.
NOSE: Nosing is unforgettable. Peat hits you like a wet cloth in the face. Smoke, iodine and medicinal notes follow soon after. You know you are dealing with an Ardbeg! Raisins, hints of honey and spice follow in the background. Its complex and rich.
PALATE: On tasting the Uigeadail you are struck by how big a mouthful this whisky is.  Peat and smoke fill your mouth. Notes of sherry and Christmas cake come through.
FINISH: Something else! Its long and lingering. Starting off with raisins and honey it ends with notes of pepper and espresso. Along the way it evolves in complexity and richness and continues long after you have swallowed. Its warmth seems to expand throughout your body. It is unforgettable. The Ardbeg Uigeadail is definitely one of Johns favorites and a whisky he goes back to time and time again.
There is a wonderful balance between the smoke and peat and the sweetness that the sherry casks bring.  As a result, this whisky scored a RATING: EXCELLENT.
Our rating system requires that both Jeannette and I agree on a rating, but Jeannette does not like heavily peated whiskies. John thinks it's a crime not to rate it a Divine!  Regardless of your view, this dram is readily available and in the UK you can order it online at Master of Malt.
Also Read: Bowmore Enigma
Ardbeg Uigeadail & food pairing
Pairing this whisky with food should be interesting. This whisky will likely pick up, and enhance, seafood with delicate notes of saltines and sea. We can imagine fresh oysters and we will try this whisky with some fresh oysters topped up with a drop of lemon juice and a dash of Tabasco.
The Ardbeg Uigeadail should also well with salmon sashimi. The saltines of the fish and the soya should compliment the smoky peaty finish of the whisky. On the cheese front we expect that strong flavored cheese should do well with this fine whisky. The Ardbeg Uigeadail is one of the finest whiskies that you can lay your hands on if you love the Islay style.
Also Read: Glenfiddich Age of Discovery 19 yo Madeira Cask