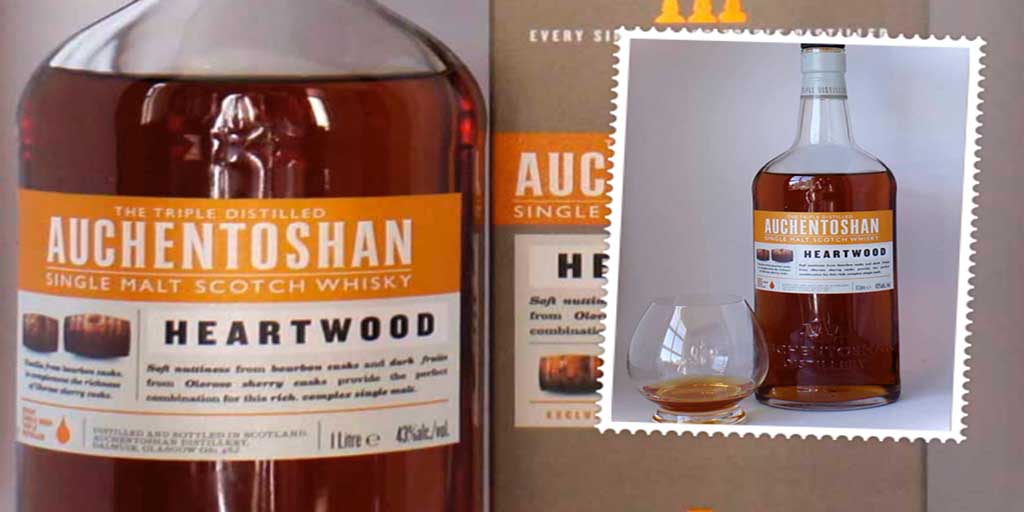 On our trip recent to Dullstroom, at the 'Wild about Whisky' bar, we tried to taste whiskies that we have not seen before.  At one of the tastings, Jeannette tried a variety of whiskeys aged in sherry casks and one of the nicest ones was the Auchentoshan Heartwood.  Lucky for us, Wild about Whisky had one in the store that we could buy.  Auchentoshan (pronounced ock-en-tosh-an) is a Lowlands distillery and the name translates as 'corner of the field' from the local form of Gaelic. Auchentoshan is unique among Scottish whisky distilleries in that they triple distill using three stills.   Elsewhere in Scotland the common practice is to distill twice.  Triple distillation produces a spirit that is lighter and more delicate in flavour. Auchentoshan has produced a range exclusively for the retail travel market.
What is means is that if you are not travelling through Heathrow – or get lucky – this bottle may elude you in the normal places. That would be a tragedy for this is a fine whisky indeed. The Auchentoshan range consists of four core expressions with two limited edition releases coming out each year.
Also Read: The Balvenie Doublewood 12 yo

The whole range plays tribute to the wood and each whisky in the range is inspired by the phase of a tree's life cycle and named to reflect the whisky's flavour as if it were part of the tree's life. The Auchentoshan Heartwood is aged in Oloroso sherry casks, as well as charred American oak bourbon casks.
I wrote a bit about the Auchentoshan Distillery in a article I did for the Whizzky App on a 'Virtual Sipping Tour Through Scotland".
Related Article:  Glenkinchie 12 yo Single Malt whisky
Tasting notes for the Auchentoshan Heartwood
ABV: 43%
COLOUR: Firstly let's have a look at Auchentoshan Heartwood colour. Some commentators have described the colour as dark honeycomb. To us it looked far more copper in colour. In sunlight is reminded us of beautiful copper pots that had been polished and caught the light just the right way. It is certainly a warm, inviting colour.
NOSE: From a nose perspective the Auchentoshan Heartwood is actually quite complex. We picked up some sherry and notes of orange.  Other commentators have picked up honeycomb – proof if any was needed that it's a complex nose because we did not pick that up.
PALATE: Whilst you may not remember the Auchentoshan Heartwood for its nose, you wont easily forget it on the palate.  On the palate the Auchentoshan Heartwood feels lighter than other Scottish whiskies. This may be testament to the triple distillation rather than the normal double distillation.
The Auchentoshan Heartwood flavours that came through were sherry, vanilla and honeycomb. In fact I thought ice cream at first! Whilst it is light there is richness to it with oak coming through as well as some hints of citrus.
FINISH: The finish is not long, with quite a short tail to it. This does not distract in any way and it finishes in a nice mouth filling, fresh way.
This is a truly fine whisky and we both instantly reached the same verdict. RATING: EXCELLENT.
Not only is it excellent, it's probably one of the most "moreish" whiskies we have tasted and you easily find yourself pouring another glass before you realise it. I'm glad it's a 1L bottle because it's not going to last!
Also Read: Singeton 12 yo whisky