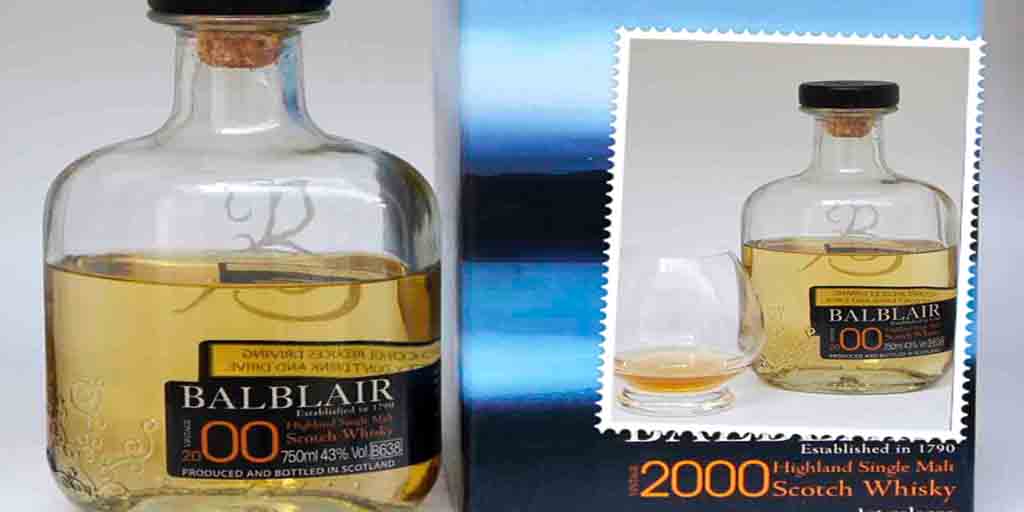 A month or so ago, I got invited to join Paul laCock from Aficionados and a few fellow tweeters for a Balblair Twitter tasting (BalblairTT). The range we tried included the Balblair 90, Balblair 03 and the one I liked the most, the Balblair 1999. The Balblair 1999 was a real "sit down and think of life" dram. Rich, fruity sweet, full-bodied…. Delicious! It made me realize that, although we have made quite a dent in our own bottle of Balblair and photographed it extensively, I have never captured the tasting notes or written about it. So here goes, the Balblair 2000 release.
John Ross founded the first Balblair distillery in 1790. After his death, the distillery passed down to his son and in 1872 the distillery was rebuilt on a site higher up on the hills. The Balblair distillery lies in Edderton in the Northern Scottish Highlands, surrounded by mountains, from where the Allt Dearg – Balblair's water source – springs.

Balblair was forced to close during World War I and did not reopen until 1949. In 1948 Keith-based lawyer, Robert 'Bertie' Cumming, bought it. Cumming ran the distillery until his retirement in 1970. In 1996, Allied Domecq sold the distillery to its current owners, Inver House Distillers. Old Pulteney, anCnoc and Speyburn Single malts as well as Hankey Bannister and Catto's blended whisky are part of their portfolio.

The bottle is beautiful and stand out among the other more standard bottle shapes. According to some research the design is inspired by the nearly Pictish stone Clach Biorach. The raised edging design on the bottle is gorgeous! It makes for wonderful photo opportunity as you can see below.
Also Read:  Whisky paired with a Royal Ashton Cheese
Tasting notes for the Balblair 2000 Vintage

COLOUR: This is a very light whisky in colour. It has hints of golden-yellow and green.  Not sure what to call this colour, but golden green wheat springs to mind.
ABV: The Balblair 2000 has an ABV of 43%.
NOSE: There are hints of fresh-cut flowers, malt, sweet tropical fruit with bits of spiciness floating about. Once you let the whisky breathe, more of the sweet notes  come through.
PALATE:  The flavour development on the Balblair 2000 is both interesting and complex.  It starts out with oak and then slowly transforming into sweetness with some coffee.  It transforms into a fruity sweet note with bits of cinnamon spice. on the second sip, I get loads of oak mild spice, hints of bitter citrus and floating in the background, candied raisins.
The addition of water certainly makes the whiskey a lot more easy drinking but it does seem to take away some of the fresh-cut flowers from the nose as well as some of the citrus from the palette.
FINISH: The Balblair 2000 has a medium length finish and end in notes of fruity sweetness and dried wood. Following
I finished the first tasting glass without adding water and had to get a second glass.  In conclusion, I give the Balblair 2000 a RATING: EXCELLENT.
I prefer it without water.  Water makes is very easy drinking, but takes away the complexity.   From what I can see, both the Balblair 2000 and 1999 vintages are sold out. But if you visit Aficionados you can still get your hands on the Balblair 03 and 1990 release. Both smashing drams!
Balblair Flavour Wheel
Balblair has this very cool option on their website to create a flavour wheel for the release that you taste. Here is the link to my flavour wheel on the Balblair 2000 Vintage.   You can go and try your own Balblair flavour wheel over here.