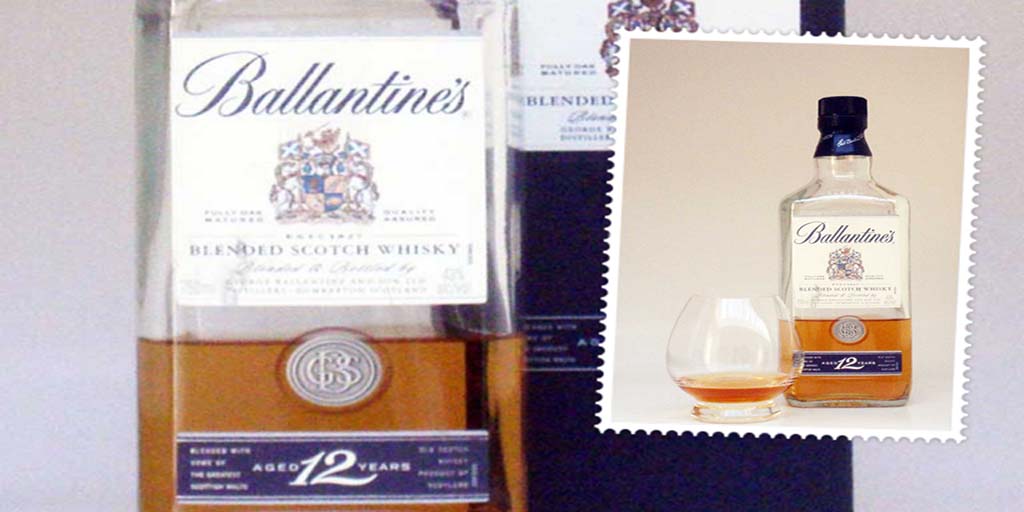 After trying it for the first time last year, Ballantines has quickly become our favourite blended whisky. The Ballantine's Finest received our first Divine rating and the Ballantine's 17 yo was our Blend of the Year 2014. Based on 2013 case volume sales, Ballantines is the number 2 Scotch Whisky brand in the world. I added the Ballantines 12 yo to the collection and our collection has grown to over 9 different expressions.  
Ballantine's is owned by Pernod Ricard and produced in Dumbarton, Scotland.  Ballantine's Scotch whisky dates back to 1827. George Ballantine began supplying a selected range of blended Scotch whiskies to distinguished customers from his grocery store in Edinburgh.
In 1938 they received the Grant of Heraldic Arms featured on their bottles.  This recognized George Ballantine & Sons as an 'incorporation noble on the Nobleness of Scotland'.  The key ingredients in the Ballantine's blends are Miltonduff and Glenburgie as well as whisky from around fifty other malt distilleries and 4 grain distilleries. We took this bottle with us on our last trip to the Drakensberg Mountains.  It was the perfect accompaniment for the blue sky and the beautiful place.
Related Article:  The Naked Grouse
Tasting notes for the Ballantines 12 yo Blended whisky
COLOUR: The Ballantines 12 yo has a light golden colour in the glass.
ABV: An ABV of 43%.  It is a medium oily whisky.
NOSE: Sweet with notes of fresh-cut flowers, condensed milk and oak.  There are hints of vanilla in the background.  The nose is nicely balanced and subtle.
PALATE:  Quite spicy with hints of plump raisins.  The Ballantines 12 yo is rich and creamy smooth.  Toffee notes appear after a bit.  This blended whisky has a big mouth feel and is lovely and chewy.  Water smooths out the spicy notes and softens the hints of pepper.  It brings a lightness to the glass and enhances the sweetness.
FINISH:  Wonderful and long.  It begins big and then fade away slowly leaving hints of spice and fruit.
We give the Ballantines 12 yo a RATING: EXCELLENT.
This 12 yo has become our 'go to' whisky for a relaxing, uncomplicated dram. The Ballantines 12 yo has replaced our beloved Johnnie Walker Black on our favourite list.  Is the Ballantines 12 yo as good as the 17 yo?  Not quite.  The 17 yo just blew our minds with its complexity and smooth rich quality.  However, this is much more affordable than the 17 yo and at the price point, a whisky you can drink again and again. 

Also read: Johnnie Walker Blue Label