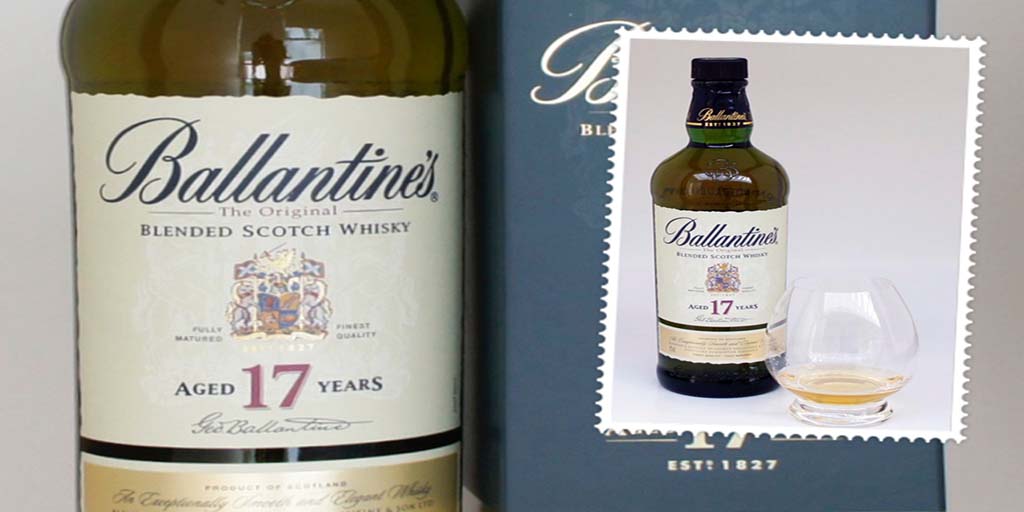 A Friday or so ago, Whisky of the Week tried the Ballantine's Finest Scottish whisky.  We received the bottle in a blue cover from good friends of ours.  We prefer single malts, but are willing to give a blended whisky a try about once a month.  Neither John nor me as ever tried a Ballantine's so we did not know what to expect.
We were blown away.  Not only was it a great whisky, it earned our first Divine rating for 2014.  No blend has every received a 'Divine' rating in our books. Here is the link to our rating system.   During 2013 we only had 2 'Divine' ratings.
The Kavalan Solist Bourbon Cask Strength from Taiwan and the Glenlivet Alpha. All single malt whiskies.  So for us to rate a blend 'Divine' was a big step, which created lots of discussion and necessitated a second glass. We grabbed our trusted Whisky Bible and scanned it to see what  Jim Murray's views were.

And lo and behold, he liked it as well.  We were not that wrong.  But we noticed that he like the Ballantine's 17 yo even more. After lots of discussion and another glass, we had to agree. Ballantine's Finest is a stunning whisky and it deserves a 'Divine' rating. The story doesn't end there.  Our friend Marc from WhiskyBrother tweeted that he had a few Ballantine's 17 yo's in stock.  And we just had to add it to our collection.  Thank you Marc!
Related Article:  Glenfarclas New Arrival
Ballantine's 17 yo Blended Scotch Whisky
According to the internet, the Ballantine's 17 yo was first blended in the 1930's and is created in the true Ballantine family style.  "Ballantine's 17 yo displays all the flavours of Scotland, with a careful combination of malt and grain whiskies from all over Scotland."  The tasting notes on the Ballantine's website describe the Ballantine's 17 yo as:
Nose: Deep, balanced, elegant and smooth with hints of sweet vanilla, oak and a sensation of smoke.
Taste: Full and complex, vibrant honey sweetness and creamy vanilla flavours with hints of oak and spicy liquorice.
Body: Full, creamy, luscious.
Character: Creamy, harmonious & oak-sweetness.
Finish: Long, sweet and smooth with a hint of spice.
We tasted the Ballantine's 17 yo during September 14 and captured our tasting notes here.  Have you tried the Ballantine's 17 yo?  What did you think?
Also Read:  The Ballantine's 17 yo Scapa Signature Distillery Edition