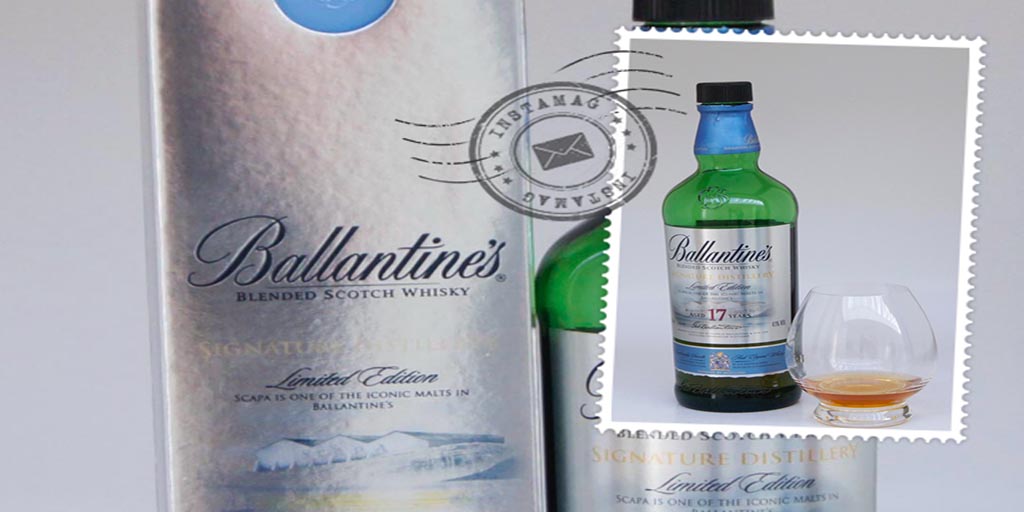 I have often written about our love for Ballantine's whisky.  Ballantine's Finest was the first blended dram to earn our Divine rating.  Not even our beloved Johnnie Walker Black could achieve that.  We try to extend our Ballantine's whisky collection whenever we can. Chivas Brothers launched four Ballantine's expressions under the new line, Signature Distillery Editions.   Scapa (targeted at the Korean market), Glenburgie (release for travel retail), Miltonduff and Glentauchers.
According to Sandy Hyslop, Ballantine's master blender:
"Ballantine's 17 Year Old is a blend of more than 40 different malt and grain whiskies from all over Scotland, but Scapa, Glenburgie, Miltonduff and Glentauchers stand out as having played a monumental role in the blending process of our master blenders over the years."
The Signature Distillery Editions are intended to highlight the character and influence of each of the blend's major contributing distilleries.
The Ballantine's 17 yo Scapa Signature Distillery Edition has been created to enhance the influence of Scapa and to highlight this Orcadian part.  Situated on the Island of Orkney in the Northern Highlands, Scapa is not far from Highland Park.

This blend has stood on my shelf for nearly a year and I've been waiting for the right opportunity to taste it. Today turned out to be that opportunity.
Also Read:  Johnnie Walker XR
Tasting notes for the Ballantine's Scapa Release
COLOUR: The Ballantine's Scapa is a wonderful light golden colour.
ABV: It has an ABV of 43%.
NOSE: There is so much going on in the nose. It is a riot of ripe fruit, marshmallows, toffee, cherries and raisin pudding. In the background there are faint hints of salt, seaweed and smoke. There is a wonderfully rich, complex, layered nose to this whisky.
PALATE: On the palate there is sweetness followed by loads of spice and oak. There is fruit sweetness balanced with toffee, smoke and warming spices.  Even without water, this whisky is delicious and smooth. A truly big mouthful.  The addition of water further transforms this dram.  It becomes rich and creamy and absolutely brilliant.
FINISH:  Long and lingering and build slowly.  It ends in the perfect balance of sweetness and spice.
I give the Ballantine's Scapa Signature Distillery Edition a RATING: DIVINE.
I fell in love with the flavour profile of the Ballantine's brand.  It has the perfect balance of rich, robust spicy sweetness.  The flavour profile, is for me, what a whisky should taste like.  There has been only 1 Ballantine's that we have not rated Divine and that was the Ballantine's 12 yo.
The biggest problem with this bottle? It not available in South Africa and a limited release. All we want to do is sit back and pour another one.  But we will be strong and save it for a special occasion.
Also read: Ballantine's 17 yo blended whisky