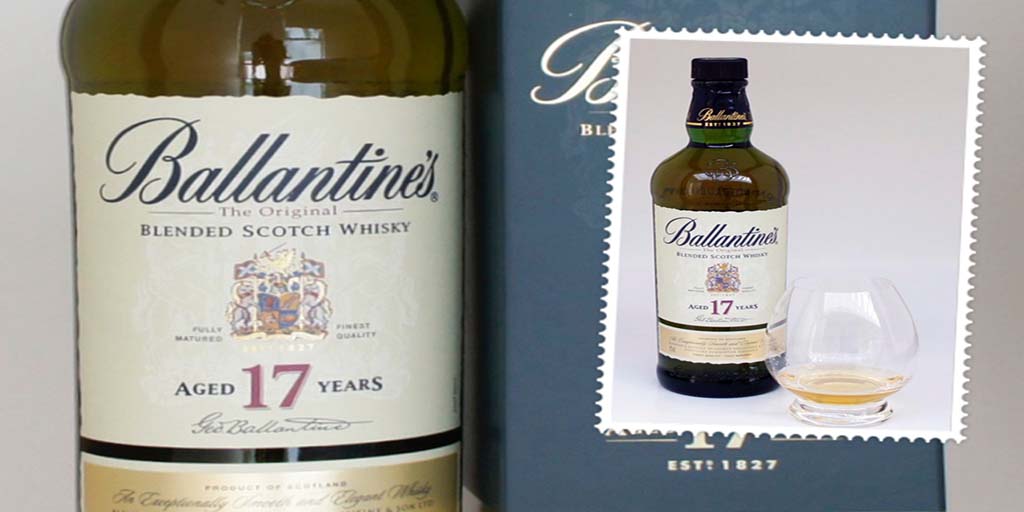 Earlier this year we received a Ballantine's Finest Whisky as a gift from good friends.  Neither John nor I had ever tried a Ballantine's so we did not know what to expect. We were blown away by what we found.  Not only was it an amazing whisky, it earned our first Divine rating for 2014.
No blend has every received a 'Divine' rating in our books. We grabbed our trusted Whisky Bible and scanned it to see what the great Jim Murray's views were.  And lo and behold, he liked it as well.  We were not that wrong.  But we noticed that he liked the Ballantine's 17yo even more.
Our friend Marc from WhiskyBrother tweeted that he had a few Ballantine's 17yo's in stock.  And so we added a second Ballantine's to our collection.  Ballantine's Scotch whisky dates back to 1827. George Ballantine began supplying a selected range of blended Scotch whiskies to distinguished customers from his grocery store in Edinburgh.

Sales were good and Ballantine employed his son, George Jr to help with the expansion. They soon began exporting products to Europe and the business went from strength to strength. Based on 2012 sales, Ballantine's is one of the top 10 whisky brands in the world.  Today Ballantine's is owned by Pernod Ricard and produced in Dumbarton, Scotland.
The Ballantine's 17yo was first blended in the 1930's and is created in the true Ballantine family style.  "Ballantine's 17yo displays all the flavours of Scotland, with a careful combination of malt and grain whiskies from all over Scotland." The Ballantine's 17yo won the Whisky Bible 2011 World Whisky of the Year. A controversial choice by Jim Murray, so we were quite interested to try it.


Also Read: Highland Queen Majesty single malt whisky
Tasting notes for the Ballantine's 17yo
ABV: The Ballantine's 17yo has a ABV of 43%.
COLOUR: is defined as golden amber. When you at first open the bottle, sherry butts and toffee float up. The Ballantine's 17yo makes long thick oily fingers in the glass.
NOSE: After the initial sherry sweetness, the nose brings notes of tropical fruit, pineapple and banana.  There are hints of oak and cereal at the back.  The nose is complex and rich.
PALATE: The Ballantine's 17yo is incredible smooth.  The palate brings notes of creamy oak and spice.  There are hints of vanilla sweetness balanced with little bits of smoke.  It is a complex whisky that reminds us of liquid gold.  Drinking this Ballantine's 17yo is an amazing experience.
FIFNISH: Long and lingering with fruit and hints of sweetness, oak and spice at the end.  This blended whisky has really impressed us.
We award the Ballantine's 17yo a RATING: DIVINE.
This whisky is amazingly smooth, complex and well balanced.  I can understand why Jim Murray rated this blend so highly.  We will  certainly extend our collection of Ballantine's whiskies based on this amazing whisky.
This amazing whisky was also our Blend of the Year 2014.