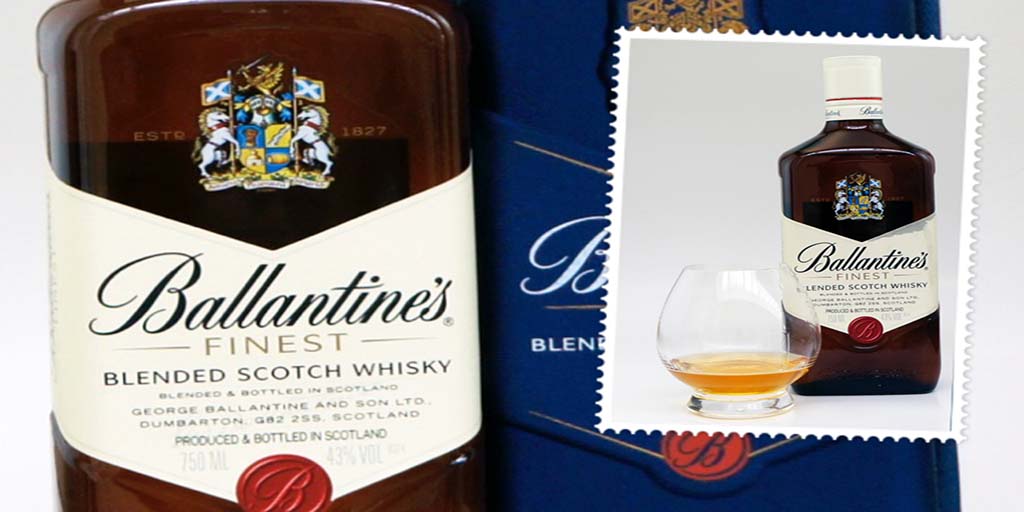 Today we try a Ballantine's Finest.  Ballantine's Scotch whisky dates back to 1827. George Ballantine began supplying a selected range of blended Scotch whiskies to distinguished customers from his grocery store in Edinburgh.  Sales were good and Ballantine employed another son, George Jr to help with the expansion.
They soon began exporting  products to Europe and the business went from strength to strength. In 1895 Queen Victoria awarded George Ballantine & Son a Royal Warrant – the greatest endorsement of the company's prestigious reputation.
The business remained under George Jr's watchful eye until 1919 when Barclay & McKinlay acquired the business.  In 1938 the company received its Grant of Heraldic Arms.  This recognized George Ballantine & Sons as an 'incorporation noble on the Nobleness of Scotland'.
This crest appears on every bottle of Ballantine's Scotch.  The blend is made up from as many as 50 single malts. The blend includes, four single grains and characteristic malts like Miltonduff and Glenburgie.


Also Read: Firstwatch Extra Fine Imported Whisky
Based on 2012 sales, Ballantine's is one of the top 10 whisky brands in the world.  Today Ballantine's is owned by Pernod Ricard and produced in Dumbarton, Scotland. Whilst we love single malt, we regularly taste blends. They remain second in our affection to single malts, so we looked forward to seeing how it fared.  We received this whisky as a gift from friends and have never tried any Ballantine's before our tasting.
Related Article:  Black Bottle Whisky
Tasting notes for Ballantine's Finest Blended Scotch whisky
The square bottle came packaged in a  blue case zip case and is an affordable whisky.
ABV: This whisky is bottled at 43% ABV.
COLOUR: Light gold. The spirit is quite oily for a blend, which promised good things!
NOSE: Fruitcake, glazed cherries, wood and spice came through. Wow… we were not expecting this complexity from a blend.
PALATE: The Ballantine's Finest is smooth and has a nice substantial full body. Flavors of Christmas cake, dried fruit and muscovado sugar are evident. In the background are hints of peat and smoke.
FINISH: In addition, the finish is also brilliant. Long and lingering, Ballantine's Finest ends in notes of spice, ginger and fudge.
I was blown away by this Ballantine's Finest. I never expect an essentially budget blend, to achieve fantastic ratings. This one is super smooth and full-bodied. Rich and complex, the Ballantine's Finest is an easy drinking spirit that will have you reaching for a second and third glass.
From its appearance in the glass, the nose, palette and finish, this blend has surprised me with its complexity and richness. In the end this Ballantine's Finest achieved our highest possible score. As a result, I awarded it a RATING: DIVINE. I have tasted many whiskies over the past two years, but this is the first blend to achieve this rating.
The Ballantine's Finest pairs wonderfully with a rich Camembert.  During summer, I experimented with a Bacon, Broccoli, Butternut salad with a Ballantine's Salad dressing and it was delicious.  It was one of 2 blended whiskies up for our own Blend of the Year 2014 award.  You can read about it here.  I try a
Related Article: Ballantine's 12 yo