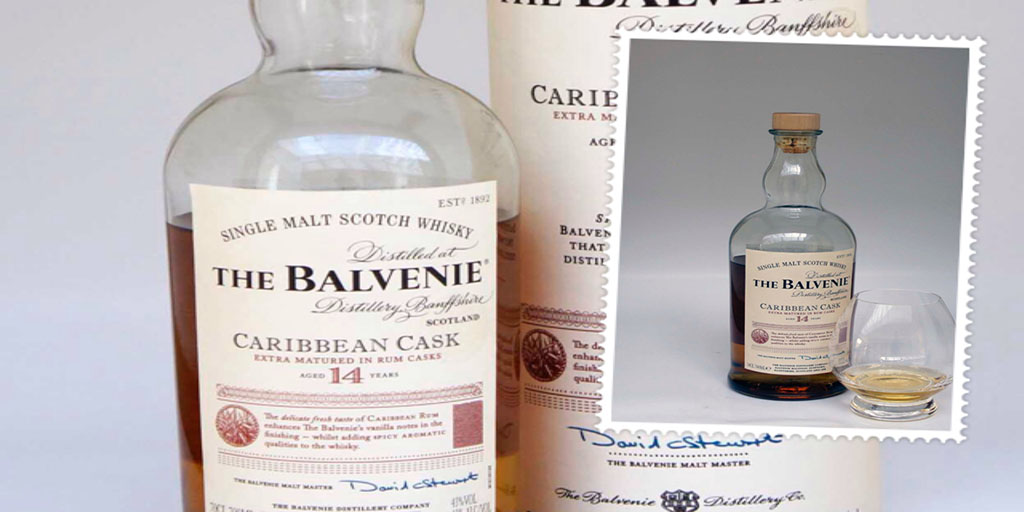 This is one of those bottles that we have to urgently review before we finish it. When we find great chocolate we want to pair with whisky, this is often one of the first bottles we grab. Likewise when looking for a whisky to pair with soft cheese, this bottle regularly come to mind. Only when looking back on our whisky and food posts and tasting notes, did I realize, just how much we relied on the Balvenie Caribbean Cask for its fruity notes.
According to some research, The Balvenie Caribbean Cask was launched to mark the 50th anniversary of David Stewart joining the Balvenie distillery.  It has since become a permanent part of the Balvenie range.
The Balvenie Caribbean Cask has been matured in traditional oak casks for 14 years. Afterwards it was finished in casks that previously held Malt Master David Stewart's own blend of select West Indian rum. You can read some of the Balvenie history in our blog on The Balvenie Portwood 1993 and the Balvenie Single Barrel.
We have paired the Balvenie Caribbean Cask with Lindt Excellence Blueberry Intense. The tartness of the blueberries cuts through the sweetness of the whisky. The dark chocolate compliments the toffee flavours of the whisky superbly. A great whisky chocolate pairing.
I have also paired it with a creamy South African Camembert. Another great pairing!  This dram works well with a Ile de France Brie too.  A very versatile whisky!  One I will certainly be replacing when the bottle is empty.  So below  my official tasting notes on this versatile whisky.


Related Article: Glenkinchie 12 yo Single Malt whisky
Tasting notes for the Balvenie Caribbean Cask
ABV: The Balvenie Caribbean Cask has an ABV of 43%.
COLOUR: It is a  golden wheat colour with flashes of ruby.
NOSE: Rich with sweet notes of ripe mango, pineapple and guava, toffee, Christmas Cake and plump rum soaked raisins.  Hints of florals and malt intermingling with oak come to mind.
PALATE: Without water, the fruitiness continues with citrus and spicy notes, creamy caramel toffee and bits of oak and ginger.  The Balvenie Caribbean Cask has a rich mouth feel.  Adding water brings more wood to the front and softens the spiciness.  Water brings together all the symphony of notes in this whisky. 
FINISH: Long and lingering, smooth and rich.  It stays around long after the glass is empty.
I give this Balvenie Caribbean Cask a RATING: EXCELLENT.
This Scottish dram has me dreaming of a hammock strung between 2 palm trees with the ocean lapping softly at the nearby shore. It is memorable and evolves as you drink it.  If you see one, GRAB it.  It is a worthy addition to any collection.
Also read:  The Balvenie Peated Cask Single malt whisky