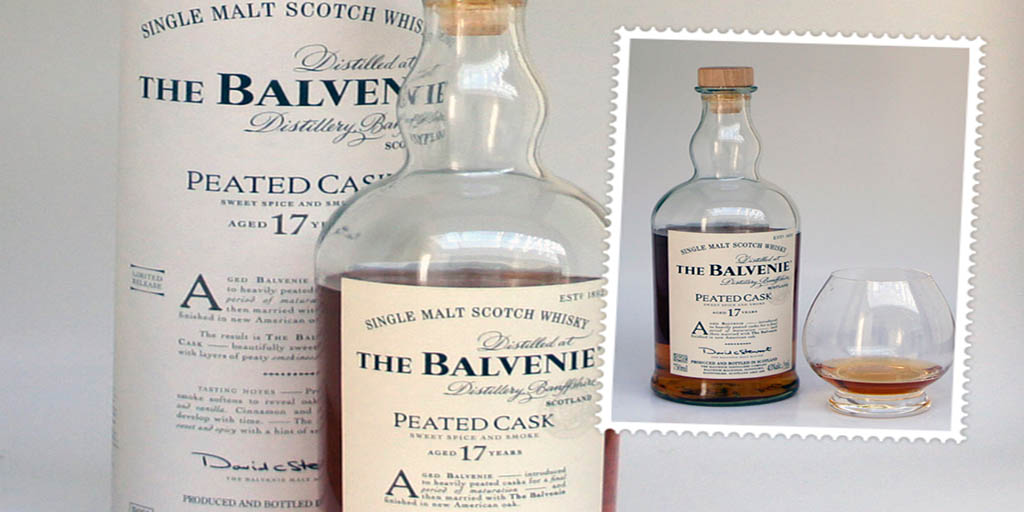 On the 5th of July, the British Queen presented the Balvenie's Malt Master David Stewart with his MBE medal.  This was in honour of his services to the Scotch whisky industry. Spending 54 years in the whisky industry, he is the longest-serving Malt Master in the world. What an amazing achievement!  This achievement was celebrated world-wide by #RaiseaDram with people around the world drinking and tweeting about it with the hashtag.
David was born in 1945 in Ayr in Scotland and started his career at The Balvenie Distillery in 1962 on a 12-year apprenticeship, aged 17. He was appointed as Malt Master in 1974. David was one of the first people to experiment with cask finishes during the 1980's.  This experimentation led to a few of our favourite Balvenie Expressions. Releases such as the Balvenie Caribbean Cask, The Balvenie Roasted Malt and the Balvenie Portwood, which we have loved over the years.
This week, in honour of this great man of whisky, we try the Balvenie Peated Cask 17 yo – another of his "experiments". The Balvenie Peated Cask was released during 2010. It is whisky that was aged in the traditional way to begin with, but finished in a cask that previously held peated whisky. Back in 2001, The Balvenie did a heavily peated malt run that was then aged in ex-bourbon barrels.
At some point the spirit transferred out of the American Oak barrels and into new casks to continue it's maturation. It is into these now empty cask that David poured some 17 yo Balvenie to see what would happen. To further enhance the whisky, David then blended it with some similarly aged Balvenie finished in new charred oak.

The result – The Balvenie Peated Cask release. Unfortunately this was a limited release and is not available anymore.
Balvenie Single Malt Whisky is produced by William Grant & Sons Ltd. They are still an independent family owned distiller founded by William Grant in 1886 and today run by his direct descendants.
Also Read: Sullivans Cove Double Cask Single Malt whisky
Tasting notes for the Balvenie Peated Cask
ABV: Bottled at 43%
COLOUR: The Balvenie Peated Cask has the colour of liquid golden  sunshine.
NOSE: Rich and creamy with very subtle hints of  peat. There are notes of candied sweets and fresh fruit with hints of vanilla, cinnamon sugar and butterscotch sweetness.
PALATE:  A riot of contrasting flavors. Initially there are  heaps of peat mixed with some smoke and ashy notes followed by spicy sweetness.   The next layer has juicy fruitiness with bits of honey and cinnamon spice.  The Balvenie Peated Cask has an interesting flavour development profile. The addition of water brings smoothness to the whisky and makes it easier to drink. It softens some of the ashy smoky and brings forward the sweetness.
FINISH:  Long and lingering and warms you up from the inside.  It ends in notes of  smoky fruity sweetness.
RATING: EXCELLENT.
The Balvenie distillery is  not known for producing peated whisky.  This expression is certainly not made in the usual Balvenie style.  It's unusual and different.  However, it does a fantastic job of standing out as a unique Balvenie.
This Balvenie Peated Expression will probably not appeal to traditional Balvenie lovers.  Furthermore it has too little peat intensity for  Islay lovers.  However, this is a unique and interesting whisky, made by a man who is not scared to try something new.  This whisky is as unique and interesting as  the man who created it – David Stewart.  Lets Raise A dram to celebrate.
Also Read: Walsh Whiskey Twitter Tasting