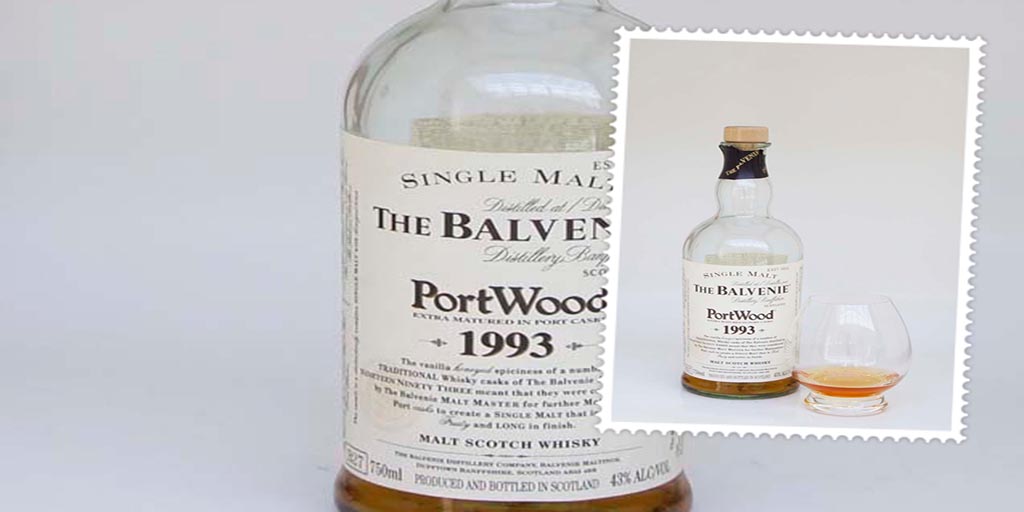 One of the first bottles that started our whisky collection, all those year ago, was this Balvenie Portwood 1993. It not only started out collection, but also our love affair with the Balvenie Distillery. We have in the past often blogged about one of our favourite distilleries and have 12 different Balvenie releases. We have captured our tasting notes on the Balvenie Single Barrel here.   The  Balvenie Portwood is one of our favourite releases of this Distillery. The Balvenie distillery is located in Speyside, Scotland and has been around since 1892.
The distillery was founded by William Grant who learnt his trade at Mortlach distillery.  The Balvenie lies just below the Glenfiddich distillery, sharing its water source, the Robbie Dhu springs. Despite sharing the water, Balvenie is hugely different in character from Glenfiddich.
The 1993 Balvenie Portwood expression has sadly been retired and Balvenie only release the Balvenie Portwood 21 yo as part of their core range. To create this single malt, the whisky was matured in traditional oak casks and then transferred for a last period of maturation to port pipes.

Related Article:  The Balvenie Peated Cask single malt whisky
Tasting notes for the Balvenie Portwood 1993 Edition
COLOUR:  A light amber.  It is a medium oily spirit in the glass.
ABV: 43%.
NOSE: Soft juicy raisins, honey, vanilla and spice.  In the background there is oak and butterscotch.  Wafts of nuts float around intermingling with the sweetness.
PALATE: Superb. The Balvenie Portwood has a changing dynamic palate.  It is initially sweet and  spicy, but builds with oak, warming the soul.  This is definitely a whisky to enjoy in winter.  It is smooth with a pepper and cinnamon bite. All of this without water.  The addition of water took away some of the sweetness and enhanced the wood.  Bits of creamy honey and winter fruit floated in the background.  The Balvenie Portwood is a medium bodied whisky.  It is nice and complex.
FINISH: The finish warms the soul for a long time.  The finish ends in notes of leather and nuts.
We give the Balvenie Portwood 1993 release a RATING: EXCELLENT.
If you can get your hands on a bottle, grab it!  You will not be disappointment.  We also tried this Balvenie Portwood whisky with a white rock cheese pairing and it made a great pairing. The Balvenie Portwood whisky brings out the fruitiness of the cheese.  The White Rock cheese enriches the port in the whisky and almost makes the whisky sweeter.
Also read:  The Balvenie Roasted Malt