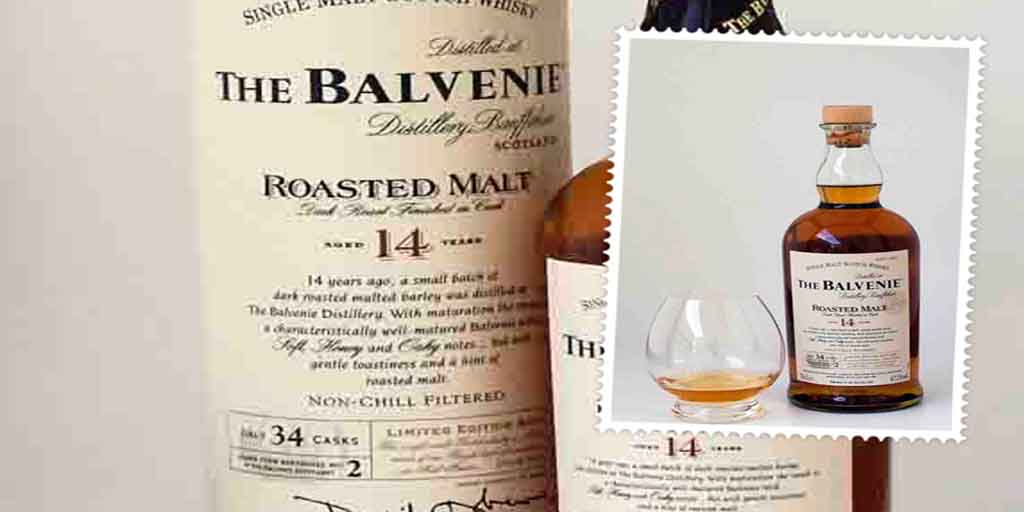 One of our favourite distilleries is The Balvenie. We have quite a few of their releases and have published our tasting notes on the Balvenie Doublewood 12 yo and the Balvenie Single Barrel in the past. Balvenie lies in the Convals in Dufftown in the Speyside region of Scotland. The distillery was built by William Grant just below Glenfiddich in 1892.
It also shares its water source, the Robbie Dhu springs, with its well-known neighbor. Despite having the same distiller, The Balvenie is hugely different in character from the Glenfiddich.
Over the last few years, Balvenie has become the ninth bestselling single malt and demand is growing. It is still owned by William Grant & Sons.  In the summer of 1992 as part of an experimental process, a batch of barley was germinated over 24 hours before being kiln dried, heated in a roasting drum at a temperature of 200C.
The normal germination period is usually around five days. This batch was then mixed with traditional malted barley before the mashing stage. The barley was roasted to between 1600 and 1800 European Brewing Colour (EBC) units.
Normal malted barley only reaches around 30 units. This dark roasted malted barley is more commonly used in the production of stout beer. Balvenie subsequently made a single batch of just 34 casks from this toasted barley. When it was finally bottled in 2006, this became the first Single Malt Scotch whisky to use such a heavy roasting procedure. It was named the Balvenie Roasted Malt.


Related Article:  GlenDronach 16yo Platinum
Tasting notes on The Balvenie Roasted Malt 14 yo
ABV: This limited edition Balvenie Roasted Malt 14 yo is non chill filtered and was bottled at a strength of 47.1% ABV.
COLOUR: The colour of this dark whisky can be described as dark amber, almost copper colour.  It is a thick oily whisky in the glass.
NOSE: On opening the Balvenie Roasted Malt, sweetness and caramel  comes through.  On the nose there are rich notes of cocoa, honey and vanilla.  After adding a few drops of water, the nose has some additional floral and fruity notes.  There are little hints of toasted oak and oak spices.
PALATE: This Balvenie Roasted Malt is a very gentle dram. On the palate there are notes of caramel and roasted nuts.  There are hints of oak and spices intermingling with vanilla.  This medium bodied Balvenie Roasted Malt has a medium length finish.  It starts slowly and builds up to notes of sweet spice and oak.
FINISH: Ends in notes of nuts and orange marmalade.
Consequently, we give the Balvenie Roasted Malt 14 yo a RATING: EXCELLENT.  A wonderful addition to our growing Balvenie collection.  I paired this Roasted Malt with the Anthon Berg Chili & Honey Almond fair trade Dark Chocolate over here.  It mad for an interesting pairing.
Also Read: Glenlivet 18 yo single malt whisky