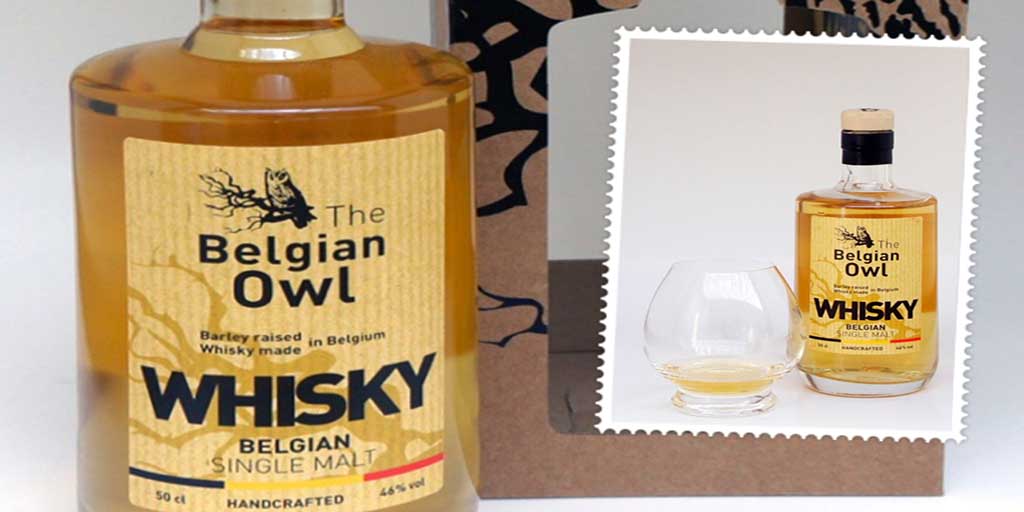 On our whisky journey, we seek to obtain a bottle of single malt from every single malt producing country in the world. We were fortunate to get our hands on a bottle of Belgium single malt – The Belgian Owl. This single malt whisky is the first to be produced in Belgium.  It shows just how whisky creation has expanded around the world.
The Belgian Owl distillery is in the town of Grâce Hollogne, near the city of Liège.  It was founded by Etienne Bouillon. The distillery was originally named Pure and the company was set up by Bouillon and two partners in 1997.
The first barrel was filled during October 2004, so the first Single Malt Whisky 'The Belgian Owl', matured during October 2007.  The first bottling took place officially on the 31st October 2007. From then, they have grown strong. The barley for the whisky is grown in the fields around Liège and the malting, mashing and fermentation processes take part in an old converted farm on the city's outskirts.

The Belgium Owl whisky is matured for 3 years and then bottled in small batches at a strength of 46% ABV. The aging takes place in 1st fill bourbon casks. The Belgian Owl whisky is non chilled filtered and unpeated. There is a great legend posted on the distillery website which tells the story of how the whisky came by its interesting name.
Related Article:  Millstone 8yo French Oak
Tasting notes: The Belgian Owl Single Malt Whisky
COLOUR: a pale golden yellow.  It is one of the lightest coloured whiskies in our collection.  It is a medium oily whisky with some slow fingers on the side of the glass.
NOSE: Freshness and sweetness as soon as you open the bottle.  There are hints of cereal and oak.  The nose is quite subtle  with fresh flowers and vanilla.  The bourbon sweetness delicately comes through in the background.
PALATE:  Quite spicy with floral undertones.  There are notes of green grass with hints of lavender flowers floating by.  The palate also brings oak and barley.  It is a nice medium bodied whisky that is creamy smooth.  The bourbon sweetness comes through very subtly.
FINISH: Medium length.  It ends in spicy and oak notes.  For a 3 yo this is a really amazing whisky.  Definitely one of the better whiskies in the age group.  It is not the most complex whisky but it is easy to drink and quite spicy.
So it should pair quite nicely with some young creamy Dutch cheese.  The bottle is unfortunately on a 50cl volume which means we will drink this very sparingly, as it is not available in South Africa.
We gave this Belgium Owl Whisky a RATING: EXCELLENT.
We will definitely be looking out for more expressions from this Belgium distillery when we travel to Europe.
Added:  The Whisky Bible 2015 chose the Belgian Owl Single Malt '64 Months' as their  European Whisky of the Year (Single Malt).
Also Read: Glengoyne 17 yo single malt whisky