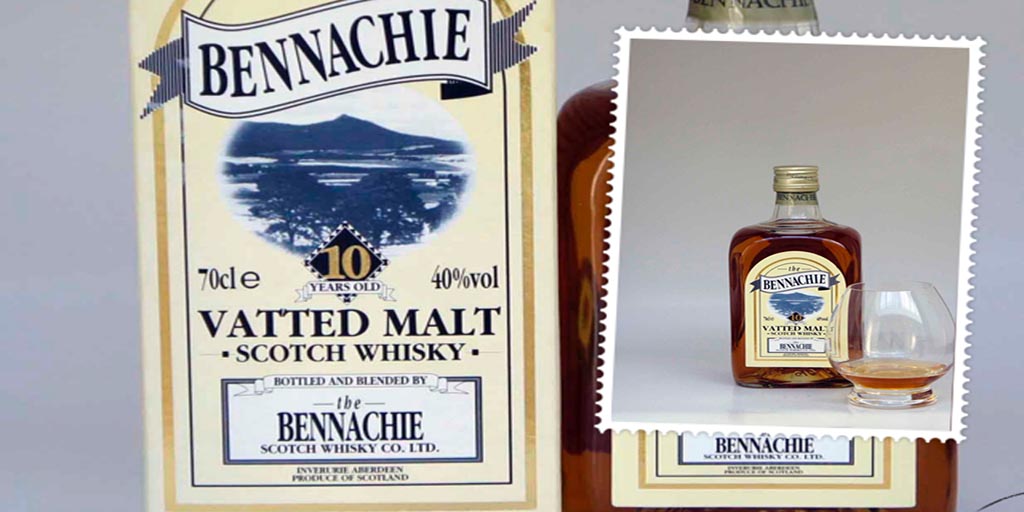 We bought a bottle of Bennachie Vatted Malt 10 yo on auction a while ago. We have never seen the name before so it was an interesting bottle to get. The Bennachie distillery was started by William Smith in 1824 as the Jericho Distillery near the village of Insch. The distillery took its water from the Jordan burn.
The distillery changed hands a few times and was extended. The new owners changed the distillery's name to Bennachie, after the Aberdeenshire Mountain. The distillery shut its doors in 1913 and 6 years later Lawrence MacDonald Chalmers purchased it.
Attempts were made to reopen the distillery, but they failed.  The name has now been used by United Brands, who founded the Bennachie Scotch Whisky Company Ltd in 1998. The Bennachie name is used for a range of vatted malts.
According to the back of the bottle, ".. A blend of only the finest single malt whiskies distilled in Scotland.  They have been 'married' at 10 year old to achieve the mellow yet slightly woody taste which has enabled us to simulate the taste of the original Bennachie whisky.."

 All of this raised the question, what is Vatted Malt? I found various clarifications and simply put, it all comes down to :
Single Malt: A whisky made at one particular distillery from a mash that uses only malted grain, ordinarily barley.
Blended whisky: Produced by mixing different types of whisky together. These whiskies can be single malts and other whiskies that are made using alternative grains (most commonly wheat).
Vatted Malt (or renamed as Blended Malt Scotch whisky): a blend of only single malt whiskies with no other grains added. The single malts can be from more than 1 distillery. An example of a well known Vatted Malt is the Monkey Shoulder Whisky which is a blend between the Glenfiddich, Kininvie and Balvenie Single Malts).  But more importantly, how does this Bennachie Vatted Malt taste?
Related Article:  A unique expression – The Balvenie Peated Cask
 Tasting notes on the Bennachie Vatted Malt
COLOUR: A rich gold.  It is quite an oily whisky with long fingers on the inside of the glass.
ABV:  40%
NOSE:  Barley, cereals and wood.  There are hints of flowers, vanilla and butterscotch.  In the background, there are bits of citrus floating around.  When you add a bit of water, more green apple notes appear on the nose.
PALATE: Mild spice and bitter citrus intermingling with oak, greengage and flowers.  This is quite a delicate whisky.  Adding water, smooths  the whisky but also brings out more of the bitter citrus notes.  This Bennachie Vatted Malt is not a very complex whisky.
FINISH: Quite short and end in notes of oak and citrus.
As a result, we give the Bennachie Vatted Malt a RATING: GOOD.  Interesting to have in the collection but the unusual bottle shape is probably more memorable than the whisky.  I see that Master of Malt stocked the Bennachie range, but lists them all now as 'Discontinued'.
Also Read: Johnnie Walker XR 21 yo