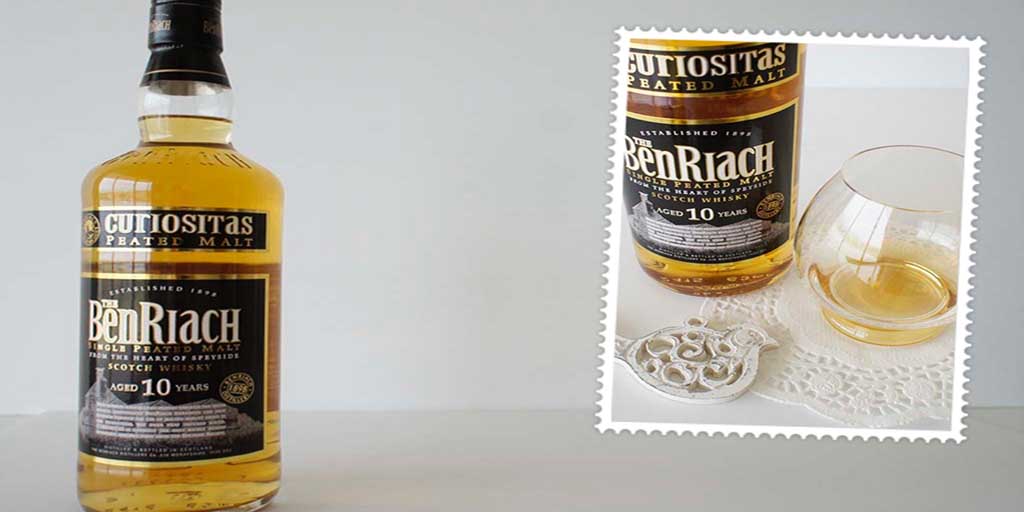 Whiskies from Speyside are among Scotland's lightest, sweetest single malts. Situated around the River Spey, Speyside is one of the most densely populated whisky areas in the world.  Over 30 distilleries populate the valley of rivers and glens.  The lack of peat or coastal air has allowed the Speyside region to create a broad style of whiskies that are are lighter, honeyed and refined.
Some have heavily sherries influences, but there is an undercurrent of rich malts with toffee and honeyed flavours, paired with nuts and fruity notes.   Apple, pear, honey, vanilla and spice all have a part to play in the Speyside drams.  Every now and again, an expression comes along that veers off the designated path. Like this BenRiach Curiositas.
BenRiach distillery is a single malt distillery near Elgin in Speyside and as of June 2016 owned by Brown-Forman.  BenRiach Distillery was established by John Duff in 1898.  There was various changes in ownership until in 2004 when the distillery along with several thousand casks was acquired by an independent consortium, the BenRiach Distillery Company Limited. 
The new owners wasted no time and they resumed production and soon released a 12 yo, 16 yo and 20 yo expression. They also redesigned the logo and the packaging of the bottles. Since these releases, there has been a steady stream seated, unseated and exotic finishes released. 
Also Read: Three Ships Pinotage Cask Whisky
Some of the casks that the BenRiach Company got as part of the 2004 sale included batches of more peated malt whisky. The BenRiach Curiositas contains some of this peated whisky.  Curiositas is a 10 yo, heavily peated release, peated to an estimated 55ppm based on some research.  More heated than the heavily seated Port Charlotte release from Bruichladdich that I tasted a few weeks ago.

Heavy peat from Speyside? I was wondering if I should compare to similar aged Islay drams? The Ardbeg 10 yo perhaps full of maritime flavours?  Then I realized, no, I should judge it all on its own merits, just for what it is – a peaty Speyside whisky.  The basic question should always remain… Do I want another glass? 
Also Read: Teacher's Highland Cream Whisky
Tasting notes for the BenRiach Curiositas
ABV: 46%
COLOUR: Light straw nearly a light golden yellow with hints of green.
NOSE: Earthy peat, heady smoke, plump fruit, honey sweetness, caramelized toffee mixed with vanilla.   Faint hints of oak and malt.
PALATE: Peat, ash, honey sweetness mixed with vanilla, peppery spice and oak.  The BenRiach Curiositas is big and bold.  Rich and satisfying, the peat does not have the same medicinal, seaside notes that some of the Islay drams have.  This is earthy and rich, nicely balanced with honey and fruity sweetness. Water brings more of the well known Speyside character and softens the peat.  More fruity sweetness appears.
FINISH: Long with notes of pepper, nutmeg, oak and sweetness.
RATING: EXCELLENT
What an unexpectedly intriguing dram!  All that earthy peat balanced very nicely with the fruity sweetness.  I preferred it without water, to preserve the more peaty side of the dram.  It is not the most complex whisky but delicious and warming.  Do I want a second glass of BenRiach Curiositas?  Yes please!
Also Read:A unique expression – The Balvenie Peated Cask