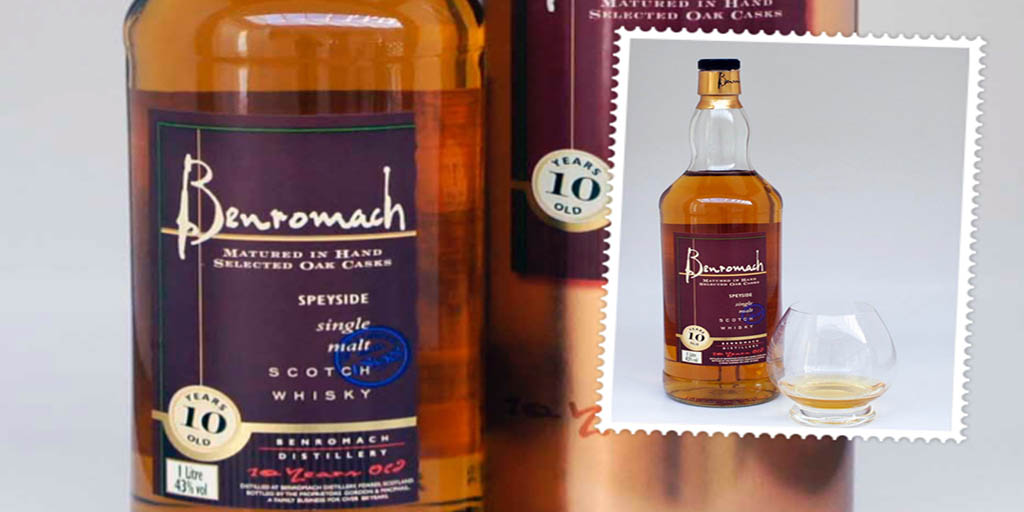 When family travel to the UK, we always make use of the opportunity to order some whisky.  This time, Jeannette's brother was flying back from Budapest via Heathrow with a 3-hour stop over. Ordering something was not an option as the lay over was too short. We nevertheless asked him to bring something back for us. He is not quite as enthusiastic about whisky as we are and we tried to give him guidance of what we like and what we don't. But for someone who does not really drink whisky, it was all a bit overwhelming.
He sent a text message while on Heathrow with a picture of a bottle of a rather uninspiring blend. It was therefore with trepidation that we awaited the arrival of our whisky. But we were very pleasantly surprised when we opened the wrapping and found 2 bottles of really great single malts. Some of our whisky training seems to have made an impression on him. Even after a glass of whisky.  The first bottle was the Benromach 10 yo. The second bottle was an Aberfeldy 12 yo single malt. Our blog on Aberfeldy New Arrival coming next week.

Benromach is one of the smallest distillery in Speyside with a capacity of a mere half million litres annually. The Benromach Distillery Company built the distillery in 1898. It is situated near Forres in Morayshire and is supplied with spring water from the Chapelton Springs in the Romach Hills beside Forres.
Benromach, whose name derives from the Gaelic for 'shaggy mountain', is now owned by Gordon and MacPhail. Benromach became the first distillery to release a Soil Association certified whisky with the 2006-released Organic. They have released various unique expressions since including; PeatSmoke, distilled from heavily peated malt at 55 ppm as well as a series with the moniker Origins, aimed to draw attention to the effects of different production processes.
At the World Whisky Awards 2014, Benromach 10 Years Old won gold in the "Best Speyside Single Malt – 12 Years and Under" category.
Related Article:  Aberfeldy 12 yo
Official Tasting Notes for the Benromach 10 yo
Tasting notes for this Benromach 10 yo sounds delicious. The tasting notes include:
Nose: Rich sherry with fruit and nut chocolate, delicate spice, green apples, malty biscuit and a touch of light peat smoke
Taste without water: Juicy raspberries and brambles, sherry, creamy malt and a light peat. Taste with water: Toasted malt, delicate peat smoke and lingering sweet sherry…
It sounds delicious.  Not a bad choice for someone who does not know whisky. We will gladly send him off to the whisky shop in Heathrow again. We might even convert him to a whisky drinker.
Our own tasting notes for this 10 yo release is captured here.