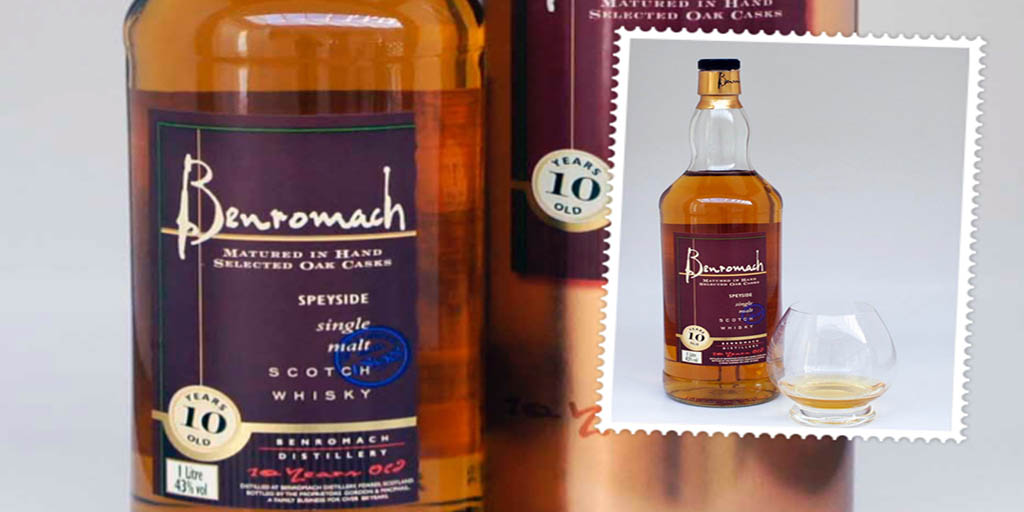 A while ago, my brother brought us back a bottle of Benromach 10 yo from one of his trips abroad.  Benromach is a Speyside distillery situated near Forres in Morayshire. It was founded by Duncan McCallum and F.W. Brickman in 1898. The Benromach name originates from the Gaelic words for 'shaggy mountain'. Benromach is fed with spring water from the Chapelton Springs in the Romach Hills beside Forres. Together with Aberlour, Dufftown and Balblair, Benromach was one of the many Speyside distilleries designed by the renowned architect Charles Doig.
The distillery was mothballed in 1983. Before the middle 1960s, Speyside distilleries malted their own barley.  They would top up their fires with cuts of local peat when coal was running low. These segments were enough to convey a touch of smoke to some of the early Speyside whiskies. But with the arrival of new processes in the 1960s, this subtle Speyside smokiness disappeared. That is until 1993 when Gordon and Macphail reopened the distillery.

They started to produce whiskies in the classic pre-1960's lightly smoked Speyside character. Benromach is the smallest working distillery in Speyside. The distillery prides itself on using absolutely no computers or even pressure gauges. They manage the entire process by how the developing spirit sounds, smells and feels.
They only make use of first fill sherry and bourbon casks. The Benromach 10 yo was released in 2009.  It was the first aged statement bottling since Gordon and Macphail took over the distillery. Sales have grown noticeably since the reopening. The company now exports Benromach to 42 countries across the world.
Also Read:  Jack Daniel's Single Barrel whiskey
In 2013 Gordon and Macphail announced an expansion to meet growing demand.  This included the recruitment of a third distiller and the building of more warehouses.  At the World Whisky Awards 2014, Benromach 10 Years Old won Gold in the "Best Speyside Single Malt – 12 Years and Under" category.
Related Article:  Glenlivet 15yo
Tasting notes for the Benromach 10 yo
COLOUR:  A rich deep golden colour
ABV:  43%.  It is a thick oily whisky with long fingers on the side of the glass.
NOSE: First impressions on nosing it brings spice and bit of oak.  It is not a very complex nose.  After the addition of some water the oak, cereals and barley comes through with hints of sweetness and marzipan.  There are small hints of smoke in the background intermingling with more spicy hints.  Adding water to this Benromach 10 yo really opens up the nose.
PALATE: This is a medium body whisky and moderately delicate. The main notes on tasting is wood and spice.    There are notes of barley, hints of green herbs with little sparks of sweetness.  Faintly you can sense more hints of the smoke in the background.
FINISH:  Long and ends in notes of spice and wood.  This is not a very complex whisky and has a few rough edges.
We gave the Benromach 10 yo a RATING: VERY GOOD.  It is a relatively spicy whisky that should pair well with a dark chocolate.  What did you think of the Benromach 10 yo?
Also Read:  Bulleit American Bourbon whiskey