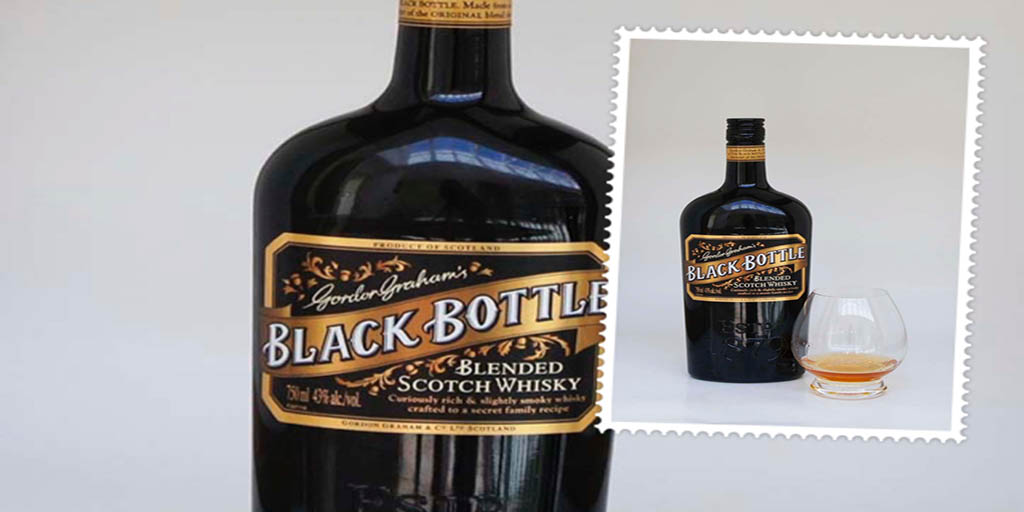 Black Bottle is a blended Scotch whisky bottled by Burn Stewart Distillers. Gordon Graham and Co. based in Aberdeen created Black Bottle in 1879. The three Aberdonian tea blender brothers decided to try their hand at blending whisky. Their blending skills proved to be respectable and demand for their whisky increased. The name came from its original bottle design based on black German glass. In 1914, following the outbreak of World War 1, it was impossible to get the glass from Germany. Since then, the non-vintage bottle has been dark green.The company remained in family hands until 1959.
After a couple of different owners, the brand was acquired by Burn Stewart and is now part of the Distell stable.  During 2013, the brand was relaunched. Owners Burn Stewart decided to return the brand to its 1879 origins, including the black glass that gave the blend its name.
 I have gotten hold of the older green bottle and will at some stage, try a comparison.  The older green bottle is said to be a blend of all the Islay distilleries.  Compared to the old release, the new release is apparently a lot smoother and have Speyside drams blended in.  Closer to the original tea blender recipe.
Related Article:  Top 5 Blended whiskies under R500
Tasting notes on the Black Bottle Blended Whisky
COLOUR: The Black Bottle whisky has a wonderfully dark colour in the glass.  It has hints of polished copper.
ABV: It is a rich oily whisky with an ABV of 43%.
NOSE: Very subtle with hints of florals, toffee sweetness and spices.  After having stood for a bit, there are faint hints of vanilla and caramel pears.  A bit of smoke and malts peep through in the background.
PALATE: Without water, the Black Bottle palate is smoky and rich.  It has a nice big body filled with fruity notes, burnt sugars and spice.  After adding water, this blended Black Bottle whisky becomes remarkably smooth.  It is complex and rich.  After the water, more floral notes appear on the palate.  This is a very easy drinking whisky.
FINISH: Well rounded and smooth and end in notes of smoke and honeyed sweetness.
I give the blended Black Bottle whisky a RATING: EXCELLENT.
It is a wonderfully unpretentious whisky that will have you reaching for a second glass.  The best thing about this whisk; it is affordable.  It retails for around R300 in South Africa.  Showing once again, whisky does not have to be expensive to be great.  We also used the Black Bottle to make a Fearless Red Valentines Day cocktail.  We also paired the Black Bottle with some Milwaukee Smokey Joe cheese and it paired wonderfully.
I threw this bottle into the freezer for a week and then paired paired it with someOrganic dark chocolate.  See the results of this pairing in my blog post about Whisky Chocolate Pairings New Years Eve – 2016.
Like this whisky?  You can order a hamper of Black Bottle paired with some truffles through Netflorist as a gift or for yourself.
Also Read: Compass Box Peat Monster

Black Bottle Old vs New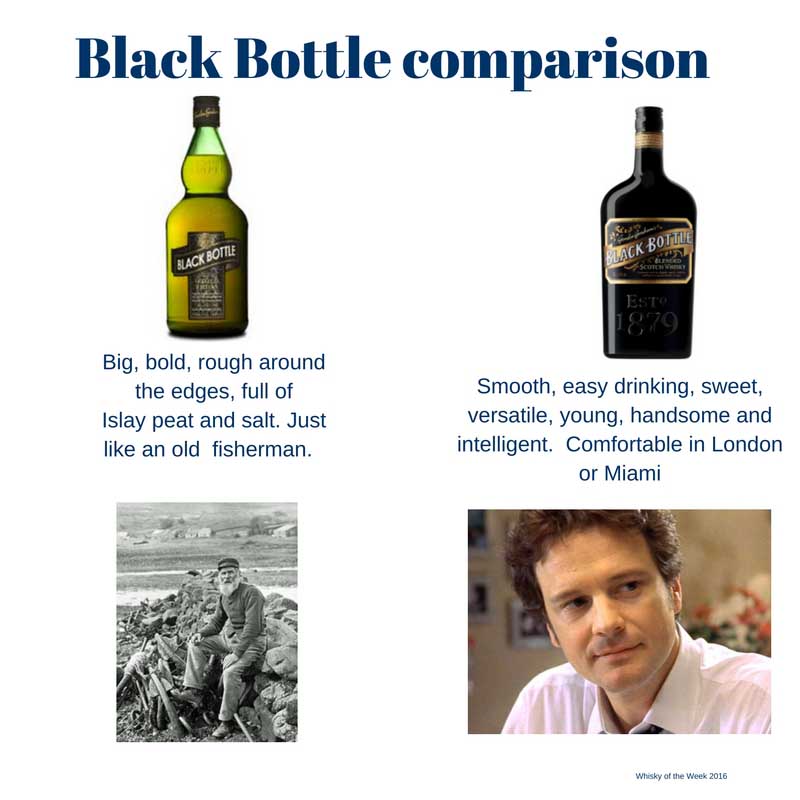 I found an older Black Bottle whisky in a small liquor  shop and decided to do a side by side comparison with  the new bottle.  And o boy!  What a big difference.  I think a picture defines the difference best.
Notable differences:Old vs New
The older Black Bottle color is  a lighter golden color compared to the newer release.  The nose tells you that this is Islay.  There are notes of peat, spice smoke and seaweed.  This is big and bold and rough around the edges.  There is an alcohol burn that is softened by adding a bit of water.  The water brings out the peaty ash and TCP and some sweetness. 
Side by side, the new release has more fruity notes.   The new bottling is smoother, softer and easier drinking. It is more versatile and does work well in cocktails.  I would not even think of brining the older bottling close to a cocktail.   The older bottling is big, bold in your face – 'take it of leave it" whisky.  You can taste the salty Islay coast. 
The older version is big and bold and unquestionable Islay.   It reminds me of an old fisherman, with his pipe. With a few drops of water, I actually like it, a lot!  Big and bold and uncompromising. 
The new version is great in a different way.  It appeals to a broader market and is more adaptable.  It reminds me of a young Mr Darcy from Bridget Jones.  Handsome, intelligent, mature but fun.
It is however sad that they don't release the older version anymore. If I see another older bottling, I  will certainly pick it up.  A unique and special part of any collection.   If you like Islay whiskies and you spot the odd bottle in retail, pick it up.  It is a bit of Islay history worth having. 
Also Read: Hankey Bannister 12 yo blended whisky