Going past a well-stocked Woolworths is a treat and last week we found a Fairview Blue Tower cheese. A while ago we tried the Fairview Camembert Cheese with whisky.  It was delicious. This Fairview Blue Tower has won the South African National Dairy Championships First Prize in the Blue or White Veined Cheese Category for 2015. This Blue Tower is a full fat blue veined Gorgonzola-style cheese with a mild flavour and a rich, creamy texture.
The Fairview Blue Tower is made with more cream than a Blue Rock, resulting in a richer texture. It also has a slightly higher moisture content, making it a bit softer and more decadent. This high fat blue mould cheese is made from jersey milk and matured for 3 months to give a sharp almost spicy flavour.

After the success of the Laphroaig 10 yo Cask Strength and Stilton pairing, I decided to pair this cheese with some other interesting whiskies in our collection.
Laphroaig Quarter Cask and Blue Tower Cheese pairing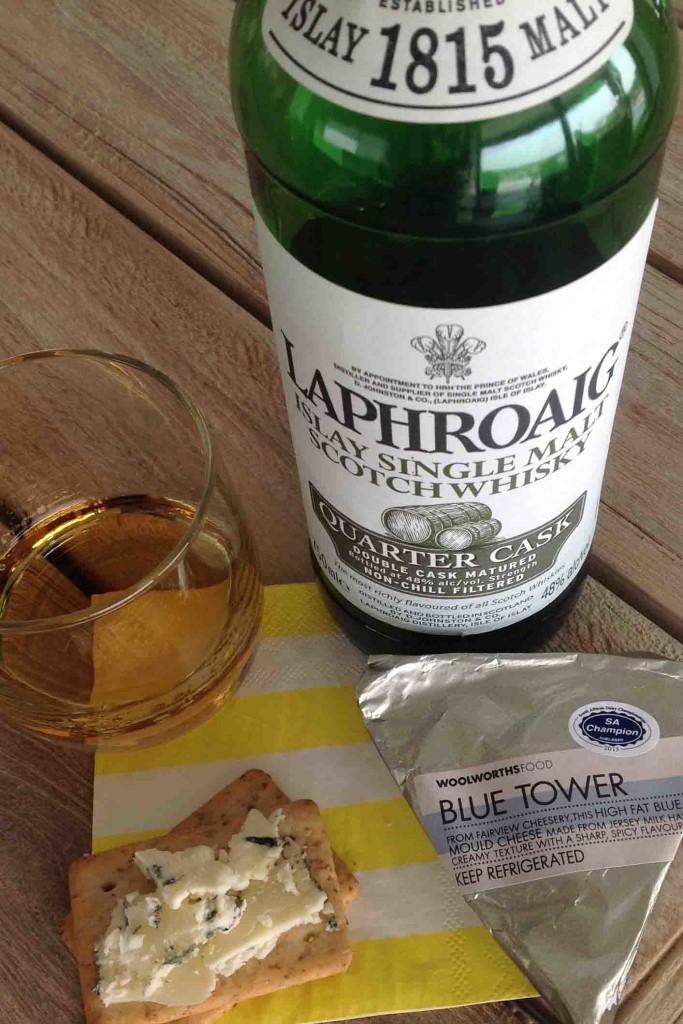 First up I paired it with the Laphroaig Quarter Cask.  My tasting notes for this Islay dram included Iodine, peat, smoke toffee sweetness with fruity notes, some citrus and oak. I rated this Scottish classic whisky as Excellent. What an incredible pairing this made! The Fairview Blue Tower cheese made the Laphroaig Quarter Cask sweeter and smoothed out the medicinal notes. The whisky cheese pairing brought out the creamy buttery'ness in both the whisky and the cheese and softened the spicy mouldy taste of the cheese. The Laphroaig readily available whisky in South Africa.  I give this pairing a Rating: 4,5/5.
Dalmore Cigar Malt and Blue Tower Cheese pairing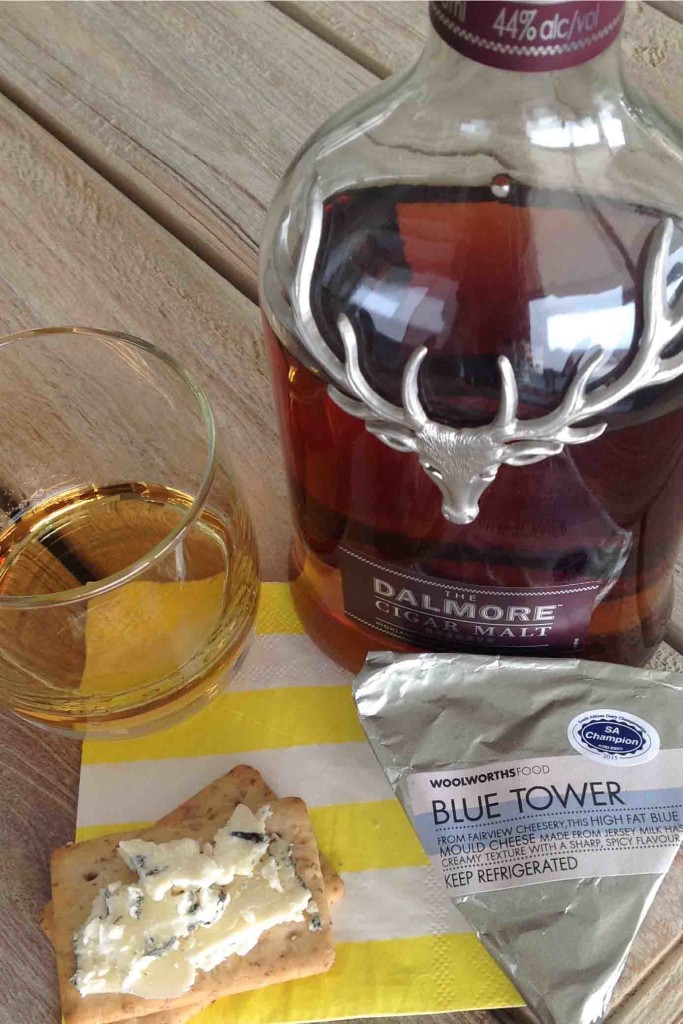 My tasting notes for this Highland whisky included notes of raisins, vanilla, toffee and caramel on the nose. But for us, water unravelled this whisky and after adding water, it was all smoke, old wet leather and orange zest mixed with a few notes of cinnamon spices. I gave the Dalmore Cigar Malt a Rating Good during our tasting in September 2013. We however wanted to see if the cheese could transform this whisky (and allow us to finish this bottle). Pairing the Dalmore with the Blue Tower, softens the wet leather and tobacco notes in the whisky and made it more drinkable. However, the Dalmore does nothing to the Blue Tower and I give this pairing a Rating: 2,5 / 5.
Also Read: Jura Origin & Comté Cheese
Bowmore Enigma 12 yo and Blue Tower Cheese pairing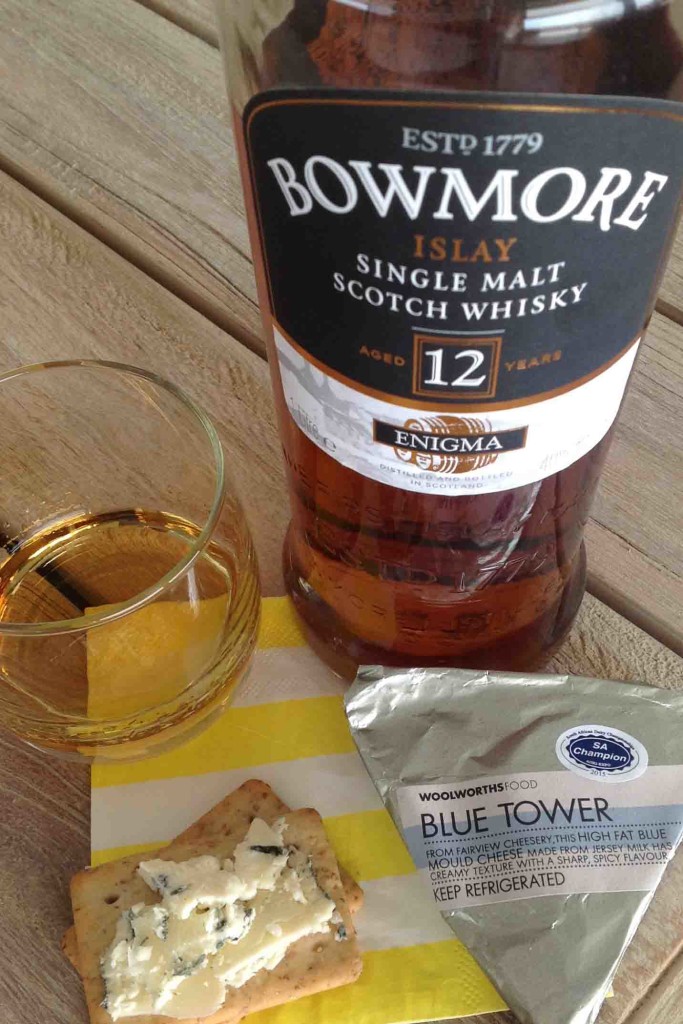 The third whisky cheese pairing I tried was with the Bowmore Enigma 12 yo. We bought this bottle at Wild About Whisky in Dullstroom on one of our weekends visits to the quaint little town. The tasting notes for this Islay release include sherry, malty toffee, biscuit oats, with a wisp of wood smoke and a white pepper sweetness. Again, what a great whisky cheese pairing. The Woolworths Blue Tower cheese and Bowmore 12 yo whisky creates a smooth, rich creamy mouth feel and this pairing brings the best of each element to the front. A slightly more expensive pairing, but worthy of a try.  I give this pairing a Rating: 4/5.
Three Ships 5 yo and Blue Tower Cheese pairing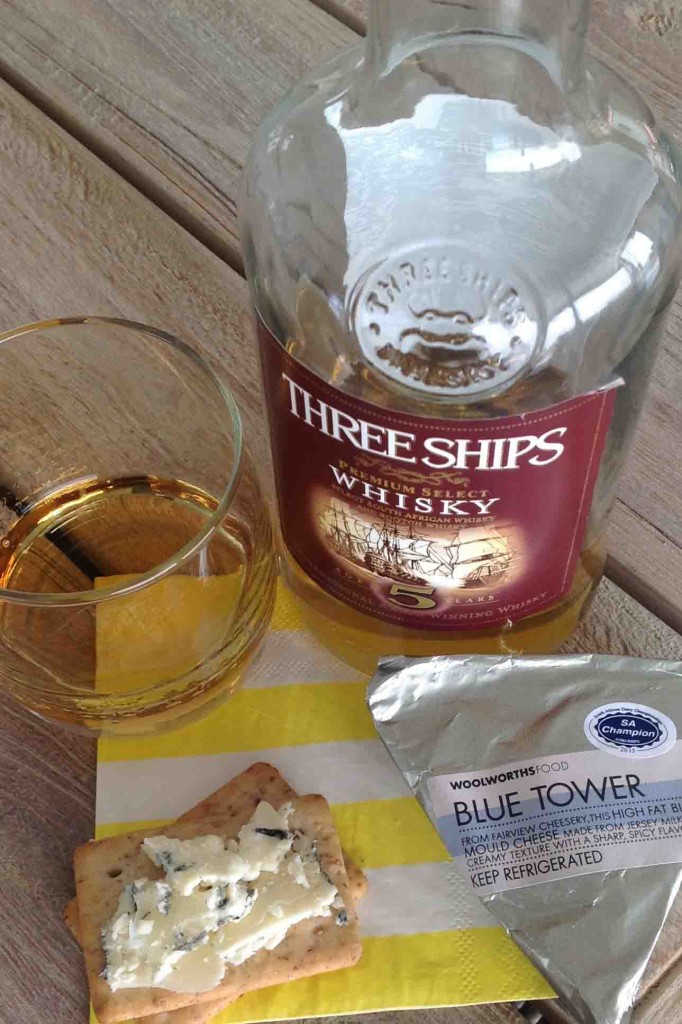 Next up I wanted to try a truly South African whisky from the beautiful Western Cape. I have previously seen that the Bain's Cape Mountain whisky paired wonderfully with the Fairview Camembert and wanted to try this Woolworths Blue Tower with South Africa's very own peaty classic. The tasting notes for the Three Ships Premium Select 5 yo included oak, barley, and hints of peat, cinnamon and honey. There are hints of vanilla and fresh fruit.   This pairing blew me away. The whisky becomes peatier and smoky paired with the Blue Tower cheese. The spiciness of the cheese is enhanced and together they have that yummy factor. A readily available and affordable pairing.  I give this pairing a Rating: 4/5.
Amrut Two Continents and Blue Tower Cheese pairing
Last but not least I tried an Amrut Two Continents. This is one of our favourite whiskies and our tasting notes for this Indian whisky included honey, spice and vanilla. There was a hint of peat but no smoke. I gave the Amrut Two Continents a Divine rating. Pairing this great whisky with the Woolworths Blue Tower cheese created magic.   The whisky and cheese combined to become a smooth, complex and rich experience. This is an incredibly special pairing. The subtle sweet notes of the Amrut Two Continents is enhanced and the whisky brings out a nuttiness in the cheese. I give this pairing a Rating: 5/5.
It seems like this Blue Tower cheese pairs well with many smoky or peaty type whiskies. What would you pair with this cheese?
Also Read: Brie Cheese and whisky pairing