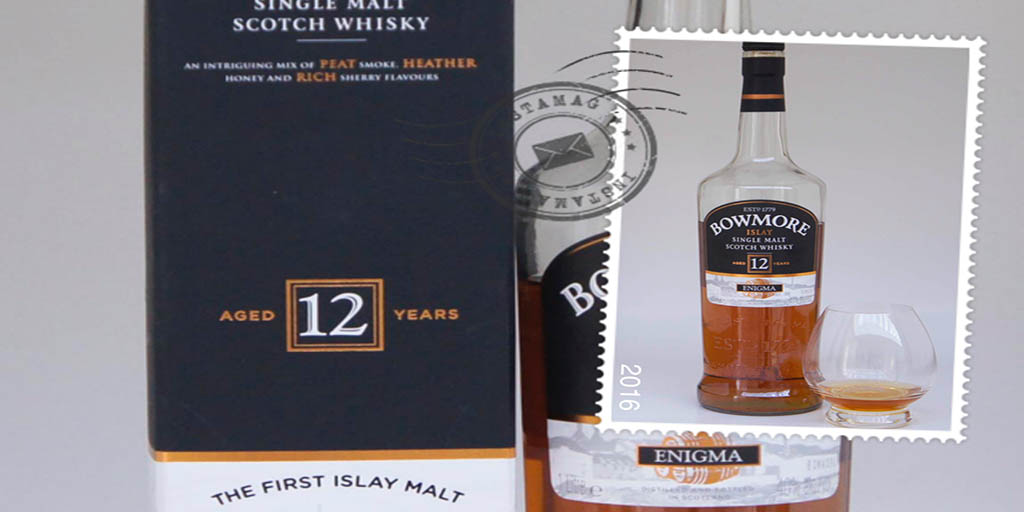 A dram we have tried a few times with food, but never written about. The Bowmore Enigma is a 12 yo Islay Single Malt whisky with a higher proportion of sherry matured spirit than the standard bottling. The definition of Enigma is a thing that is mysterious, puzzling, or difficult to understand.   Will this Bowmore Enigma  show its secrets?  The Bowmore Enigma is bottled for the Travel Retail market.
Situated on the Inner Hebrides, the Bowmore distillery lies on the South Eastern shore of Lock Indaal. Lock Indaal is a sea lock that opens out into the Atlantic Ocean. On the other side, sits Bruichladdich. Islay is the Queen of the Hebrides. Early hunter gatherers have inhabited Islay from around 7500 BC  and is an archaeological treasure trove.


John P Simons established the distillery in 1779, before passing ownership to the Mutter Family in 1837. It has change ownership a few times since and is now owned by Suntory. Similar to the Islay whiskies, Bowmore is known for their peaty smokiness due to their peat-fired kiln.  Looking at Islay on a map, I just want to get on a plane to go and explore! The island is home to only around 3 000 people and 8 distilleries.  Does it not look travel worthy?
Also Read: Tomintoul 10 yo
Tasting notes for the Bowmore Enigma
COLOUR: The Bowmore Enigma is a darkish gold colour.
ABV:  40%.
NOSE: Initially the nose is sweet quite sweet with a sticky, over ripe fruit sweetness to it. Oak, peat and bits of grassiness follow. Hints of sherried fruit,  grape jam, candied Christmas pudding float about.
PALATE: The Bowmore Enigma has an interesting palate. At the beginning there are lots of peat, oak and spice and then slowly transforms and burnt caramel comes through. In the background there are notes of peat and ashy smoke with a few sharp alcohol edges mixed with bitter citrus.  Bowmore Enigma starts out with a full body, but dissolved into a thin drinking feeling at the end. Adding a few drops of water smooths out the rough edges, but take away the bit of complexity and almost neutralises some of the interesting bits to this dram.
FINISH: Medium length and end in notes of oak, smoke and pectin.
Consequently, we give the Bowmore Enigma a RATING: VERY GOOD.
It seems that the notes just don't gel together.   It is 'as if' the flavours are disjointed.  This 12 yo Bowmore Enigma is appropriately named.  It is a bit of an enigma.  The Bowmore Enigma leaves you hanging in terms of what it's trying be. Is it sweet, peat or smoky? Nothing fits quite right.    It does however work very nicely with Blue Tower Cheese.
What did you think of this Enigma?
Also read:  Longmorn 15 yo