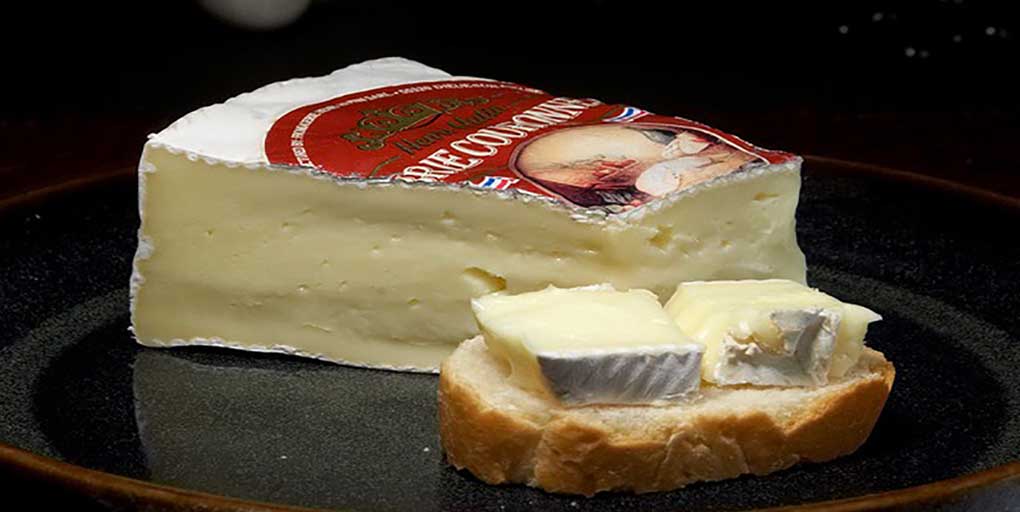 After a relaxing holiday, 2016 started with  new opportunities.  And a chance to try out more whisky and cheese pairings. During December 2015, Checkers brought out a  new cheese brochure, which I read from end to end. It had all kinds of amazing cheese ideas and I kept it for further inspiration. The front page had a picture of the cutest little Ile de France Brie cheeses. You might say that Brie cheese should not be described as cute, but when you see these little delicate Ile de France morsels, you would agree.
Brie is one of the best know French cheeses and a staple on cheese boards around the globe. It is soft cow milk cheese named after the French Brie region, where it was first produced.

After molding and draining, the cheese is unmolded, salted and inoculated with mold and then aged for at least of 4 weeks. It has a bloomy rind and the flavor has creamy and hazelnut butter notes. Brie has hints of sweet fruit and a slightly tangy and earthy after taste. The Ile de France Brie was slightly more salty compared to the locally produced Brie's. This however created a wonderful contrast with the whisky.  It is best to serve Brie at room temperature.
Also Read: Whisky & Creamy Lancashire Cheese pairing
I tried various whisky pairings with this Brie below are my results:
Glen Grant Major Reserve and Ile de France Brie Cheese pairing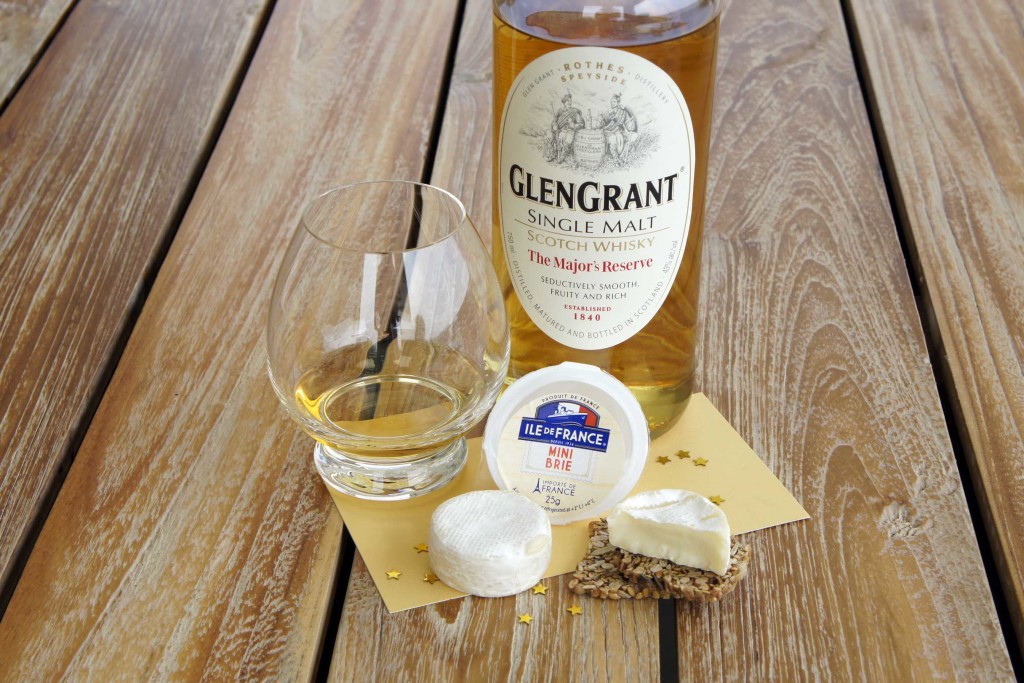 I first tried the Glen Grant Major Reserve at the Whisky Life Festival during 2015 and loved it. This fruity whisky with it heaps of spicy notes is a firm favourite and worked wonderfully with the salty Il de France Brie cheese. The Glen Grant apple notes made the cheese sweeter and creamier and the Brie smoothed out the spicy notes in the whisky. It is a wonderful balance between sweet and salty. I give the Glen Grant Major Reserve and Brie Cheese pairing a Rating: 4/5.
The Balvenie Caribbean Cask 14 yo and Ile de France Brie Cheese pairing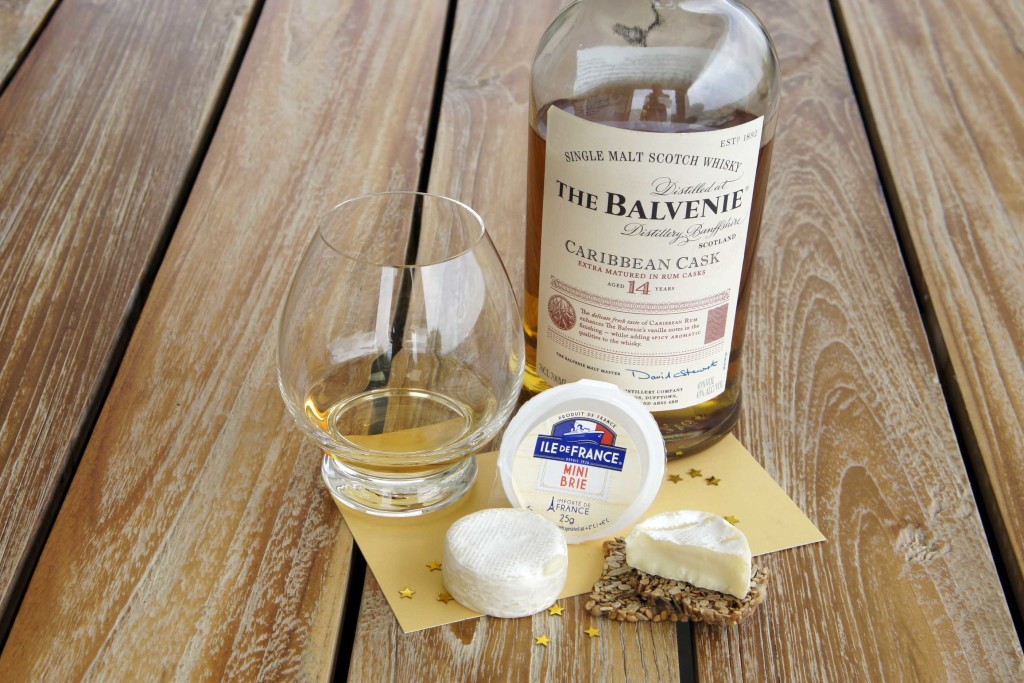 Looking back, I have tried quite a few cheese pairings with this Caribbean Cask release. The tropical fruit and vanilla notes seem to pair nicely with softer cheeses. It is robust enough to stand up to the earthy tangy character of the cheese, but soft and smooth enough not to overwhelm it. The combination is creamy smooth and rich and you don't want the experience to finish. I give this Balvenie Caribbean Cask and Brie cheese pairing a Rating: 4/5
The Black Grouse and Ile de France Brie Cheese pairing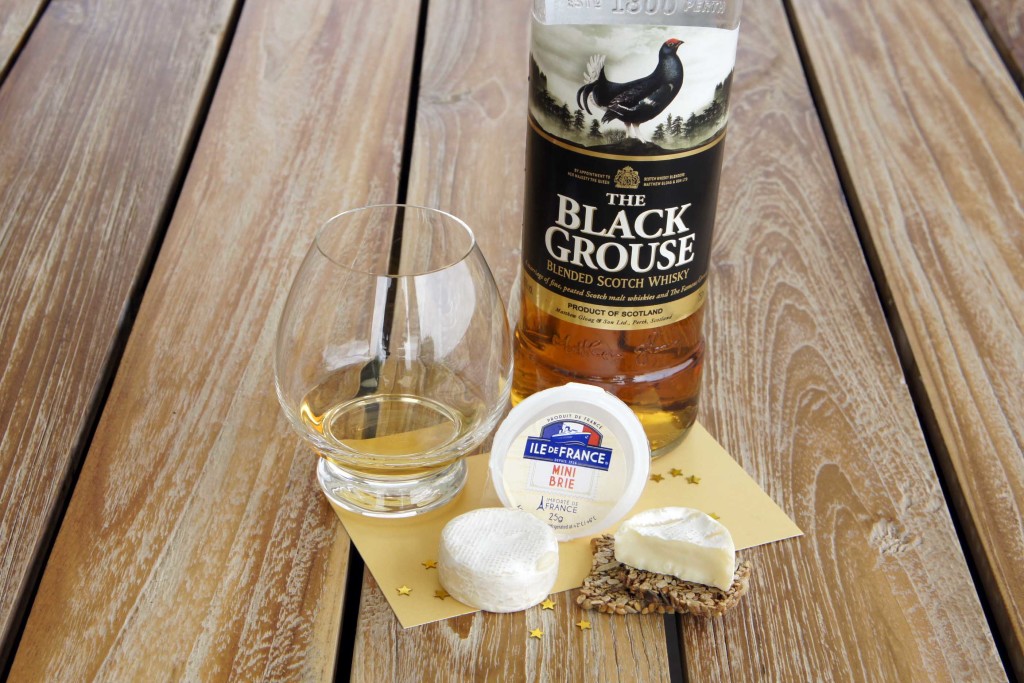 One of my favourite peaty blends was up next. The Black Grouse with its mild peat, smoke and caramel notes, is a favourite when we eat Indian food. But it is also mild enough to go with these small morsels of cheese perfection. The creaminess in the Brie smooths out the peaty notes and the cheese becomes more creamy and rich. I give the Black Grouse and Brie Cheese pairing a Rating: 3,5/5.
I tried the cheese with the Glenlivet 12 yo and it worked well.   A pairing with a Grant Sherry cask and a Tullibardine Sauternes Cask however did not work so well.  Have you tried this soft cheese paired with whisky yet?
Related Article:  Camembert cheese paired with whisky