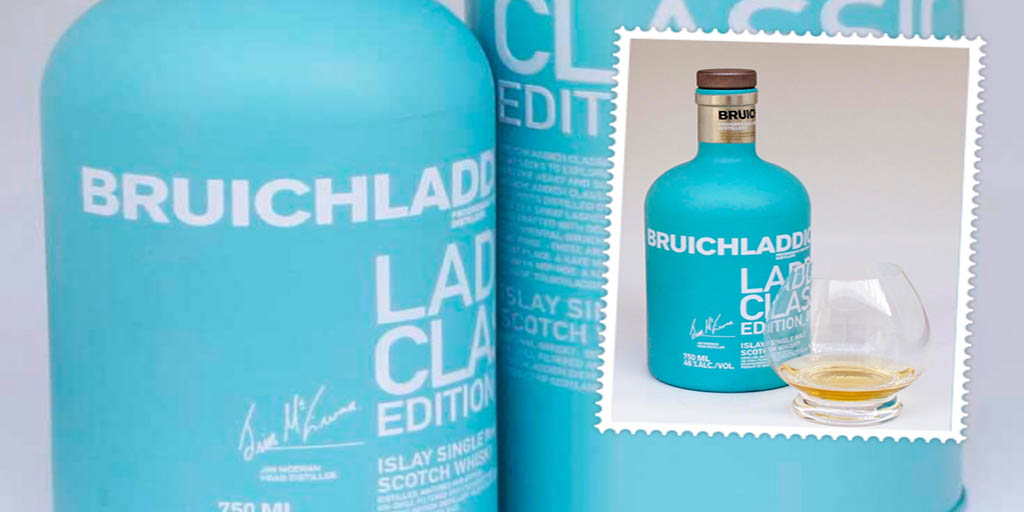 Our whisky this week is the Bruichladdich Laddie Classic Edition_01.  The Bruichladdich distillery lies on a peninsula, not far from Bowmore on the isle of Islay. The distillery produces mainly single malt Scotch whisky. It is one of eight working distilleries on the island.  The Harvey brothers, William, John and Robert, built Bruichladdich in 1881 on the shore of Loch Indaal.
At the time, the distillery was an advanced design unlike Islay's older distilleries, which had grown from old farm buildings. It was built from stone from the seashore and has a very efficient layout.
The uniquely tall and narrow-necked stills were chosen to produce a very pure and original spirit.  This spirit style was seen as the opposite of the styles produced by the older distilleries. Bruichladdich changed owners various times and was mothballed in 1994.
During 2000, the distillery was purchased by a group of private investors. With some clever marketing and a great wood policy they set out to make Bruichladdich a name to remember. Rémy Cointreau bought it in 2012.
Malt whisky produced at Bruichladdich distillery is sold under three different brand names; Bruichladdich (unpeated), Port Charlotte (heavily peated) and Octomore (super-heavily peated). Octomore is considered to be 'the most heavily peated single malt whisky in the world'.
Much of the equipment still in use on Bruichladdich is still the original Victorian equipment. The process is gravity fed and no computers are used in production, apart from in the offices and to run a series of webcams.

The Bruichladdich Laddie Classic has no age statement. The Bruichladdich Laddie Classic act as the foundation of the distillery's core range. It has the classic flavours of Bruichladdich, distilled from unpeated barley. The distillers are calling this 'the essential Bruichladdich'.
Related Article:  Bunnahabhain 12 yo
Tasting notes for the Bruichladdich Laddie Classic Edition _01
The Bruichladdich Laddie Classic Edition 01 is non chill filtered and colouring free.
ABV: 46%
COLOUR:  A light gold.  It is a fairly thick whisky with slow fingers developing on the inside of the glass.
NOSE: Cereals, oak and vanilla.  There are notes of fresh fruits and hints of florals.  The Bruichladdich Laddie Classic does not have an overly complex nose.
PALATE: More fresh fruit especially green apple mixed with notes of vanilla sweetness, barley and oak.  There are hints of citrus and spice and more fresh-cut flowers.
FINISH: Medium length with notes of citrus, fruit and last hints of vanilla.  It is a smooth whisky, but not very complex.  However, the lack of complexity does make it a very easy drinking whisky.
RATING: VERY GOOD. 
Definitely a nice whisky to have around. And it is affordable. It brightens up the whisky room with its turquoise colour and stands out between the 'normal' whisky bottles.  But I think it might be lonely and it needs the rest of its family to join it in our collection. So – 2 more names added to our whisky wish list.   Have you tried this Bruichladdich Laddie Classic?
Also Read:  Bunnahabhain 18 yo