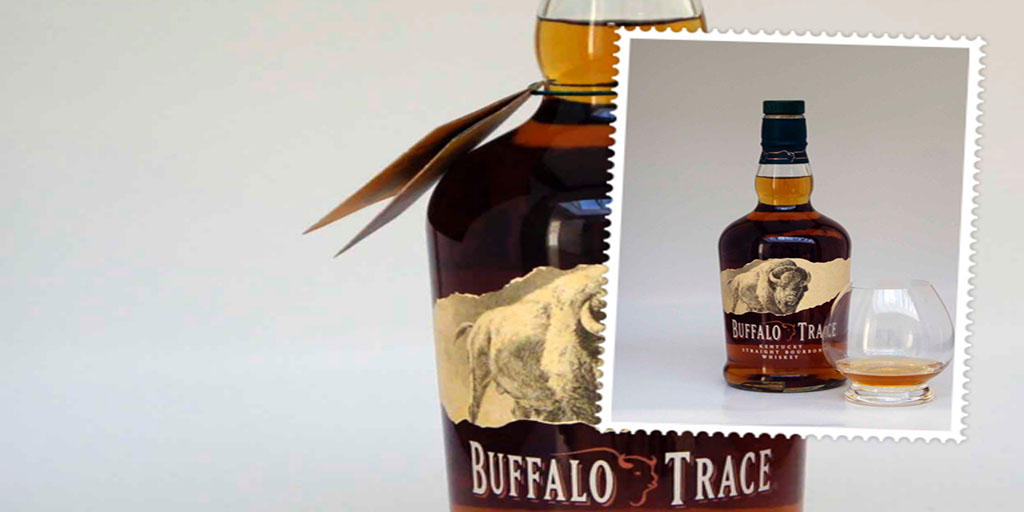 Records show that some form of distilling took place on the site that is now the Buffalo Trace Distillery in 1775 already.  The first official distillery was constructed in 1812 by Harrison Blanton.  The Buffalo Trace Distillery is in Frankfort, Kentucky. It has historically been known by several names, including most notably, the George T. Stagg Distillery. Its namesake bourbon brand, Buffalo Trace Kentucky Straight Bourbon whiskey, was introduced in August 1999.
The whiskey was named in tribute to the mighty buffalo that carved paths through the wilderness in the trek to the Great Planes and the rugged, independent spirit of the pioneers who followed them.

The Distillery was fortunate, during Prohibition, the distillery stayed working.  They made whiskey for "medicinal purposes". The Buffalo Trace Distillery also produces other spirits such as rye whiskey and vodka.
Related Article: Knob Creek Kentucky Bourbon
Tasting notes for the Buffalo Trace Kentucky Straight Bourbon
COLOUR: A reddish copper.  Quite a dark bourbon.
ABV: 45%.
NOSE: Sherry sweetness and is rich and complex.  There are hints of candied fruit, caramel, vanilla, brandy pudding and oak.  Bits of spice float in the background.
PALATE: Without water, the palate has quite a big mouthful.  There are notes of fruit, orange marmalade and oak.  Bits of cinnamon with toasted oak floating about.  When you add some water, the palate changes.  The bourbon becomes almost watery and more fruity.  The sweetness and the spice disappears and the complexity reduces.  We always add a little water and this was the first bourbon / whiskey / whisky where the water nearly ruined the dram.
FINISH: The finish before adding water was long and ended in notes of spicy sweetness.  After adding water to the Buffalo Trace, the finish shortened and it was quite flat.
As a result, we give the Buffalo Trace Kentucky Straight Bourbon a RATING: VERY GOOD.  Great Bourbon, just drink it neat.
Also Read: Wild Turkey Rare Breed