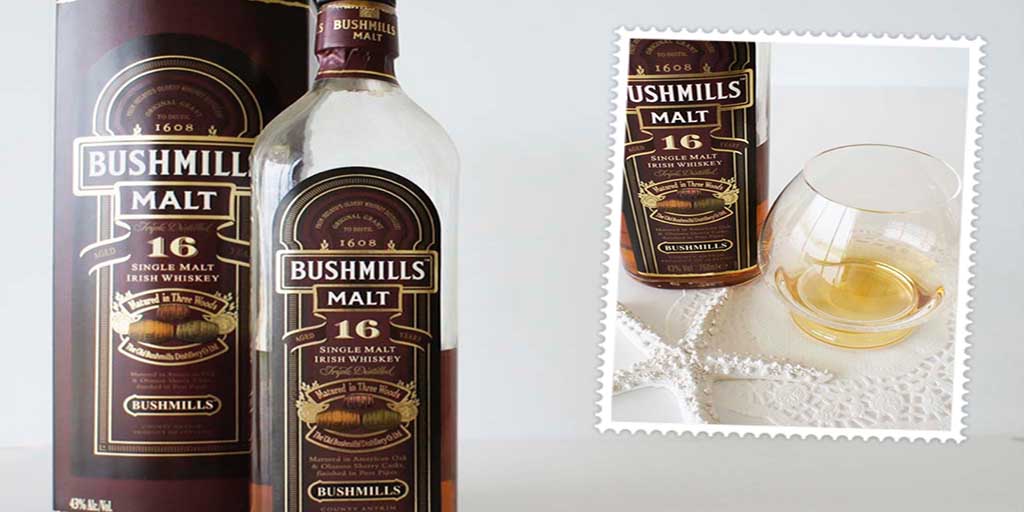 The Bushmills 16 yo is probably one of the dustiest bottles in my collection. I have had this bottle for more than 8 years and although we have tried it a few times, I have never written about it. With all the new whisky arrivals, it got moved right to the back of my whisky cupboard and in December, while sorting and organizing, I stumbled across it again. So it made it to my tasting list early in 2017.
Bushmills is a distillery in Bushmills, County Antrim, Northern Ireland. The Bushmills Old Distillery Company itself established in 1784 by Hugh Anderson but there is limited information available on any whiskey distilled during that early time. After various periods of closure in its subsequent history, the distillery has been in continuous operation since it was rebuilt after a fire in 1885. In 1890, a steamship named SS Bushmills, owned and operated by the distillery, traveled across the Atlantic to deliver Bushmills whiskey to America.
Also Read:  Wild Geese Irish Whiskey
In the early 20th century, America was a very important market for Bushmills. Then came the American Prohibition in 1920.  It had a negative impact on Bushmills and the Irish whiskey Industry. But Bushmills managed to survive and when Prohibition ended, had large stores of whiskey ready to export. The Bushmills Distillery changed hands a few times and in 2005, it became part of the Diageo stable. In November 2014 Diageo announced that the Bushmills brand was being traded with Jose Cuervo in exchange for the 50% of the Don Julio brand of tequila that Diageo did not already own.
The distillery uses triple distillation. The core range of single malts consists of a 10 yo, the 16 yo and a 21 yo finished in Madeira casks for two years.  The Bushmills Single Malt Whiskey 16 yo is aged for 16 years in a combination of Oloroso Sherry and Bourbon-seasoned casks, then matured for several months in port pipes.
Also Read:  Tullamore D.E.W. Irish Whiskey
Tasting notes for the Bushmills 16 yo Irish Whiskey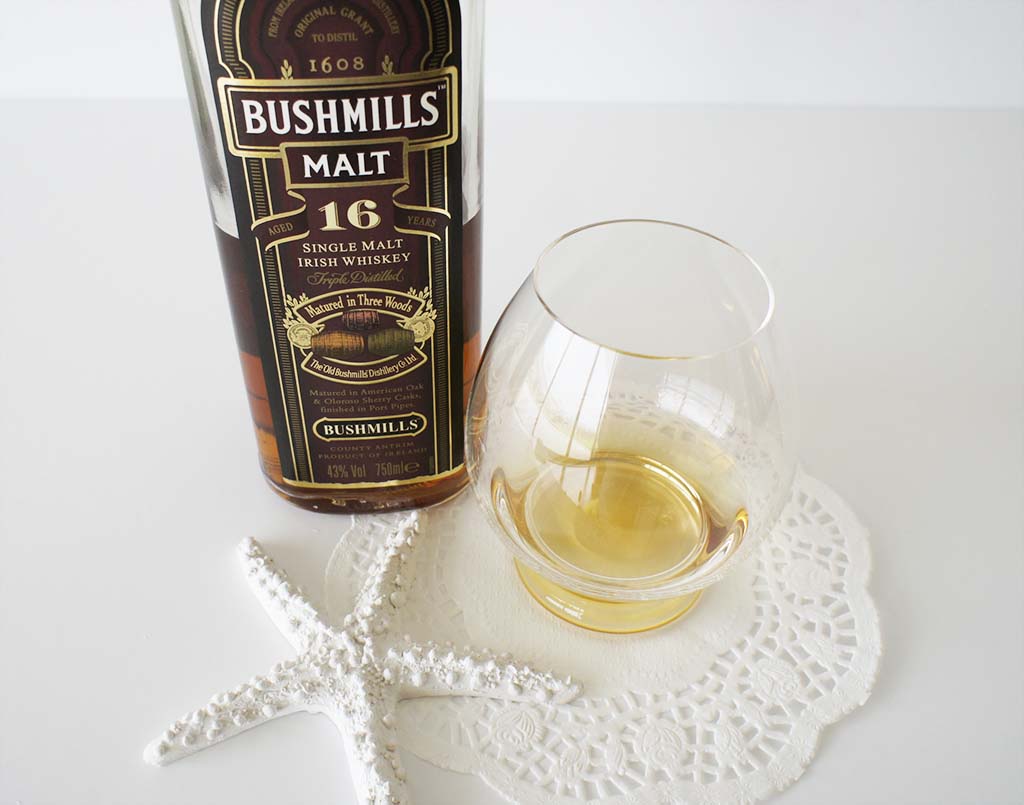 ABV: 43%
COLOUR: Dark Copper mahogany
NOSE: Sherry sweetness, vanilla and roasted apples, stewed fruit.  Rich and creamy with hints of honey and cinnamon.
PALATE: Smooth with notes of Christmas spices and summer fruit, oak, vanilla, honey and citrus.  The Bushmills 16 yo is not very complex and although it is smooth, it is not as easy drinking as I expected.  Water brings out a bit more vanilla sweetness and tones down the citrus, but also flattens the dram.
FINISH: Very dry woody finish with notes citrus, pepper and oak.  Hints of wet leather.
RATING: VERY GOOD
I was expecting a bit more from this Bushmills 16 yo.  It is as if you have 3 beautiful puzzle pieces in your had, but they are from 3 different placed on the same puzzles  They don't fit together quite so well.
Also Read: Irish Dubliner cheese & Irish Whiskey