I love our regular whisky and cheese pairing sessions. It usually takes place on a Saturday afternoon and we try a broad range of whiskies with the interesting cheeses. Many of the whiskies in my collection are limited editions and not readily available and this makes our tastings interesting but also challenging. To allow more people to try these pairings, I also try to find a whisky and cheese pairing readily available in South Africa. This past week we bought a Fairview Traditional Camembert.
Fairview traditionally was a wine farm in the Paarl area in the Western Cape.  After a trip to France, the owners fell in love with the rich flavored cheese produced on the wine farms they visited. Upon their returning, they began investigating the possibility of starting their own cheesery. Fairview has won many international and local awards for their cheeses.
Camembert is a popular cheese in South Africa and a frequent addition to cheese boards. This Camembert is made according to a traditional recipe. Camembert is a soft, creamy, surface-ripened cow's milk cheese. It was first made in the late 18th century at Camembert, Normandy in northern France.

Fresh Camembert is bland, hard and crumbly in texture. As the cheese matures it form a smooth, runny interior and a white bloomy rind. The cheese ripens from the outside towards the centre. It has a rich, buttery mushroom flavour. A fungus, called penicillium candidum, is responsible for turning the rind bloomy white.
This was not an easy cheese to pair. I tried many different combinations before finding a few whisky pairings that worked. In the end I found 3 pairings I truly liked.
Also Read: Old Fashioned Cocktail with Scottish Leader
Ballantine's Finest & Fairview Camembert pairing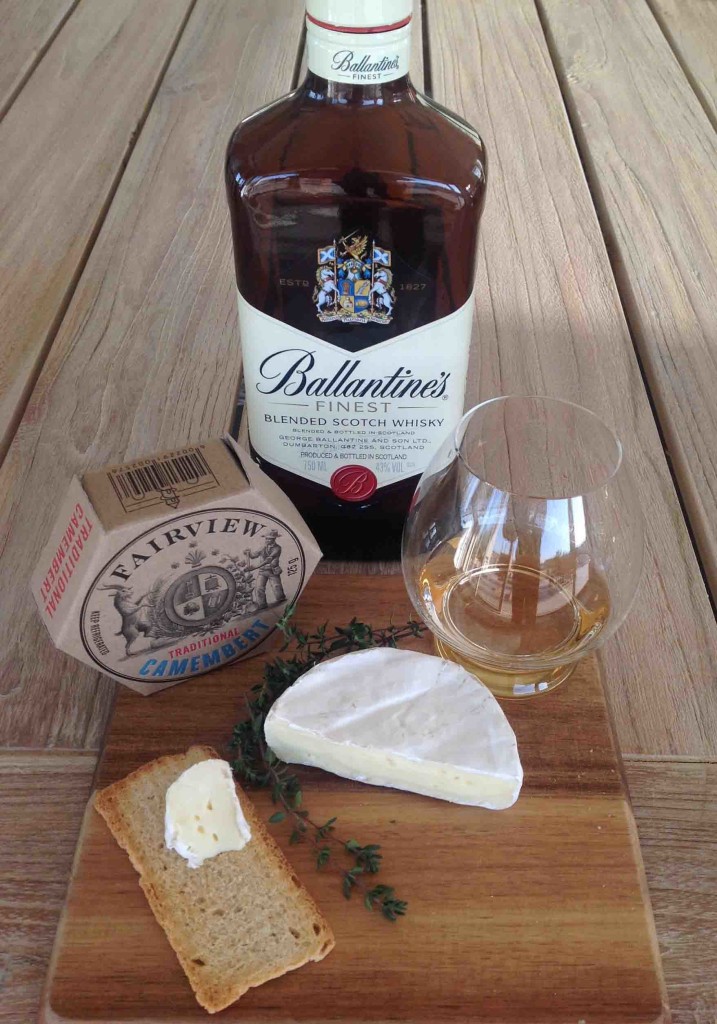 Ballantine's Finest has quickly become one of my favourite blended whiskies. This whisky is smooth and has a nice substantial full body with flavors of Christmas cake, dried fruit, peat and muscovado sugar.   Paired with the Fairview Camembert cheese it makes an amazing (and affordable) combination.
Both the cheese and whisky become smoother and richer. The richness of the Camembert enhances the delicious complexity of the Ballantine's and enhances the floral notes . The Ballantine's cut through the buttery sweetness of the Camembert and makes it even more delectable.   I give this pairing a Rating: 4/5.
Bain's Cape Mountain whisky & Fairview Camembert pairing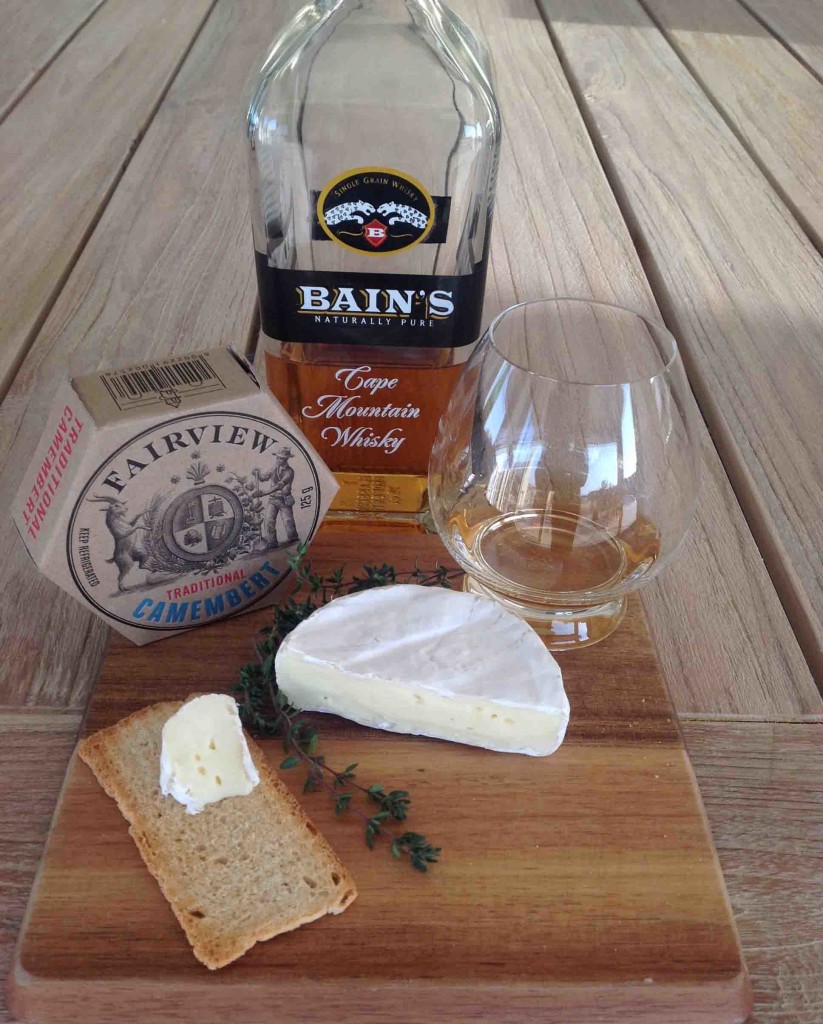 JS Distillery in Wellington is not too far from Paarl where Fairview is situated. I had to try a Western Cape made cheese with a Western Cape whisky and this pairing really surprised me. My tasting notes for the Bain's Cape Mountain whisky included sweet hints of toffee, banana and vanilla.  There was cloves and cinnamon with bits of oak intermingling with treacle notes.
Again an affordable pairing which surprised me. The sweetness and spice of the Bain's Cape Mountain whisky enhanced the earthy notes of the Camembert. The richness of the cheese softens with the Bain's and you want to try the combination again and again. I give this pairing a Rating: 4/5.
Balvenie Caribbean Cask & Fairview Camembert pairing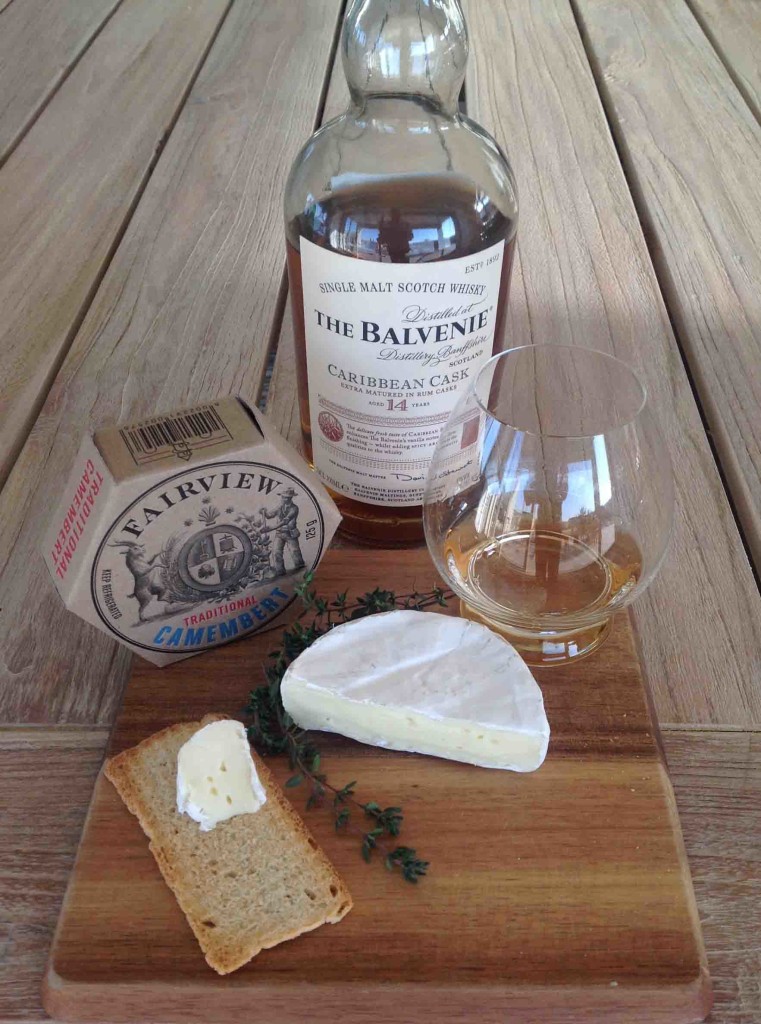 A bit of desk top research, indicated that, Balvenie whisky might pair well with a Camembert. I decided to try the Balvenie Caribbean Cask release. It is readily available. The official tasting notes for this dram include rich tropical fruits and creamy toffee. Sweet vanilla, apples and sweet oak notes. Again, what a great combination.
The creaminess of the cheese enhances the complexity of the Balvenie Caribbean Cask. The notes of fruit, spice and wood is enriched by the mushroom notes. The Balvenie Caribbean Cask makes the Camembert more milky and cuts through some of the richness. This pairing  gets a Rating: 4/5.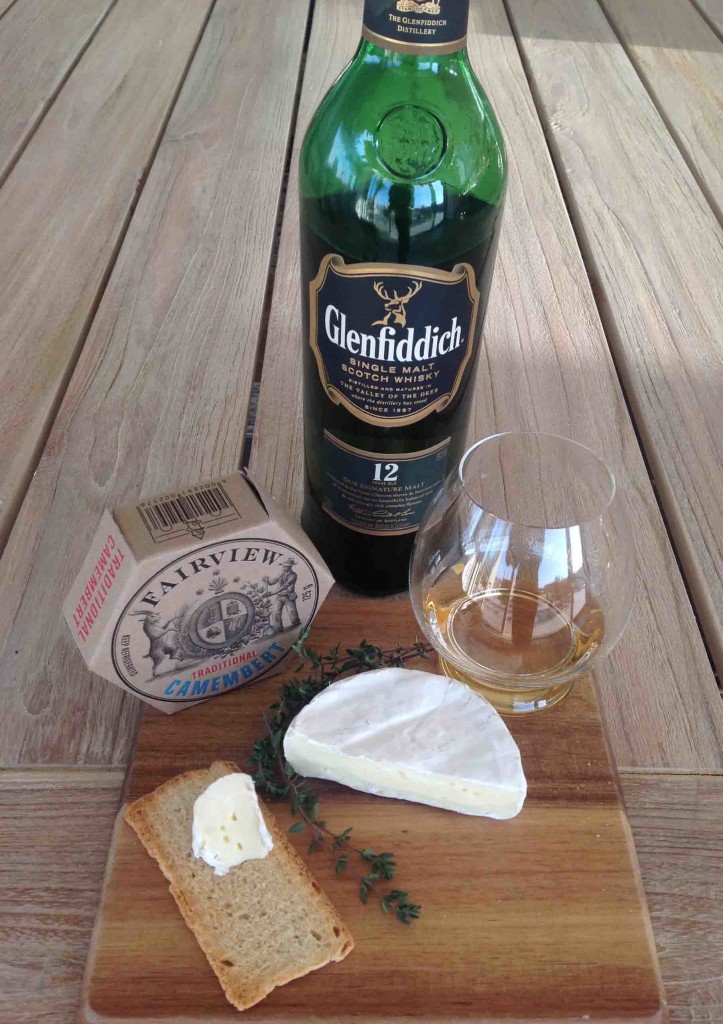 I also tried the Fairview Camembert with the Glenfiddich 12 yo. My tasting notes for the Glenfiddich 12 yo is captured here. This pairing was not as good as the ones listed above. We gave this a Rating 3/5.
As part of the experiment, I also tried this Fairview Camembert with a Singleton 12yo, the Three Ships 5 yo and a Glenfarclas 12 yo. None of these combinations worked well.   They all get a Rating: 1/5.
Also Read: Irish Dubliner cheese and Irish Whiskey