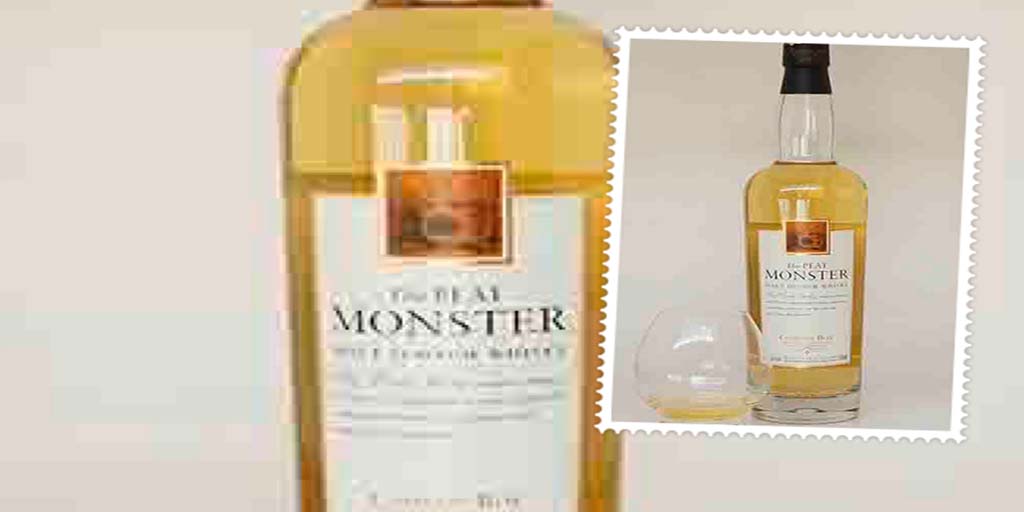 The Peat Monster is part of the Signature Range from the Compass Box Whisky Co. Compass Box is a specialist small batch Scotch whisky maker.  American ex-pat John Glaser started Compass Box Whisky Company in 2000. His vision has been to create one of Scotland's finest and most exciting whisky companies, re-establishing the standards for quality and style in the industry.
Compass Box does not distill any of the whiskies used in its blends. The company's whisky makers select distillates from a number of existing Scotch whisky distilleries, specifically malts from Ardmore, Caol Ila, Clynelish, Dailuaine, Glen Elgin, Laphroaig and Teaninich.
They also make use of  grain whiskies from Cameronbridge and Cambus. The selected whiskies are then blended together and the resulting blend is matured further. According to Compass Box, blending these various whiskies together and then aging them in selected woods allow for a more complex, multi layered whisky.


This Peat Monster contains whisky from a few distilleries. Some was from the village of Port Askaig in Islay, with a few south coast Islay whisky too, vatted with Ardmore. This was matured in a mix of first fill and refill American oak casks.  None of the Compass Box bottlings are chill-filtered, nor is any colouring added and are all married exclusively in American oak. This brings the characteristic sweetness to the whisky.
Related Article: Laphroaig An Cuan Mor
Tasting notes for the Compass Box Peat Monster
COLOUR: This Compass Box Peat Monster has a light golden colour and it seems to be a thick oily whisky in the glass.
ABV: This peaty vatted malts is bottled at 46% ABV.
NOSE: The peat hits you on first nosing the whisky.  The classic Islay notes of sea and salt.  It seems softer than the other Islay whiskies such as the Ardbeg on the nose. But the notes iodine and medicinal TCP lingers in the background as expected.   It has faint hints of fruit lingering in the nose that comes through.
PALATE: On the palate, without the addition of water, the peat comes through straight away.  With the addition of water, there are medicinal notes intertwined with hints of sweetness and fruit.  This Compass Box Peat Monster is a medium bodied whisky.
FINISH: Medium and ends in notes of peat, and bits of orange and kumquat.  It is not a very complex whisky.  This certainly is a Peaty Islay whisky, but by no means a Monster.
As a result, we give the Compass Box Peat Monster a RATING: VERY GOOD.
Also Read:  Black Bottle Blended whisky