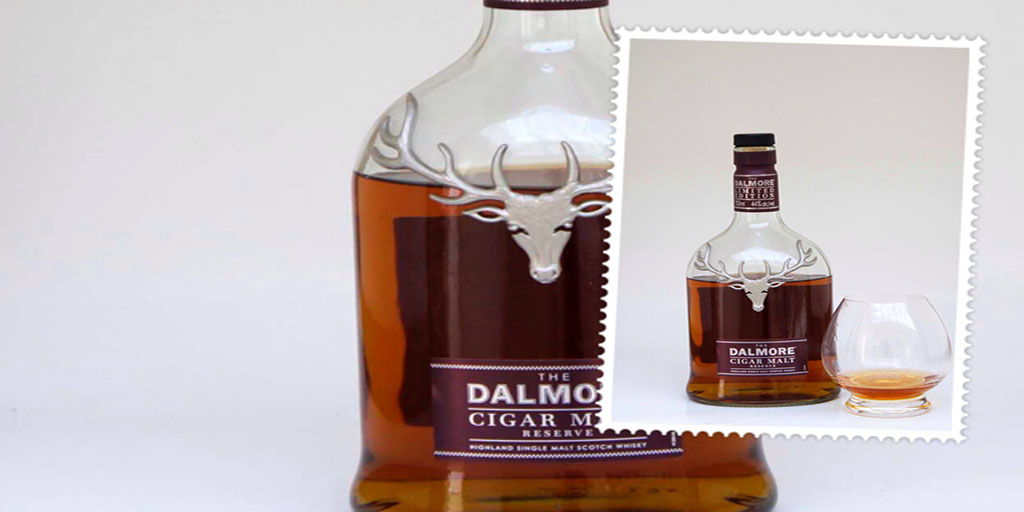 One of the more dusty bottles in our collection is the Dalmore Cigar Malt Reserve. The Dalmore has been part of our collection at least 9 years and we have barely touched it.   Dalmore is located on the northern shores of the Firth of Cromarty, part of the Scottish Highlands.
Dalmore was founded by Alexander Matheson in 1839. After building The Dalmore and running it for 28 years, Alexander Matheson decided in 1867 it was time to pass on the distillery to new owners. Andrew and Charles Mackenzie stepped forward.
They brought with them the iconic 12-pointed Royal Stag emblem, which has adorned every bottle of The Dalmore since. Dalmore now stands as Whyte and Mackay's largest distillery as well as being the flagship for the brand. Dalmore Cigar Malt was discontinued in mid-2009, causing uproar among its fans.  It was brought back in this new format.


The whiskies that make up the reworked Cigar Malt release are slightly older. The percentage of sherry wood is higher.  The Dalmore is initially matured in American white oak ex-bourbon casks and 30 yo Matusalem Oloroso sherry butts, it is then finished in Premier Cru Cabernet Sauvignon wine barrels.
Related Article: Macallan 10 yo
Tasting notes for the Dalmore Cigar Malt Reserve
ABV: The Dalmore Cigar Malt is bottled at 44% ABV.
COLOUR: A dark copper. The name implies smoky cigar notes and that is the first impression when you get nosing this whisky.
NOSE: Elements of the tobacco mixed with sherry sweetness and juicy raisins. There are faint hints of malt and  leather.
PALATE: This malt lives up to its name again. On first tasting it's very spicy, with bitter citrus. My first impression on tasting the Dalmore Cigar Malt, without water, reminds me  of the smell of overflowing ashtrays in a closed room.  There is a bitter aroma and a bit like old cigarette smoke.  Adding water softens the slight alcohol bite.  Water also brings out more sherry sweetness and hints of orange and ripe cherries.  This is not a complex whisky.
FINISH: The Dalmore Cigar Malt has a medium body and finishes in notes of cigarette smoke bitterness.
As a result, we give the Dalmore Cigar Malt Reserve a RATING: GOOD.
The whisky lives up to its name.  It tells you it is going to deliver cigar smoke. And it does just that.  If you like an old smoke lounge, you will probably love this dram.  We just don't like old Cigar smoke.  It has actually put us off trying anything else from Dalmore.  Which might be a shame.  Any suggestions for a Dalmore worth trying?
Also Read: Crown Royal Northern Harvest Rye whisky