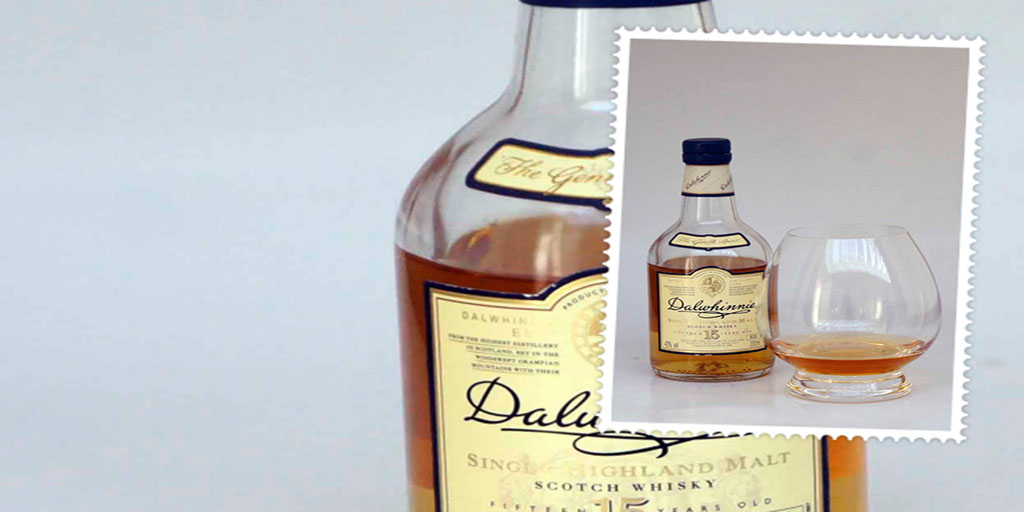 Dalwhinnie distillery, in the village of Dalwhinnie in Scotland, is situated in the in the Cairngorm National Park. The site for this Highland distillery was chosen for its access to water from the Lochan-Doire-Uaine spring.  There is also ample peat from the surrounding bogs. It was close to the geographic centre of the Highlands and enjoyed easy access to the Highland Railway.
Set in impressive mountain scenery, Dalwhinnie is the one of the highest distilleries in Scotland. In 1897, J Grant, G Sellar and A Mackenzie established the Strathspey distillery.
Production started in 1898 but the partnership went bankrupt. The distillery was sold to AP Blyth in 1898 who renamed it Dalwhinnie.  Currently Dalwhinnie is owned by United Distillers, a unit of Diageo and is marketed under their Classic Malts brand.
Other distilleries that fall under the Classic Malts brand include Lagavulin, Oban and Glenkinchie.  Only 10% of the Dalwhinnie production is released as single malt. The remaining is being used in various of the Diageo blends.  The distillery only releases a Dalwhinnie 15 yo and a Distillers Edition.

Dalwhinnie also has the distinction of being an official weather station, with one of the lowest recorded average temperatures in Great Britain.  Jim Murray awarded the Dalwhinnie 15 yo, 95 points in his Whisky Bible so we were expecting a really special dram.
Related Article:  Glenfiddich Rich Oak
Tasting notes for the Dalwhinnie 15 yo
We have a 200 ml bottle which was part of a Diageo Classic Malt whisky set.
ABV: 43%.
COLOUR: A light gold with medium length lingers in the glass.
NOSE: Rich and layered.  It promises all kinds of wonderful experiences.  There are notes of  vanilla, oak and mint.  Hints of aniseed and liquorice float about in between the toffee and fruit.  the nose is gentle and inviting.
PALATE: Without water, the palate of the Dalwhinnie 15 yo is more spicy than the nose suggests.  There are notes of malt,  butterscotch, vanilla and fruit. Adding water, changes the whole palate.  The sweetness disappears and the oak and citrus come through with a bang.  To big of a bang unfortunately, as it overwhelms everything else.
FINISH: Without water, the finish is medium length, complex and smooth with notes of honey and nuts.  Adding water, the finish lengthens, but it changes to a bitter citrus and oak.
This Dalwhinnie 15 yo is a dram you should enjoy neat.  Hence, we give the Dalwhinnie 15 yo a RATING: EXCELLENT.
We find that, most whiskies are enhanced with a few drops of water.  The water releases more of the flavour notes and smoothed it out.  This Dalwhinnie 15 yo was an exception.  Without the water, this dram was Excellent.  Rather try this dram neat.
We also tried the Dalwhinnie 1990 Distillers Edition and some Lindt hand-made dark chocolate and vanilla pieces for one of our whisky chocolate tastings. It made for a superb whisky chocolate pairing combination.
Also Read: Bowmore Enigma single malt whisky