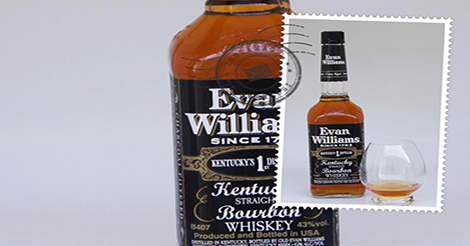 We have been exploring all kinds of whisky / whiskey / bourbon over the last couple of years. We started out with the 'strictly' Scottish Single Malts and Blends and then moved to world whiskies. Both Blends and Single Malts. We have tasted our way around the globe with some wonderful drams. From India, Taiwan to South Africa, Europe and Australia. From there we moved over to the Kentucky Bourbons and Tennessee whiskies. I have a sweet palate and have fallen in love with the sweeter bourbon notes. A good bourbon choice is not always readily available in South Africa and with the collapse of our currency, the available selection is getting even smaller. So this week, lets try the Evan Williams Kentucky Straight Bourbon.
When I find new Bourbons, I buy it.  I found this bottle of Evan Williams and it looked very similar to the Jim Beam Black. It is also in the budget category. Evan Williams is a brand in the Heaven Hill portfolio. Evan Williams was launched in 1957 by Heaven Hill. Named for the man credited as Kentucky's first distiller. The Heaven Hill company remain independently owned.  Will it be as good as the Jim Beam Black?    Or is this another bargain bin loser?
Also read: Wild Turkey 101
Tasting notes for the Evan Williams
ABV: The Evan Williams has an ABV of 43%.
COLOUR: It has a dark reddish gold in colour.
NOSE: While it has the traditional bourbon notes of toasty oak and vanilla on the nose, there is an element of corn syrup floating about. The nose is very one-dimensional and not layered or complex.
PALATE: On the palate, it offers little complexity other than the toasty oak, vanilla and bits of spice. There are all kinds of rough edges to this Evan Williams Bourbon.  It has a light body and mouth feel.  Adding water does little to increase the complexity.  It does unlock a few more notes.  Unfortunately it is notes of chili and bitter orange peel.
FINISH: A bit rough and fortunately does not linger too long.
I give this Evan Williams Kentucky Bourbon a RATING: GOOD.
I actually took the Heaven Hill Old Style Bourbon out and poured a glass, just to compare.  They are both from the Heaven Hill stable. The Evan Williams is marginally better than the Heaven Hill Old Style. Both of these fit perfectly into the spaghetti western movies genre.  If you need cheap bourbon to give something a punch, without expecting to much taste, this is your bottle.  If you want to sit back, relax and enjoy an affordable glass of bourbon.  Put this bottle down.  It is not for you.  Rather try the Jim Beam Black.
Also Read: Evan Williams Single Barrel 2006 Vintage