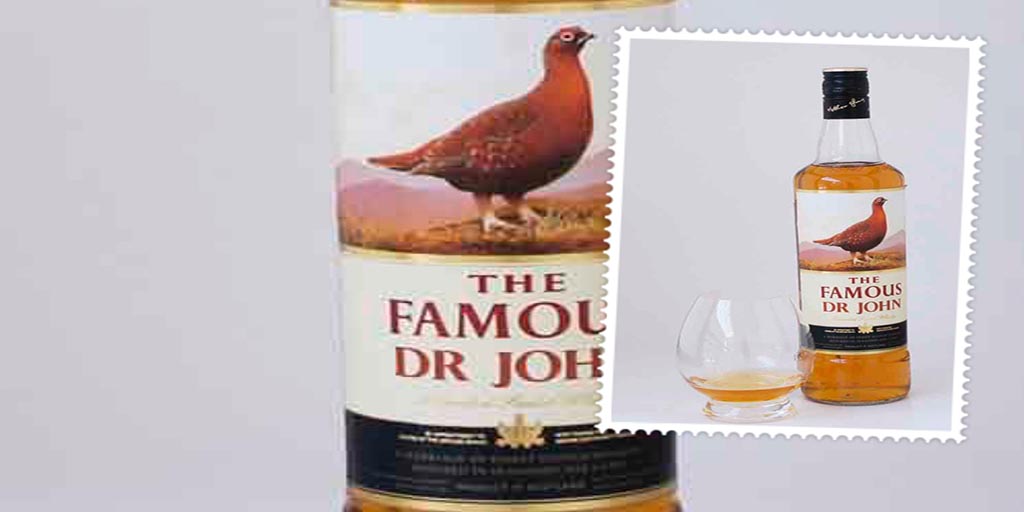 The Famous Grouse is a brand of blended Scotch whisky, first produced by Matthew Gloag & Son. Owned and produced by The Edrington Group, this famous blend is made up of various well know distilleries. Most notably whisky from The Macallan, The Glenrothes and Highland Park. Furthermore, 65% of the spirit content is grain whisky.  I have tried the Black Grouse, their peaty expression, and loved it.  We found that the Black Grouse also pairs well with Indian food.
The brand's emblem is the Red Grouse, Scotland's national game bird. Matthew Gloag purchased whiskies from various distilleries around Scotland.  According to legend, his focus was always firmly fixed on creating the best quality whisky, not on profit.  It was 1860, when his son, William Gloag assumed control of the company and started blending whisky.
In 1896, Matthew's grandson, also named Matthew, created The Grouse Brand blend, which due to its popularity, was renamed "The Famous Grouse" in 1905.

The company sold to Highland Distillers in 1979 and the marketing and distributive power of the new company saw Famous Grouse become the highest selling Scotch in Scotland. The company founded The Famous Grouse Experience at the Glenturret distillery. The experience is as much a museum for whisky distillation as it is about the Grouse brand.
Related Article:  Ballantine's Finest
Tasting notes on the Famous Grouse blended whisky
I ordered this bottle of Famous Grouse for John from the UK and it spend quite a lot of time in my sisters loft before it came to South Africa.
ABV:  43%.
COLOUR The whisky has a beautiful rich golden glow.  It is quite an oily whisky, both in the glass and on the palate.
NOSE: has sweetness with faint hints of dark chocolate, cherries and bits of candied fruit.  There are sherry notes floating around and the addition of water, enhances the oak and more florals appear.
PALATE: Without water, the Famous Grouse palate has some honey, oak and some gentle spice.  When you add water there are bits of sweet butter shortbread and rich malt mixed with spices and floral notes.  It is a medium bodied whisky.  It is very smooth and easy drinking and we can understand why this is so "Famous".
FINISH: Medium length and ends in faint notes of oak and sweetness.
As a result, we give the Famous Grouse blend a RATING: VERY GOOD.
This is the whisky that I would offer a novice.  Consistent, smooth, sweet and text-book whisky.  This Famous Grouse will be a great whisky for cocktails.  It is something that will please everybody.  But that also means it lacks something.  It will not offend anyone.  But the Famous Grouse lacks that WOW factor.  After trying the Black Grouse, we were expecting a whisky with a bit more personality.
You can order a Famous Grouse in a red satin box with a drawer which contains a little something extra: a slab of Lindt Excellence 70% Cocoa.  How perfect is this – All from Netflorist.
Related Article:  The Naked Grouse