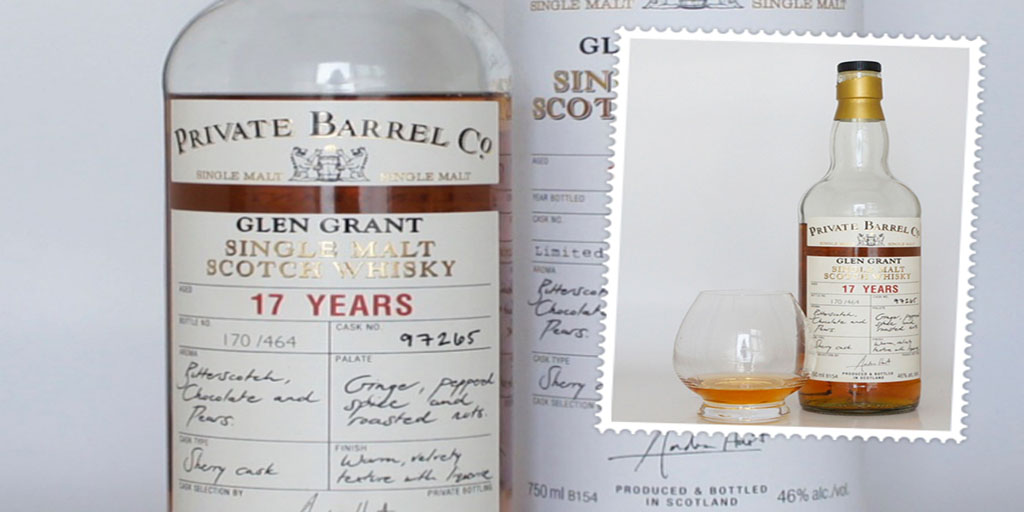 Glen Grant is a Speyside Single Malt distillery located in the small town of Rothes – not far from the Glenrothes distillery. John and James Grant, two former illegal distillers, founded Glen Grant in 1840. All the basic ingredients of malt whisky were close at hand. The sea and port of Garmouth, the River Spey and barley-growing plains all within easy reach for a new distillery.  By 1872, the founders of Glen Grant Distillery had died. Young James 'The Major' Grant, born in 1847, had always taken a keen interest in the distillery.
After inheriting the business from his uncle John Grant, he proved himself a worthy successor. According to accounts James Grant was a legendary innovator and traveler.  New ideas fascinated James Grant and he wasn't afraid to explore them. He was the first man in the Highlands to own a car. Glen Grant was the first distillery to have electric light.
He also introduced the tall slender stills and purifiers which created the fresh malty flavour. James Grant passed away in 1931. He was survived by his three daughters and a distillery that had become one of the most famous in the world. Douglas MacKessack, his grandson, became his successor. In 2006, Campari acquired Glen Grant. The Glen Grant distillery is one of the top-selling malt whiskies in parts of the world.

Checkers launched their Private Barrel Co. Label of single malt whiskies in 2013. There are 3 other bottlings in the Checkers Private Barrel Co collection. Only 464 bottles of the Glen Grant 17 yo released. It is the most mature of the current Private Barrel Co. range and we managed to get bottle number 170 of 464. The Glen Grant 17 yo is finished in a Sherry Cask (cask no. 97265).  Earlier this year we tried this Glen Grant 17 yo with various cheeses to find a good whisky cheese pairing.  You can read the blog post on the Glen Grant and mild Cheddar pairing that worked well here.
Related Article:  Glen Grant 17 yo New Arrival
Tasting notes for the Glen Grant 17 yo
ABV: Glen Grant 17 yo Private Barrel is bottled at 46% ABV. The label on the bottle is pretty interesting and gives a detailed breakdown of the tasting notes.
COLOUR: A copper tinted gold.
NOSE: When nosing, the sherry cask is immediately noticeable.  The sherry comes through at once and is very pronounced.  Then some fresh fruit emerges, especially when you add a bit of water.  There is greengage, mild spice and butterscotch.  This Glen Grant does not have a very complex nose.
PALATE: Fresh fruit and butterscotch. It is a very spicy whisky with lots of pepper, ginger and nutmeg.  There is some sweetness of the sherry cask in the background, but the taste is dominated by the spice.
FINISH: This Glen Grant 17 yo finishes in spice and liquorice.  For a 17 yo whisky, this is not a very complex whisky. It is an easy drinking dram however. Surprisingly the sherry does not come through as much in the palate as it does in the nose.  The finish is rather short, but nicely warming.
We gave the Glen Grant 17 yo a RATING: VERY GOOD.
Definitely a nice bottle to have in any collection.  Looking forward to trying some of the other expressions in the Checkers Private Barrel Co collection.  There are 3 more to choose from.  Which one should we try next?
Also Read:  Glen Grant Major's Reserve