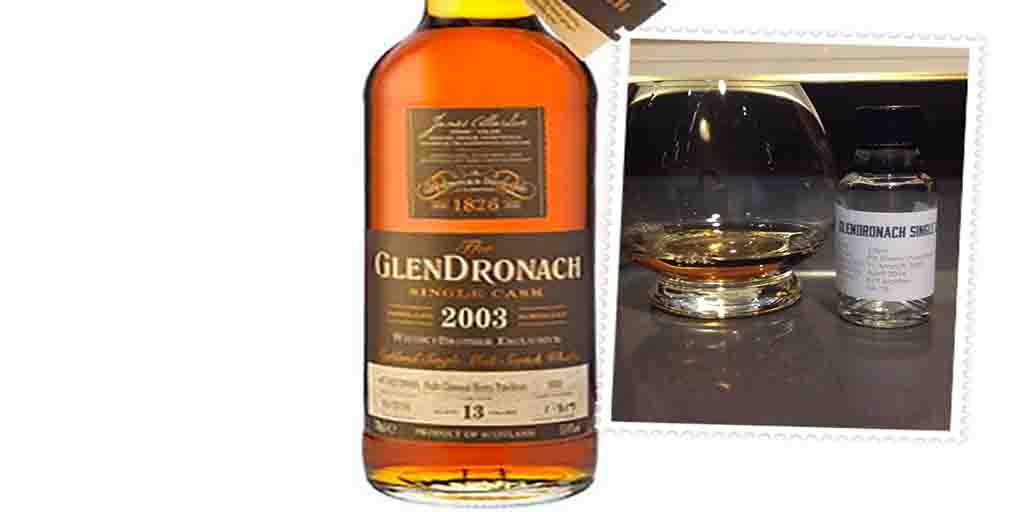 A small little whisky shop in Hydepark, Johannesburg has become the central point of the Johannesburg whisky community. Since they opened their doors in 2012, WhiskyBrother has brought a wonderful whisky variety to Johannesburg. Their whisky tastings are also legendary!  Every year around this time, WhiskyBrother brings out an exclusive release and this year is no different.
Some of the WhiskyBrother's earlier releases include the Arran WB Private Cask and the 15 yo Glenlivet. All exceptionally delicious! This year, they had the opportunity to select a GlenDronach cask and after much tasting and choosing, Marc and Neil chose the GlenDronach 13 yo. GlenDronach has consistently been one of the WhiskyBrother shop's top selling whiskies, so it made for a natural fit.
The GlenDronach 13 yo single cask is matured in a second fill, Pedro Ximenez sherry puncheon. Distilled in March 2003, and bottled in April 2016, the cask yielded a total of 519 bottles.  Each bottle is individually numbered and bottled at cask strength of 54.1%.
The GlenDronach distillery is a Scottish Highland whisky distillery located near Forgue, It is owned by the BenRiach Distillery Company Ltd.
The distillery was founded in 1826 by James Allardes and was only the second distillery to apply for a licence to legally produce whisky under the Excise Act of 1823.
The distillery was bought and sold a few times and the sherry characteristics changed. Subsequent owners each brought their own cask and wood philosophy. In 2008, when the BenRiach Distillery Company Ltd bought the distillery, they returned to the original GlenDronach character. The new owners relaunched the old core range of 12 yo, 15 yo and 18 yo, along with several single cask bottlings.
Also Read: GlenDronach 16 yo
So once again, the GlenDronach is proudly known as the Sherry Cask Connoisseurs. Back to their original roots of heavily sherried drams. All new GlenDronach releases are unpeated.
So… without further ado… what do I think…

Tasting notes for the GlenDronach 13 yo WhiskyBrother release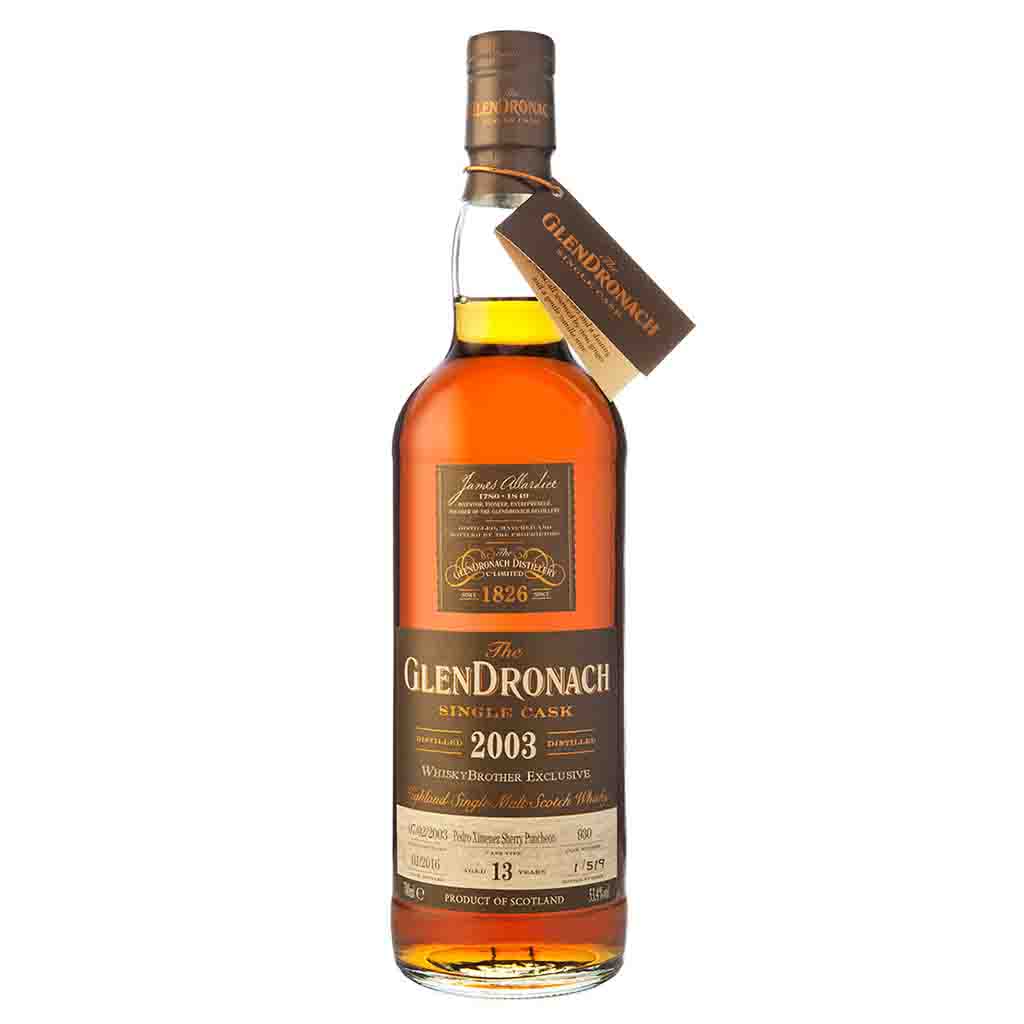 ABV: 54.1%
COLOUR: A light amber gold colour with hints of  yellow sunshine.
NOSE: Rich and complex, heavy with brandy soaked raisins, rich Christmas pudding,  toffee, cherries and candied fruits. After a bit of time, some spice and woody notes come through.
PALATE:   A very surprising palate!  The toffee and Christmas pudding sweetness I was expecting was not there. Instead, the warming spices came through. Cinnamon, pepper and nutmeg intertwined with oak and cherries.   I was expecting a regular sherry PX Cask taste, but this GlenDronach 13 yo is anything but regular. Adding water softens the cask strength and makes the whisky smoother.
FINISH: An unusual finish that end in notes of pepper, cinnamon and citrus fruit.  Long and lingering.
RATING: EXCELLENT
This is an unusual release.  I can understand why the WhiskyBrother team chose this particular cask.  If you are expecting the more traditional GlenDronach sherry taste, this whisky is not it. This GlenDronach 13 yo is big and bold.  Warming spices with cherries.  If you are looking for something out of the ordinary, something interesting for someone interesting, this is the bottle you want.
Best of all, you don't have to be in Johannesburg to get your hands on this release. You can order it online from WhiskyBrother right here.  This GlenDronach 13 yo is going to be perfect for winter.  The spicy character will probably also pair well with food.
I poured a bit of the GlenDronach 12 yo straight after, to compare.  Interesting how one more year in a cask can make such a difference.  From the fruity sweet 12 yo, to the spicy, rich 13 yo.  All in the space of 12 months more.
Well Done WhiskyBrother Team!
Also Read:  Glenfiddich Gran Reserva 21 yo whisky