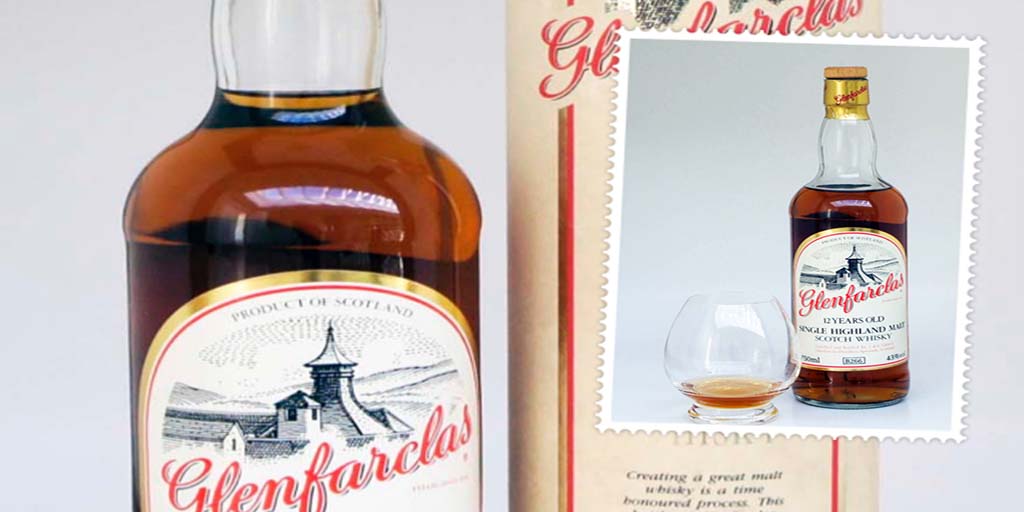 Some time ago we blogged our tasting notes on a new release Glenfarclas 12yo.  It was one of the exceptional whiskies that we got to taste on our trip to Wild About Whisky in Dullstroom. We rated this whisky 'Excellent' and a welcome addition to our collection.  After our tasting, Mark from Whisky Tasting Fellowship contacted us.
He mentioned that he is aware of a collector selling a few bottles of older Glenfarclas releases.  Soon afterwards a box with 5 bottles of Glenfarclas arrived.  The Glenfarclas 12yo for our tasting this week is from this box.
Situated in Banffshire, just short distance from the River Spey, it is a Speyside distillery.  Glenfarclas is from the Gaelic meaning "Glen of the green grassland". The Glenfarclas distillery obtains its water from pure springs on the rough Ben Rinnes mountain range.
Established in 1865 the distillery is still family owned. Glenfarclas produces a number of expressions in the traditional Speyside style, with a heavy Sherry influence. It is one of the few Scottish distilleries never to use exotic woods for maturation.


It is difficult to date our bottle of Glenfarclas 12yo. In the box that arrived from Mark, there was another 12 yo in a more traditional blue tin, similar to our more new release 12yo. Looking at the printing and the beige colours, we guess that this older Glenfarclas 12yo was released late 1980's somewhere.
Related Article:  Macallan 12 yo
Tasting notes for the Glenfarclas 12yo
ABV: The Glenfarclas 12yo is bottled at 43%.
COLOUR: The color can be defined as a golden copper colour. It appears quite dark in the bottle but lighter in the glass.  It is not a very oily whisky.
NOSE: Brings plum fruits, raisins and sherry.  There are hints of sultanas and sweet grapes mixed with some oak.
PALATE: A well-balanced mix of sweet and spicy notes.  There are notes of oak, sherry and fresh fruits nady traces of caramel and toffee follows.  This Glenfarclas 12yo older bottling is a full-bodied whisky but not very complex.  It is wonderfully smooth and warming.  It alternates between the sweetness and the spiciness on the palate.
FINISH: Not that long but it kind of comes back at the end and lingers.  The finish ends with spicy and oak notes.  There are hints of ginger and pepper in the end.
This is an easy drinking whisky and we easily had a second glass.  In conclusion we give the Glenfarclas 12yo a RATING: EXCELLENT.
We have three different Glenfarclass 12yo releases and would love to see how they compare against each other.  Also to compare the consistency in colour and tasting notes of the different bottlings.  We will do this comparison blog post soon.
Also Read:  Glenfarclas 17 yo.