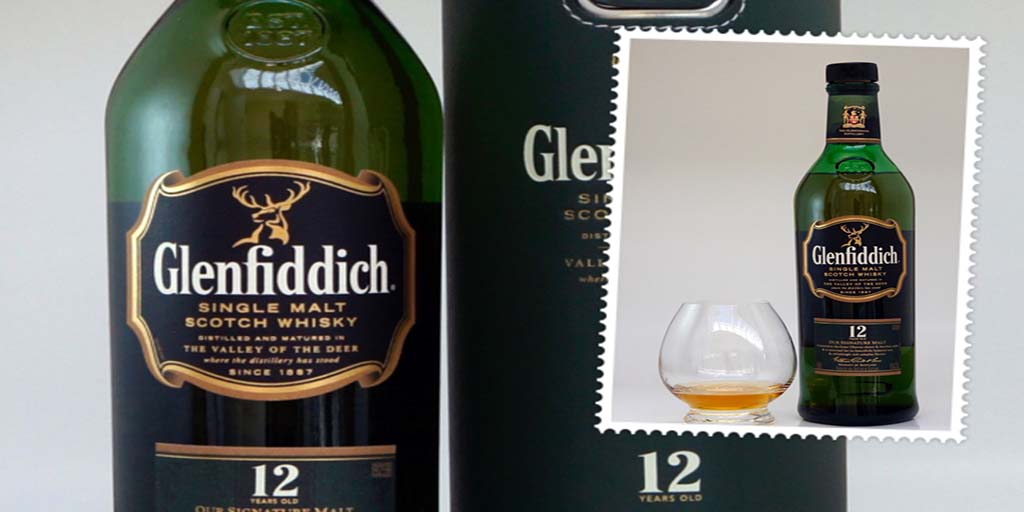 The triangular-shaped  Glenfiddich has become one of the world's best selling single malts. The distinctive triangular-shaped bottles have been a Glenfiddich feature between 1957 and 1961. The Glenfiddich 12 yo is not different with its matching green covered tin.  The shape and packaging was introduced during the difficult times whisky producers faced in the 60's and 70's. Glenfiddich became one of the first distilleries to package its bottles in tubes and gift tins. They were also among the first distillers to recognize the importance of the duty-free market.
Today, partly because of these innovations, Glenfiddich remains one of the few distillers still in family ownership.  The Glenfiddich Distillery was founded in 1886 by William Grant in Dufftown, Scotland, in the glen of the River Fiddich.  Glenfiddich is thus a typical Speyside whisky. Aged in Oloroso Sherry and Bourbon whisky casks, the Glenfiddich 12 yo is bottled at  43% ABV.


We have always loved the Glenfiddich range of whiskies, and we have several expressions in our collection. As the Glenfiddich 12 yo is the mainstay of the distillery, we were looking forward to tasting it.
Related Article:  Glenfiddich Rich Oak
Tasting notes Glenfiddich 12 yo
ABV: 43%
COLOUR: Best described as a bright amber. It's quite a light color. The whisky itself is quite oily and leave distinctive fingers on the inside of the glass.
NOSE:  First brings fresh fruit, oak & honey. The addition of water releases more florals and faint spice in the nose.
PALATE: On the palate the first impression of the Glenfiddich 12 yo is smoothness. It is wonderfully rounded with woody notes, toffee and dried fruit coming through. A subtle hint of pear is also found. This is a very smooth medium bodied whisky that is not very complex.  We think that it's a pretty rare whisky that everyone will enjoy, but this is a fine example of such a whisky.
FINISH: Medium length. It ends with notes of oak and spice. There is a lovely oily mouth feel at the end. We would hazard a view that for those seeking an introduction to single malt whiskies, you could not find better than the Glenfiddich 12 yo.
Overall the Glenfiddich 12 yo whisky easily achieved a RATING: EXCELLENT.  This is wonderfully relaxing whisky, not too complex, but balanced and smooth. A smooth dram that will satisfy  everybody's taste.
One of the languages we speak in our home is Afrikaans. In that language there is a wonderful word "staatmaker". It translates roughly as dependable. I think that its most appropriate when summing up the Glenfiddich 12 yo. If you are looking to buy someone a single malt, but are unsure of what they may like, you have a surefire winner here.
This whisky would probably pair well with a pear and ginger crumble. The pear aroma of the whisky should compliment the sweetness of the crumble and make for a wonderfully warming dessert.
Love this whisky?  You can order a personalized bottle of Glenfiddich 12 yo through Netflorist.  For yourself or as a gift to someone special.  How perfect is that!
Related Article:  Glenfiddich Age of Discover Madeira Cask