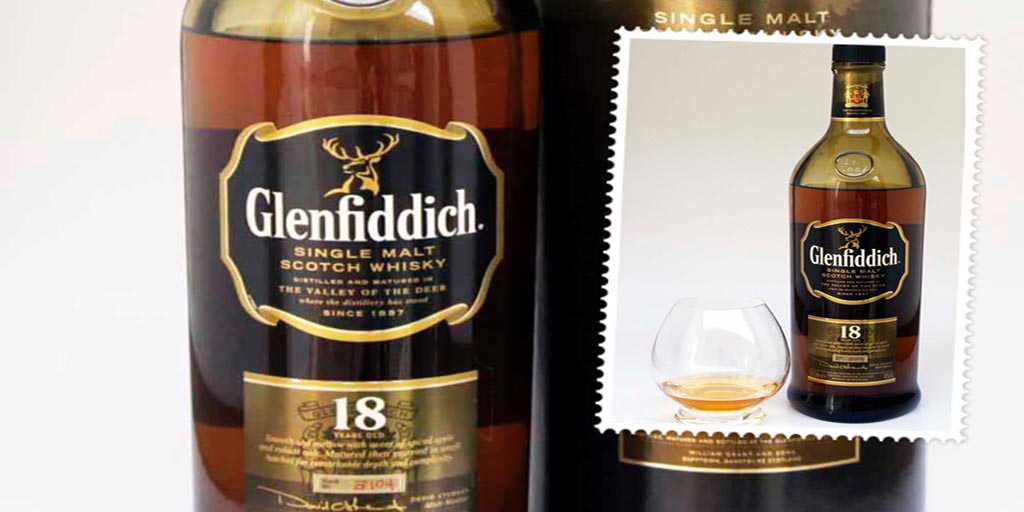 The Glenfiddich distillery is one of our favourite distilleries and we have quite few bottles from this distillery.  Today I talk about the Glenfiddich 18 yo.  Located in Dufftown in the Speyside region of Scotland, the distillery was founded in 1886. Glenfiddich is one of three William Grant-owned whisky distilleries which sit in relatively close proximity to each other.
Glenfiddich was the first distillery with a visitor center. The differently shaped Glenfiddich has become one of the world's best selling single malts. The distinctive triangular-shaped bottles have been a Glenfiddich feature since 1957.
The shape and packaging were introduced during the difficult times whisky producers faced in the 60's and 70's.  Today, partly because of these innovations, Glenfiddich remains one of the few distillers still in family ownership. Our bottle of Glenfiddich 18 yo is a 1L bottle from Glenfiddich's core range and it was matured in a mix of Oloroso sherry and Bourbon casks.

Every batch is individually numbered and we have a bottle from batch no 3104.  The prestigious International Wine and Spirit Competition in 2005 and 2006, judged it to be the best 18 yo Scottish whisky in the world. We have previously tasted the Glenfiddich 12 yo and we rated it Excellent.  It is one of our favourite whiskies for when we have guests who are new to whisky.  The Glenfiddich 15 yo Solero Reserve is also a favourite.
Related Article:  Glenfiddich Age of Discovery 19 yo Madeira Cask Finish
Tasting notes for the Glenfiddich 18 yo Whisky
COLOUR: The Glenfiddich 18 yo has a beautiful golden colour.  It hints at a rich experience ahead.  It is not a very oily whisky.
ABV: The Glenfiddich 18 yo is bottled at 43% ABV.
NOSE: In terms of the nose, the oak and fresh apple notes are intertwined with barley and cereals. There is a definite sweetness of dried fruits and hints of toffee in the background.  The Glenfiddich 18 yo has a fairly complex nose.
PALATE: Tasting the whisky after adding a few drops of water brings notes of oak, barley and cereal.  There is mild spice in the palate.  It seems like an extraordinary smooth whisky.  There are notes of sweet fruit cake and Christmas pudding with some warming cinnamon spice at the end.  Some roast nuts come through.  It is a layered whisky that takes time to unpack fully.
FINISH: Long and lingering with lots of spice.  A lingering spicy finish with mild nuts and toffee at the end.  The Glenfiddich 18 yo has  a wonderfully complex nose and an easy drinking and relaxing whisky. Just what you expect from Glenfiddich.
This Glenfiddich is wonderfully rich and we therefore award it a RATING: EXCELLENT.
We are really happy that we have a 1 litre bottle of this Glenfiddich expression because we certainly would want to have another glass or two.  We paired this Glenfiddich 18 yo whisky with a Brebirousse d'Argental cheese here.  Not a bad pairing to try.
Also Read: Glengoyne 17 yo single malt whisky