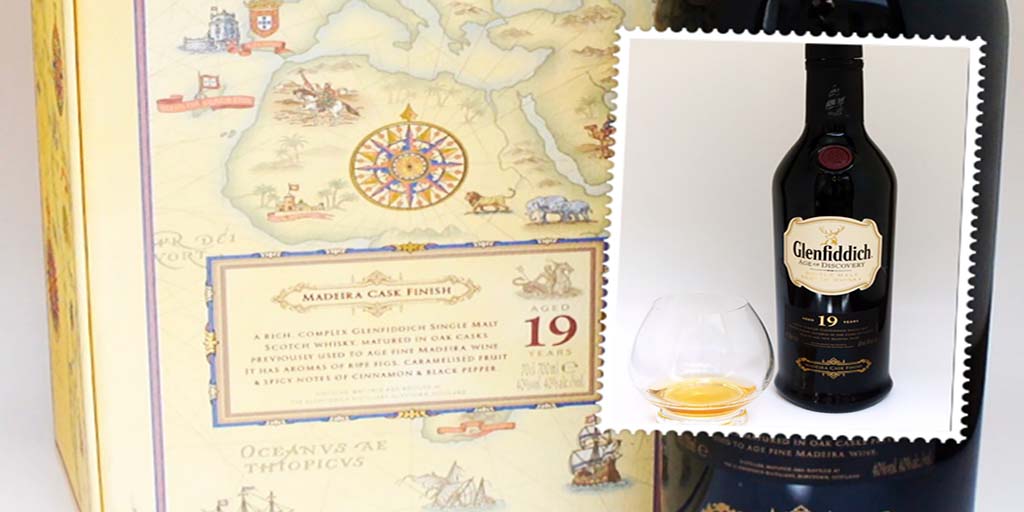 The pressures of running a business and raising a daughter meant than Jeannette and I have simply not had enough time to blog about to our passion. Fortunately the year is winding down and we can once again turn to matters whisky! We have collected quite a bit of material and have lots to post in the coming weeks.  We decided to taste a whisky that is presented in arguably one of the most beautiful boxes around. Today we taste the Glenfiddich Age of Discovery 19 year old Madeira cask finish.
Quite a mouthful of a name but as it's a Glenfiddich, I am looking forward to tasting.  The Glenfiddich distillery is one of my favourite distilleries and produces a large range of expressions. Located in Dufftown in the Speyside region of Scotland, the distillery was founded in 1886.
During whisky's dark days of the 1960's & 70's when so many distilleries fell silent or were sold off, Glenfiddich survived. They did this by introducing advertising, innovation's such as packaging in tubes and entering the duty free market. As a result Glenfiddich remains one of the few distilleries still in family hands and not owned by a large conglomerate.

The Glenfiddich Age of Discovery series comprise  three different expressions, Madeira, Bourbon and Wine casks. Our collection of whiskies include finishes in Sherry & Bourbon casks so when I traveled through London and spotted this at Heathrow, I simply had to get it. Madeira is a unique Spanish wine, known for its sweet characteristics.
Related Article:  Glenfiddich 18 yo
Tasting notes for the Glenfiddich Age of Discovery
The Glenfiddich Age of Discovery is presented in a beautiful black bottle with red embossing near the neck of the bottle.
ABV: 43%
COLOUR:  The colour of the 19 yo whisky is probably imparted by the maturation in oak casks previously used to produce Madeira wine. We describe the colour as antique gold.  It's beautiful when held up to the light.
NOSE: From a nose perspective this Glenfiddich Age of Discovery is a complex whisky. You probably need to nose it on more than one occasion to fully unpack its characteristics. We found raisin, fruit cake, citrus and oak.  Others have reported figs, gooseberry and fruit.
PALATE: The Glenfiddich Age of Discovery produced cinnamon and pepper, more fruit and dry oak with hints of ginger. Its complexity probably requires further tasting!  The Glenfiddich Age of Discovery is an interesting whisky and Jeannette & I were initially split on what we thought of it. Its a complex whisky so you need to give yourself time and allow it to breathe a bit.
In the end we decided on a RATING: VERY GOOD.
In time and on later tastings we may well change our view! It's nice enough that we are scouring around to find the other two expressions in the range. A 19 yo is an unusual age statement, and probably reflects a quite unusual whisky.
Also Read: Glenfiddich Gran Reserva 21 yo whisky
Glenfiddich Age of Discovery & Food pairing
One of the things that Jeannette has been working on is pairing whisky with food. We have previously blogged about this subject and we thought we would share our thoughts and invite readers to comment on what pairing of this particular whisky and food worked well for them.
We have not tried this yet, but the Glenfiddich Age of Discovery fruity character means it may go well with goats' cheese, figs and thyme flatbread as a starter served on the patio with a barbecue. This is something we plan to try as soon as we get our hands on some fresh figs. Quite possibly it would work well on a winter's evening in company with a raspberry and fig pie.
I also paired this Glenfiddich Age of Discovery Madeira Cask with some Lancashire Cheese.  It makes for an acceptable pairing.
Also Read: Highland Queen Majesty whisky