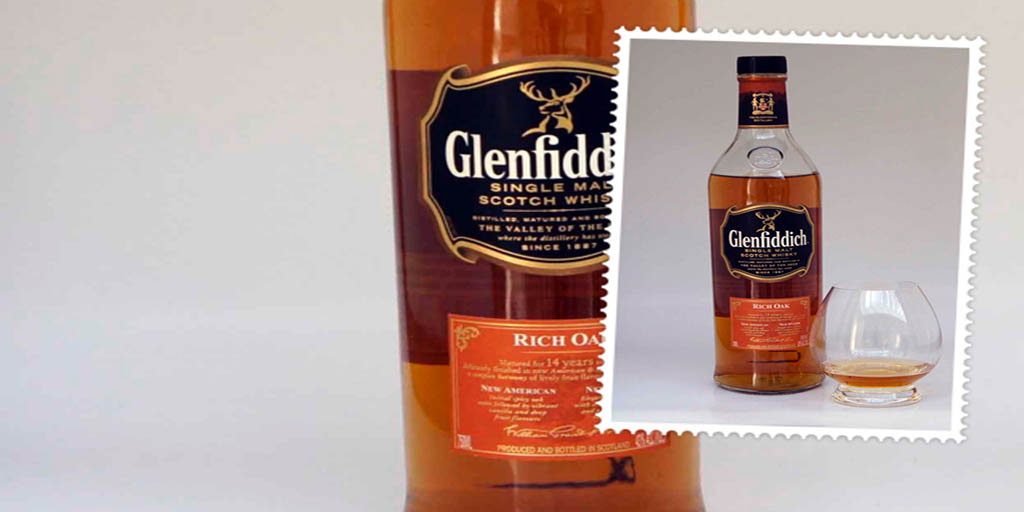 The Glenfiddich distillery is one of our favourite distilleries and we have tasted quite a few of their expressions. We loved the Glenfiddich 18 yo as a wonderful easy drinking dram and have tried the  Glenfiddich Age of Discovery Madeira Cask.  Located in Dufftown in the Speyside region of Scotland, the Glenfiddich distillery was founded in 1886. Glenfiddich, together with Kininvie and Balvenie forms part of the William Grant-owned whisky stable and sit in relatively close proximity to each other.
The triangular-shaped Glenfiddich has become one of the world's most recognised whisky bottle shapes. It has been a Glenfiddich feature since 1957. The William Grant company remains independent and family owned.  The Glenfiddich Rick Oak is quite a recent release.  It came out during the Spring of 2010. It was aged for 14 years in ex-bourbon casks.

Then followed two separate finishes of 12 weeks in new Spanish oak and 6 weeks in new American oak before bottling. According to Glenfiddich the American oak adds spice, vanilla and fruit. The Spanish oak brings elegant fruit, spice and complexity.
Related Article: Balvenie Roasted Malt
Tasting notes for the Glenfiddich Rich Oak
ABV: The Glenfiddich Rich Oak has an ABV of 43%.
COLOUR: Dark rich gold.  There are long oily fingers in the glass.
NOSE: Sultanas and juicy 'Moskonfyt" (Grape Must Jelly) mixed with honey sweetness.  There is an abundance of oak, spice  and barley.  The oak however is wonderfully balanced with the fruity sweetness and not overwhelming.
PALATE: Without water is sweet and spicy with hints of bubblegum and Muscadel wine.  Adding water releases more pepper heat but also cinnamon and moscavado sugars.  The fruitiness from the nose is still around in wafts of berries and grapes.  The Glenfiddich Rich Oak is an easy drinking smooth nicely balanced dram.
FINISH:  Long, memorable and lingers for a while.  It ends in notes of wood, toasted nuts and bits of fruit again.  A very drinkable whisky.
Therefore I give the Glenfiddich Rich Oak a RATING: EXCELLENT.
It has become my favourite Glenfiddich to just relax with.  It has a wonderful fruity character and will pair well with cheese. While the Glenfiddich 12 yo is the perfect single malt for a newby, this Glenfiddich Rich Oak will be the whisky that will take them the next step along the road to whisky enjoyment.
Also Read:  Glenfiddich Gran Reserva 21 yo whisky