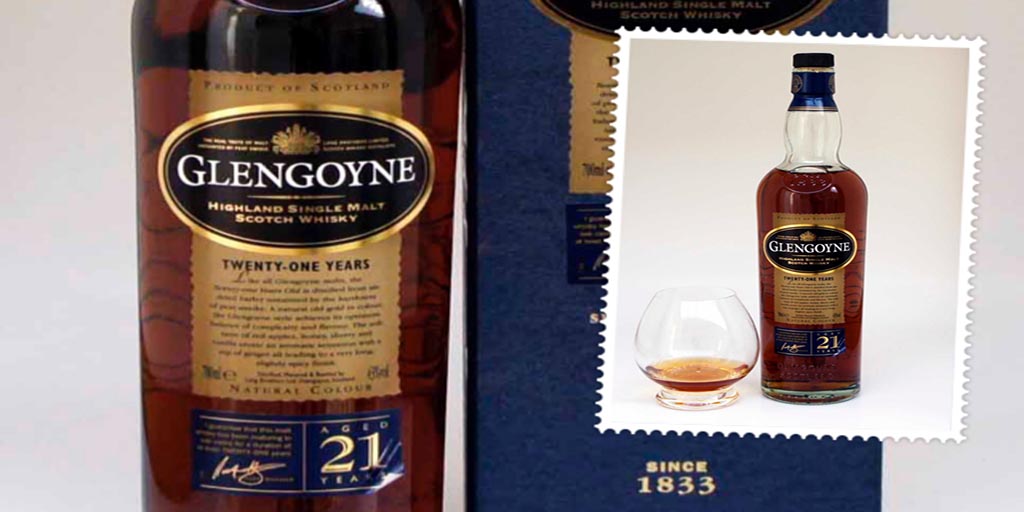 Positioned in the Highlands, Glengoyne Distillery is situated in a wooded valley close to a small river that flows into the famous Loch Lomond. In the past, the woodlands, which covered the surrounding area, gave outstanding shelter for unlawful whisky distilling.
The Glengoyne Distillery began distilling legally in 1833 and was known as the Burnfoot distillery. The story goes that the owner intended to name the distillery Glengoyne, but due to a mistake by a clerk it was recorded as Glen Guin. Later it was changed to Glengoyne, which translates from 'Glenguin' or 'Glen of the Wild Geese'.
Glengoyne is one of the few distilleries left producing whisky in this part of Scotland today.  Glengoyne is owned by Ian Macleod Distillers Ltd., a Scottish, family owned business. Various features make Glengoyne unique. They produce Highland single malts but the whisky is matured in the Lowlands.
Also Read: GlenDronach 13 yo Single Cask Whisky Brother release
The boundary line runs underneath the A81 road and passes in front of the distillery. Glengoyne's stills are situated in the Highlands while the maturing casks of whisky rest across the road in the Lowlands.
Unlike many malt whisky distilleries, Glengoyne does not use peat smoke to dry their barley, but instead uses warm air. As a result Glengoyne has been noted as being stylistically closer to a Lowland single malt as opposed to a Highland single malt. Glengoyne is also one of only two distilleries remaining today that uses Golden Promise barley.


This barley is low in yield but high in quality. Glengoyne also enjoys the slowest rate of distillation in Scotland (the spirit comes from the Still at around 4-5 litres per minute). This encourages the formation of 'esters' giving Glengoyne its distinctive sweet, smooth taste. The spirit is then matured in oak casks from Spain, which have previously contained Sherry.
I wrote about the Glengoyne Distillery in an article I did for Whizzky on a "Virtual Sipping Tour through Scotland".
Tasting notes Glengoyne 21 yo
COLOUR: This Glengoyne 21 yo is another dark whisky where the colour is closer to red copper than gold. It is quite oily and leaves long legs in the glass.
ABV:  43%.
NOSE: at once brings sherry sweetness. There are dried fruits, Christmas cake and hints of oak and vanilla. The addition of a few drops of water changes the nose.  With the water, the Glengoyne 21 yo nose brings more fresh fruit.
PALATE: This is quite  a spicy whisky on the palette.  It is wonderfully smooth and rich.  Mixed with the spiciness, there are notes of sherry, oak and honey sweetness.  The Glengoyne 21 yo balances the sweetness with the spicy to create a warming and comforting taste.  There are hints of barley, vanilla and toffee.
FINISH: Long and lingering and just goes on and on.  It is a full-bodied whisky that ends in notes of spice, oak and ginger.  John actually forgot to finish his notes and had to pour a second glass just to finish the tasting notes.
This whisky makes you want to sit in front of a fire with loved ones and just stop and appreciate life.  We have no problems this week to give the Glengoyne 21 yo a RATING : DIVINE.
The Glengoyne 21 yo is well-balanced, smooth and rich.  It is a satisfying whisky that lifts our spirits and leaves you with a warm fuzzy feeling that all is well with the world.  We can't wait to try more expressions from this interesting distillery.
Was this our Single Malt of the Year?
This Glengoyne 21 yo was one of only 3 whiskies that we rated Divine during 2014.  The others were the Ardbeg Corryvreckan and the Amrut Fusion.  But this Glengoyne 21 yo took the title of Single Malt of the Year 2014. In celebration of New Years Eve 2015 we paired this divine dram with some ginger covered chocolate and it was amazing.
Also Read: Glen Moray Classic