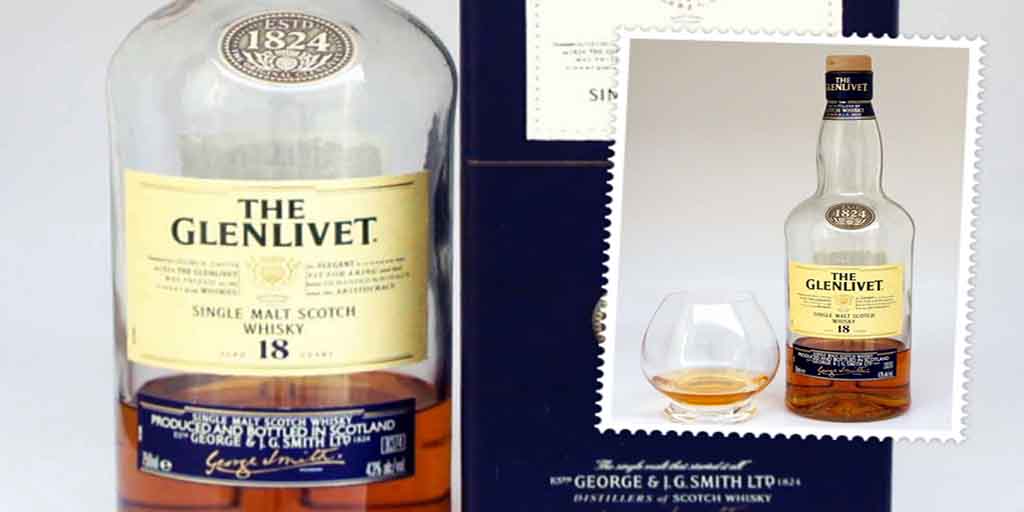 I grew up with a dad who enjoyed blended whisky. His favourite drams were Dimple and Chivas Regal.   This shaped the way I enjoyed whisky in my younger days and I gravitated to blended whisky too. But then a friend poured me a Glenlivet 12 yo and I was blown away. The smooth complex flavours just knocked me over. Needless to say, I still hold the Glenlivet 12 yo as one of my favourite whiskies of all times. But today I try the Glenlivet 18 yo. The main distillery product range is The Glenlivet single malt , but whisky from this distillery is also used in Pernod Ricard's other blends, including Chivas Regal and Royal Salute.
The Glenlivet distillery is a Speyside distillery near Ballindalloch in Moray, Scotland. The distillery draws water from Josie's Well and other springs a short distance from the distillery. The barley comes from Crisp Maltings, Portgordon.George Smith was the first distiller in the region to get a license for legal distillation and, in 1824, he established The Glenlivet on what was once a farm distillery called Upper Drummin.


Some of the illegal distilleries in the region were not to happy with George and several threats were made on his life. He however persisted and finished the building of his distillery. He dealt with the treats in a very wild west manner – 2 pistols were always at his side to discourage any trouble makers.
The pistols were a personal gift from the Laird of Aberlour who was impressed with George's perseverance. Glenlivet still honours its founder and the aforementioned pistols are exhibited at the distillery and the name of George Smith can still be found on the labels. Today, The Glenlivet is the world's second best-selling single malt and it is one of the top sellers in the US.

Also Read:  Littlemill 25 yo whisky
Tasting notes on the Glenlivet 18 yo
ABV: The Glenlivet 18 yo is bottled at 43%ABV.
COLOUR: It does not seem like a very oily whisky at first, but slowly long fingers form in the glass.  It is actually a very oily whisky that holds much promise.  The colour of the Glenlivet 18 yo has a bronze golden copper shade. The official description is 'Old gold with apricot hues'.
NOSE: While pouring this single malt whisky into the glass, you immediately get whiffs of banana and sweet tropical fruit.  The nose brings cereals and oak and little hints of sherried sweetness.
PALATE: On the palate there are notes of oak and spice.  It grows slowly to butterscotch and sweet banana toffee.  Traces of orange peel, raisins and honey mix with the oak.  It is a wonderfully smooth whisky.  The mouth feel is rich and creamy with lots of spices.
FINISH:  Long and lingering.  The spice notes slowly turn to more oak with mild sweetness at the very end.  This Glenlivet 18 yo has gotten oh so close to a Divine.  It just lacks a little bit of the last WOW factor.
We gave the Glenlivet 18 yo a RATING: EXCELLENT.
Every time I drink this Glenlivet 18 yo whisky, it reminds me of a special time with special friends.  It brings back wonderful memories and make me appreciate all the wonderful experiences we have been fortunate to share.  Many of them with this special bottle of Glenlivet 18 yo.  That is perhaps why the bottle is nearly empty.
I have also tasted a Glenlivet 15 yo bottled on behalf of WhiskyBrother.  This special bottle was done especially by our favourite whisky shop and it is sadly not available anymore.
Related Article:  The Glenlivet Alpha