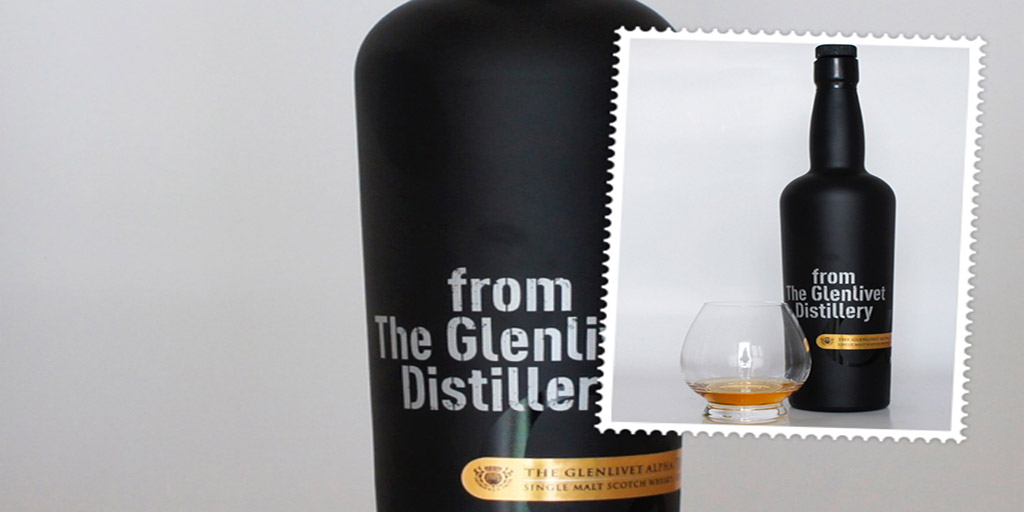 We heard news that The Glenlivet Distillery was releasing a limited edition whisky with limited details. This sounded quite mysterious and interesting. Lucky for us, WhiskyBrother, our favourite whisky shop, had a few bottles of this Glenlivet Alpha available and Marc kept us one.  Only 3,350 bottles were released worldwide. No tasting notes. No cask details. Just a trust in The Glenlivet, that they know how to distil great whisky. During the run up to the release, there were some online teasers and sensory challenges.
Master Distiller Alan Winchester interacted with the online community, fielding questions. He revealed that the limited release has been matured in 'first-fill Scotch whisky cask.  The full tasting notes were only released after the Glenlivet Alpha was launched at the end of June 2013.
The Glenlivet Alpha sold out very quickly. It came presented in a black bottle with minimal labeling and the only information revealed about its contents is its strength.  It has a 50% ABV.  So, after all this secrecy, online challenges and marketing effort the most important question remains. Is this quite expensive limited edition Glenlivet Alpha really worth it?
Related Article: Glenlivet 18 yo
Tasting notes for the Glenlivet Alpha
COLOUR: A golden-yellow.
ABV: 50%
NOSE: Visions of citrus and fruits. There are notes of oranges, pineapple and fruit mince pies blended with chunks of caramel sweetness and small hints of vanilla and spice. We added a drop of 3 of water and this just created the most amazingly smooth feel to the whisky.
PALATE: The palate brought more citrus and fruit notes. There are hints of coconut and marshmallow. The Glenlivet Alpha bring tropical notes blended with spice and toffee.  This is an amazingly complex whisky that just keeps on giving you different tastes every time you try it. Taking a second sip bring notes of nuts and more sweetness.
FINISH: It has a long and lingering finish. There are notes of spice, more citrus and honey. It has an amazing finish. We just looked at each other and went WOW. This amazing Glenlivet Alpha definitely has the WOW factor. It has a wonderfully layered complexity with notes of honey, caramel, marshmallow, spice and fruits. The overall experience was just amazing.
Without revealing the name or the distillery, we offered it to some of our whisky friends and they came up with the same comments and conclusion.
This is an amazing whisky. We gave the Glenlivet Alpha a RATING: DIVINE.  To answer the question, was it worth it?  A big definite YES.  Drinking this whisky is an amazing experience.  Well worth the expensive price point.


Glenlivet Alpha: Was it Whisky of the Year?
The Glenlivet Alpha is one of 2 whiskies that we shortlisted for our Whisky of the Year 2013 here. We also paired this whisky with a Woolworths Clemengold Mandarin discs enrobed in dark chocolate for New Year. The joint citrus in this whisky chocolate pairing actually became overwhelming. We then tried it with a toasted coconut and dark chocolate and this worked a lot better.
Also read:  Whiskybrother Glenlivet 15 yo